The Bermuda Boxing Federation [BBF] and Bermudian fighters are being highlighted in an Olympic boxing documentary, with the exceptionally well produced video featuring a number of Bermudians and even a look back at Clarence Hill's medal win in 1976, where the boxer gave Bermuda the distinction of being the smallest nation in the world to win an Olympic medal.
A BBF spokesperson said, "In the midst of a world that hasn't seen local boxing in the past year, The Olympic Channel last night released the trailer to the original documentary, "Nuffin For Nuffin", a tribute to those who have paved the way for the current generation of boxing athletes in Bermuda.
"The film, whose title pays homage to the late Allan Forty Rego, highlights Bermuda's rich boxing legacy, triumphs, and struggles, while introducing the next generation and their big dreams on an international stage."
Short animation from the video, which can be watched in full here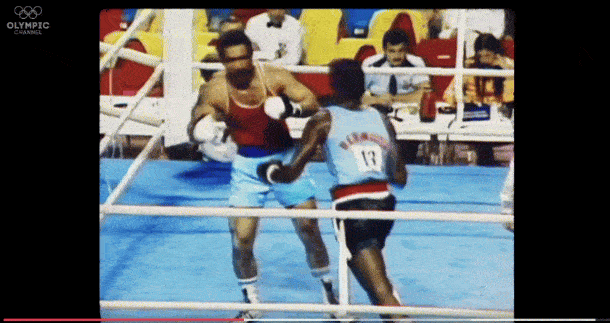 BBF President Nathan Dill said, "We are more than pleased to see the culmination of three years of work and thank Outsider Media for a fantastic job of capturing the struggle behind Bermuda Boxing Federation athletes, the executive and officials, while shedding light on the subculture of boxing in our island."
The spokesperson said, "The film includes footage from recent boxing events, as well as interviews with members of the boxing community including Olympic medalist Clarence Hill, wife of the late Forty Rego, Joanne Rego, Jermal Woolridge, Wayne Caines, and Pelon Alvaro, to name just a few."
Mr. Dill said, "We would like to thank Simon Elborne, Tom Day, and the entire Outsider Media crew who led this project, The Bermuda Olympic Association for their ongoing guidance and support, and the Department of Youth and Sport, who have been one of our closest allies in growing the sport. Our only wish is that this film inspires viewers to embrace and support the sport."
The spokesperson said, "For more information on the Federation programs, including the launch of the Fight Like a Girl program, and how you can support, please visit www.bermudaboxing.com."
Click here to see the 3 minute long Nuffin for Nuffin trailer, and please note the video is excellent, and it is highly recommended you watch it!
Update June 4, 9.10am: The full 55 minute documentary is now available for viewing here.
Read More About