According to the 2020 Human Rights Commission Annual Report, last year there were twenty complaints related to the Covid-19 pandemic, with many related to employment.
The report said, "In 2020, there were twenty [20] matters presented to the Human Rights Commission by Complainants related to the Coronavirus [Covid-19] pandemic. Many of the intakes received by the office were related to employment.
Chart extracted from the report: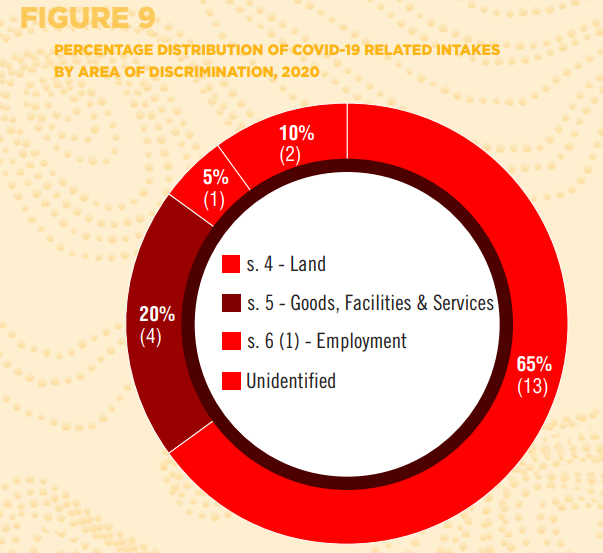 "Complainants alleged unfair practices by employers such as the initiation of mandatory Covid-19 testing, disputes over whether employees were entitled to wages during the lockdown period and any quarantine periods, and unfair terminations which in some cases, were presented as necessary redundancies or layoffs.
"With regard to services, complainants indicated issues with not being allowed to enter the hospital to witness the birth of their child because of the Covid-19 restrictions implemented by the hospital in response to the Government lockdown or being allowed to attend ultrasound appointments with a pregnant partner. A – A Sec 4, Land, complaint was linked to a tenant being asked to vacate rental premises during the coronavirus outbreak."
The full 2020 Human Rights Commission Annual Report follows below [PDF here]:

You can find more information on the links below and also on our dedicated website BermudaCovid.com, which is the most comprehensive resource and historic record available of Bermuda's handling of the pandemic.
Read More About