National Security Minister Renee Ming visited this year's newest Royal Bermuda Regiment trainees who are participating in the annual summer recruit camp.
A Government spokesperson said, "Yesterday [July 5], the Minister of National Security, the Hon. Renee Ming visited this year's newest Royal Bermuda Regiment [RBR] recruits who are participating in the Regiment's summer training camp, which began on Sunday.
"Twenty-two [22] trainees have enrolled in this year's recruitment camp.
"During the visit, Minister Ming said she was impressed with this year's intake of new soldiers and is 'appreciative of their willingness to serve the people of Bermuda.'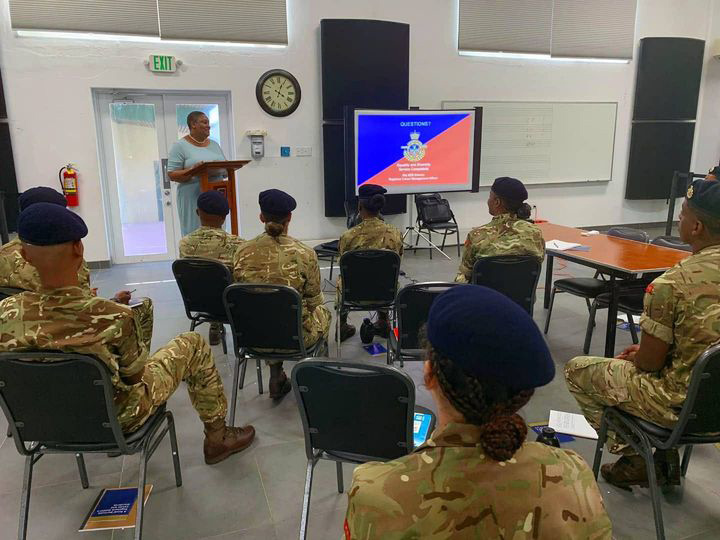 "Minister Ming also said she was 'very pleased' with the number of women who had answered the call to serve in the RBR, and took the opportunity to urge more women to become involved in this 'rewarding and enriching career choice.
"Of the 22 recruits participating in this month's intake, eight are female.
"The recruits are going through an intense two-week training camp aimed at transitioning them from civilians to soldiers. Upon completing a further three months of training during evenings and weekends there will be a passing out parade before the soldiers are posted to one of the Regiment's operational companies.
"The recruits will then train to fulfill security, disaster relief, maritime, ceremonial and logistical roles during their period of service and will benefit from the opportunity to travel to attend exercises and courses overseas. They will also be afforded educational and leadership training opportunities as part of the RBR's efforts to provide a full rounded training experience for our soldiers."

Read More About