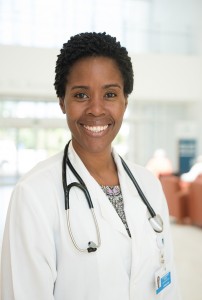 Bermuda Hospitals Board [BHB] announced today that they will now routinely screen all their stroke patients for depression,
"Experiencing a stroke can dramatically affect a person's life," said BHB Primary Stroke Centre Medical Director Dr Francene Gayle [pictured]. "Strokes can be debilitating, moving a normally functioning person to one with significant function impairment. This can happen suddenly.
"Such a drastic change in a person's mental and physical condition is understandably often traumatic, not only for the person but also for their family. It's the reason many stroke patients become depressed in the days, weeks and months following their diagnosis."
"Depression after a stroke is common," said BHB Chief of Psychiatry Dr Chantelle Simmons. "In addition to the direct emotional impact, post-stroke depression is also associated with poorer functional outcomes. The good news is that treatment is available and we will provide it."
"Early identification and treatment of post-stroke depression is critical in optimising patient outcomes," added Dr Gayle.
"The Primary Stroke Centre has implemented a post-stroke depression policy that clearly details how patients will be assessed for depression, when they will be assessed and, based on the assessment, the treatment that will be used. Inpatient and outpatient treatments are available.
"The new process involves various hospital departments and disciplines, including allied health professionals [occupational, physical and speech therapists], nurses, physicians, psychiatrists and clinical psychologists.
"Implementation of this policy is another example of how we at BHB continuously strive to give the highest quality and safest care to our patients," said BHB Chief of Staff Dr Wesley Miller. "
We have a vision to pursue excellence through improvement wherever we can. Recognising and attending to the mental health needs of our stroke patients is not only good for our individual stroke patients, but by extension for their families and friends. It's beneficial to our Bermuda community."
For more information on the Primary Stroke Centre visit the BHB website: www.bermudahospitals.com or click here.

Read More About