The Bermuda Red Cross has launched a disaster appeal for those affected by the earthquake in Haiti.
According to international news reports, "Hospitals in Haiti have become overwhelmed as they treat thousands of people injured in a earthquake that has left 1,419 dead. Some 13,694 houses have been destroyed, Haiti's civil protection agency said, suggesting the number of dead could rise further."
A spokesperson said, "Bermuda Red Cross is launching a disaster appeal for those affected by the earthquake in Haiti. Help people in crisis today. Families urgently need your help. Act now and you will help save lives.
"Early damage assessments indicate that at least 800,000 people could be directly exposed to minor to severe damages, including communication, access, security, loss of livelihoods, infrastructure, and health services could be impacted.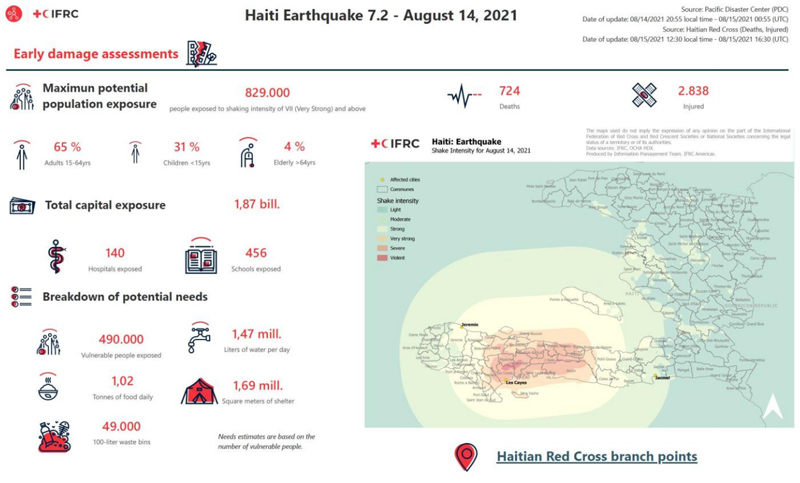 "The earthquake struck during a current political crisis, which is ongoing since the president of Haiti was assassinated on 7 July 2021. In addition, according to the National Hurricane Center, Tropical Storm Grace, which formed in the eastern Caribbean the same morning, is on a path toward Haiti with possible landfall on Tuesday, 17 August 2021.
"This earthquake was larger and on the same fault line as that which occurred in 2010, which killed more than 220,000 people. Still, according to geologists, it happened in a rural area of the country with a lesser congregated.
"It is estimated that 11.4 million people, 2.45 million households, and 38.1 billion American dollars [USD] of infrastructure are concentrated within this radius. Haiti's civil protection agency reported that at least 227 people have died, and hundreds were injured and missing. The Prime Minister has declared a state of emergency in the country for a month.
"The Haiti Red Cross Society [HRCS] with support from International Federation of Red Cross Red Crescent [IFRC] is already assessing damages and needs in the affected areas, where services are affected. There are either heavily damaged or destroyed homes, roads, and infrastructure, and the affected communities and households are forced to seek shelter.
"The HRCS is also supporting search and rescue, first aid, emergency health care, and shelter, which is a priority for the Red Cross. Currently, search and rescue teams are supporting Les Cayes, Nippes, and Grand'Anse. The HRCS is in close communication for a coordinated response with local, provincial, and national authorities and other humanitarian organizations. Volunteers are responding to the needs of the community.
"Donations can be made by direct deposit into the following account: Bank of N.T. Butterfield – 20 006 060 663859 200 Or go online to our website www.bermudaredcross.com to use your debit/credit card, or call us at 236-8253 Monday – Friday 8:30 am – 4:00 pm with your card details or mail or stop in at our offices:
Bermuda Red Cross
Haiti Earthquake Appeal
9 Berry Hill Road,
Paget DV 03
"The best way to help a disaster victim is through a financial donation to the Red Cross. Financial contributions allow the Red Cross to purchase exactly what is needed for the disaster relief operation.
"The Red Cross initially responds to most international relief efforts with monetary support, and, when needed, ships items such as comfort kits, clean-up kits, medical supplies, tents, tarps and water. Monetary donations also enable the Red Cross to purchase relief supplies close to the disaster site, which avoids delays, and transportation costs in getting basic necessities to disaster victims.
"Because the affected community has generally experienced significant economic loss, purchasing relief supplies in or close to the disaster site also helps to stimulate the weakened local economy."

Read More About