[Updated] The Government said a rumour circulating regarding an impending stay-at-home order is "malicious nonsense."
A Government spokesperson said, "It has been brought to the Government's attention that there is a rumour circulating purporting to be from the Government that 'Bermuda is going into a stay at home at 6am on Friday.'
"This is malicious nonsense, and there's no truth to the rumour which seems to be spreading via a fake Government email account and other social media platforms.
"As another reminder to the public, please only rely on official health and Covid-19 related information from the Government of Bermuda's official communication's section, the Department of Communication.
"Again, the rumour is false and the Government encourages residents to visit www.gov.bm for the latest health information."
The Government media posted this screenshot on social media: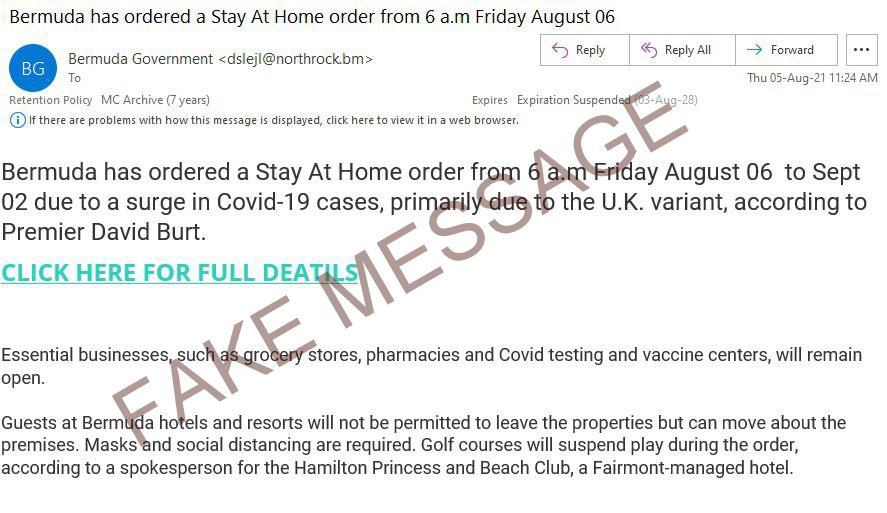 Update: 4.35pm: A police spokesperson said, "The Bermuda Police Service is aware of a social media post falsely claiming the island will be under a stay at home order from Friday August 6th, to Friday September 2nd due to the spread of the Delta variant of the Covid-19 virus.
"The matter is now under police investigation and we urge that you should you receive the misleading message, you delete it and not forward it on.
"Again, the information posted is false and you are encouraged to visit www.gov.bm for the latest health updates."

You can find more information on the links below and also on our dedicated website BermudaCovid.com, which is the most comprehensive resource and historic record available of Bermuda's handling of the pandemic.
Read More About
Category: All, News, technology