The Eco Lunch & Learn series — a collaboration between Bermuda College and BEST — will hold the first presentation of the third series on October 28th with entomologist Claire Jessey set to speak on ants.
A spokesperson said, "The popular Eco Lunch & Learn series, a collaboration between Bermuda College and BEST [Bermuda Environmental Sustainability Taskforce] announce the first presentation of the third series.
"These will commence on October 28th with entomologist Claire Jessey on everyone's favorite insect, 'ANTS! Who's in control?'. Further events will take place in November 2021, February, March and April 2022. These will be  virtual presentations available on Youtube and Facebook until able to return to 'in person' events at Bermuda College.
"Claire Jessey is the Plant Protection Officer and Government Entomologist in the Plant Protection Section of the Bermuda Department of Environment and Natural Resources [DENR].
"This section oversees the importation of all plant material into the island and is responsible for approving pesticide products for use in Bermuda, providing support services for the agricultural sector and offering local pest and disease diagnoses and recommendations for mitigation. Claire has been with DENR in this position for twenty plus years. She presents lectures regularly on entomological and pest control topics to hobbyist and natural history groups as well as school and youth groups.
"Claire obtained a Bachelor of Science in Biology [Honours] with a minor in Psychology from Dalhousie University in Nova Scotia. She then obtained her Masters in Applied Entomology and Pest Management with Distinction at Imperial College in London. She is a past recipient of the Fessenden-Trott, Garden Club and Commonwealth scholarships.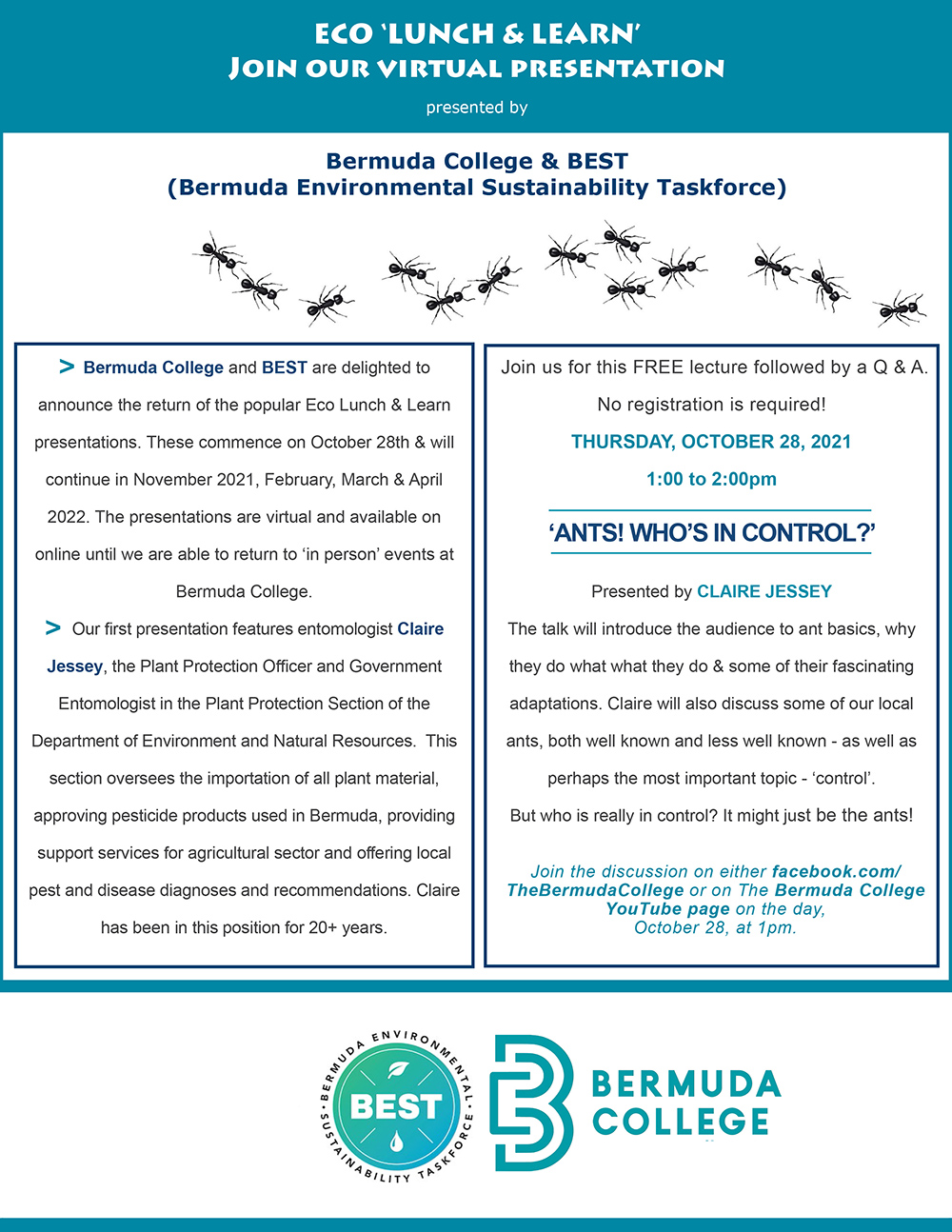 Jennifer Flood, BEST Executive Officer, said 'We are delighted to team up again with Bermuda College to return with the Eco Lunch and Learn presentations for Fall. The topics are Bermuda centric, brought to you by local experts in their field. Ants may be viewed as problematic, but they have their place in the grand scheme of things. This presentation is given at a time of extremely alarming global losses of insect diversity. Understanding the importance of ants and insects in general to the well-being of all inhabitants of our planet [and yes that includes humans] is paramount. We thank Bermuda College for their continued support and welcome Claire as we kick off our new season of Eco Lunch & Learns.'
Amy Harvey, the Earth and Environmental Science lecturer at the Bermuda College added, 'Life in Bermuda undeniably means a life with a very close relationship with ants. Many folks regard them as pests and do everything in their power to get rid of them. Can we exist without ants? The answer is no as they perform important ecosystem services for us humans and for free no less! Despite being a nuisance at times they are actually important for recycling nutrients in the soil, seed dispersal as well as their nests providing homes for microbes. Ants can also be good indicators of the health of our ecosystems. So when we see ants we should celebrate as they are a good check on the state of a healthy environment.'
"The community are invited to attend this free, live presentation by going to either Facebook.com/
TheBermudaCollege or The Bermuda College YouTube page on the day, Thursday, Ocotber 28th at 1pm.
Read More About
Category: All, Environment