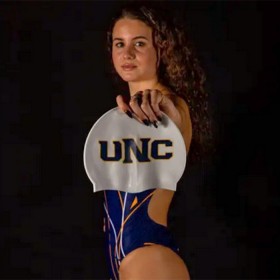 Bermudian swimmer Madelyn Moore and her Northern Colorado Swimming & Diving teammates competed against Idaho, with the team making an excellent showing to win all the events, with Moore winning in four.
The University's report said, "Head coach Lisa Ebeling couldn't have asked for a better home debut for Northern Colorado Swim and Dive. Winning every race, the Bears outswam Idaho, 207-91.
"Northern Colorado's early-season relay dominance continued in the 200-yard medley. Paula Nunez Blazquez, Emina Pasukan, Katelyn Bergin and Madelyn Moore clocked a time of 1:46.11, while UNC's B relay [AJ Popp, Chelaine van der Westhuizen, Doris Pusztay and Ali Jackson] outswam the Vandals with a 1:47.88.
"No dual would be complete without Madelyn Moore sweeping the sprints. Her time of 23.36 in the 50 free was .01 off her best time of the year thus far. Moore also swam a 51.65 in the 100 free, outpacing fellow Bear Ali Jackson.
"Northern Colorado made sure to put on a show to end Saturday afternoon in the 400 free relay. Both the A and B teams raced neck-and-neck throughout the four legs. In the end, it was the team of Doris Pusztay, AJ Popp, Anna Austin and Madelyn Moore who hit the wall first at 3:34.95. The win also solidified the Bears' dual win over Idaho, 207-91."

Read More About