[Written by Don Burgess]
There will be a "very limited" number of exemptions to the vaccinated travel policy to the US, including for those seeking emergency medical treatment in the United States.
US Consulate's Comments
A spokesperson for the US Consulate told Bernews, "Fully vaccinated aircraft passengers departing from any foreign country with a destination in the United States will continue to be required to show proof of a negative Covid-19 test taken within three days of departure. Waivers or exceptions to the vaccination requirement for foreign nationals will be very limited."
The US Consulate spokesperson added, "We have no further details to announce at this time. We will provide additional updates as more information becomes available."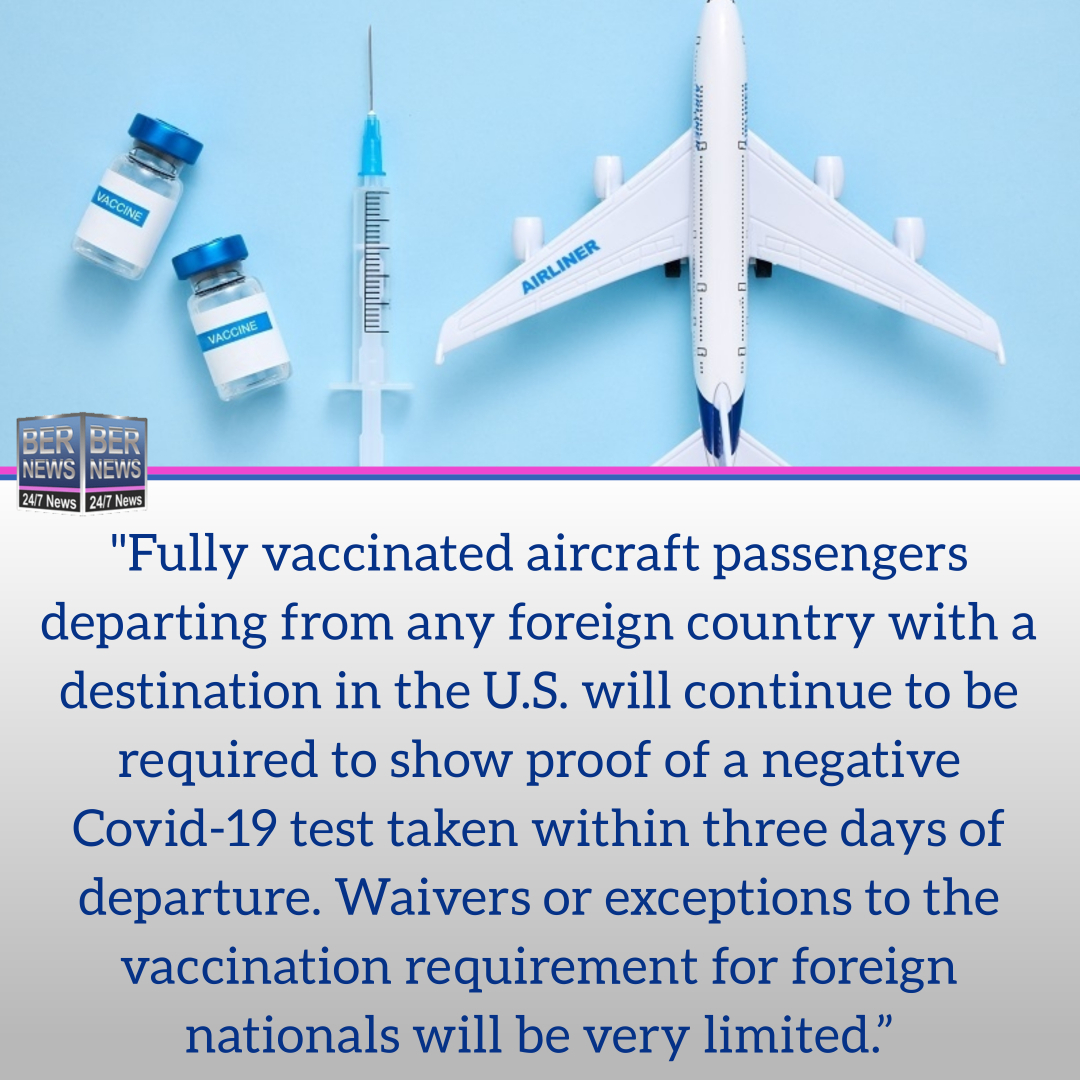 Bermuda Hospitals Board's Comments
A Bermuda Hospitals Board spokesperson stated that with both the US and Canada allowing entry to vaccinated people only, they urge people to get vaccinated.
"We have no indication that the US and Canada will make exemptions for unvaccinated patients who require emergency care in their jurisdictions," the spokesperson said.
"This will greatly limit the options for unvaccinated patients who require this service. Air ambulance lift to other countries may not be a viable option for many of the conditions we transfer patients for. This is due to length of time for transport and/or the ability of the overseas facility to accept our patients."
Coralisle Group's Comments
A spokesperson for the Coralisle Group said it is waiting for final guidelines from the US Customs Border Patrol [CBP]. They expect updates in the next three weeks on whether or not those on medevac flights will require vaccine documentation on the patient transfers. But they added unvaccinated passengers seeking treatment who are flying commercial airlines probably will not be allowed into the US.
"For those seeking medical care oversees that will go over commercially for scheduled treatment, they most likely will be required to follow the guidelines within the country they are traveling to. However, for an emergency medical evacuation, we typically would apply for emergency medical parole if they are traveling to the USA through CBP.
"Insurers have no control over if an emergency medical parole is granted but will certainly make needed attempts. We would follow our normal protocol we do today when someone requires an emergency med evacuation and requires us to request an emergency medical parole permission, but it is up to the US CBP to grant any emergency medical parole clearance.
BF&M's Comments
Michelle Jackson, EVP head of Life at BF&M, told Bernews, "We do not know at this time whether there will be exceptions for medical travel [particularly for those who are medically unable to get vaccinated], inclusive of emergency transport. In the event there are no exceptions to the US travel policy, there are care options available for our insureds. BF&M's network of care providers extends to the Caribbean, Canada, and the UK for treatment."
As for possible cost factors, if other arrangements have to be made with a non-US jurisdiction, Ms Jackson said, "There are many variables determining costs, and these may not be higher simply due to access to the US being potentially blocked. BF&M works with our overseas case management team to achieve the best clinical care at competitive pricing regardless of the jurisdiction.
"Flight length is not the sole determining factor for the cost of a flight; the complexity of the care and the support staff required are additional considerations—considerations which we manage today. In the event of new flight destinations being needed, BF&M will continue to work with our partners to control costs and keep our insureds' best interests at heart."
Argus Comments
Peter Muir, VP Operations, Argus Americas, said his company has already assisted residents with medical care in Canada.
"Unvaccinated travellers looking for treatment in Canada can apply to Global Affairs Canada for a National Interest Exemption Letter, Mr Muir told Bernews. "This exemption is subject to review and approval before travel. Members must produce a negative test result within 72 hours and must quarantine for 14 days upon arrival, which may come at an additional cost to the member. It is important to note that it is within the Canadian government's right to deny the application."
He added patients could also seek medical care in the United Kingdom if the US does deny unvaccinated medical travellers. However, the procedures are a bit more than for entry into Canada.
These procedures include:
Currently, if you are not fully vaccinated, you must do the following before you travel to England:
Show a negative test within 72 hours of your arrival
Book and pay for Day 2 and Day 8 Covid-19 tests [to be taken after arrival in England]
Complete a Passenger Locator Form
After you arrive in England you must:
Quarantine at home or in the place you are staying for 10 days
Take your pre-booked Covid-19 test on or before day 2 and on or after day 8
If you are in England for less than 10 days, you need to quarantine for the time you are there. You also need to book day 2 and day 8 travel tests [which you only need to take if you are still in England on those days]
Mr Muir said if alternative destinations are needed to the US, he expects any cost changes to be "nominal." What would be of more significant concern is the impact of medical treatment for residents.
"Accessing quality, affordable healthcare in a time sensitive manner is of the upmost importance and we are constantly striving to find alternatives should a particular country or state impose restrictions that could impact that access. Our policies do not discriminate in benefit or premium based on a member's vaccination status," he said.
"However, this does not mean that out-of-pocket costs will be equal. Unvaccinated members may encounter greater challenges due to the restrictions imposed by these countries. It is important that members seeking urgent treatment or continued care understand how these travel restrictions will impact them."
Update 11.23am: Since we posted this, the US media are now reporting the new policy will take effect on November 8th.
"The US' new travel policy that requires vaccination for foreign national travelers to the United States will begin on Nov 8," said Kevin Munoz, White House assistant press secretary, on Twitter. "This announcement and date applies to both international air travel and land travel. This policy is guided by public health, stringent, and consistent."

You can find more information on the links below from our dedicated website BermudaCovid.com, which is the most comprehensive resource and historic record available of Bermuda's handling of the pandemic.
Read More About