[Updated] The Bermuda cricket team is starting to take part in the ICC Men's T20 World Cup Americas Regional Qualifiers in Antigua, with the team currently playing the United States. The match is being streamed online here on the ICC website, you have to register to watch, however it only takes one minute to register and the stream is free.
Screenshot from the online broadcast: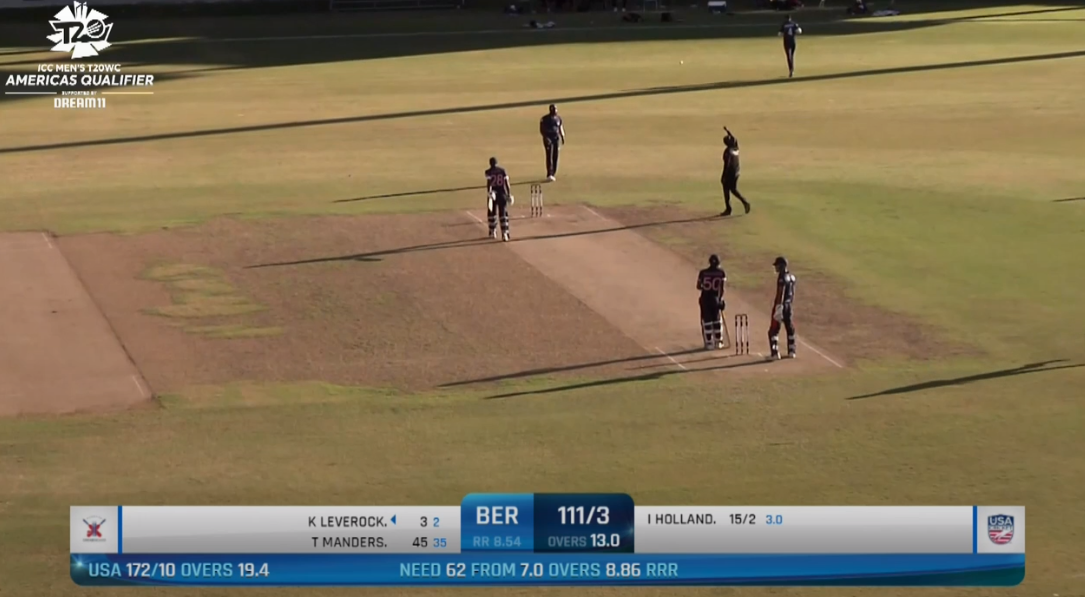 Update 6.37pm: The USA won by 32 runs. USA won the toss and decided to bat first, they scored 172 all out in 19.4 overs, Aaron Jones was their top scorer with 50, he hit 2 fours and 4 sixes, while captain Kamau Leverock was the pick of the Bermuda bowlers with figures of 3.4-0-28-4.
In reply Bermuda fell 23 runs short of their target as they could only manage 149/8. Tre Manders was the top scorer with 49, while Delray Rawlins added 45, Ian Holand and Steven Taylor were the pick of the USA bowlers with Holland bowling 4-0-21-2, while Taylor bowled 3-0-21-2.
USA Inning
..25 [17] Steven Taylor c Okera Bascome b Allan Douglas II
..30 [16] Monank Patel c Rodney Trott b Kamau Leverock
..19 [16] Xavier Marshall c Tre Manders b Malachi Jones
..50 [32] Aaron Jones c Okera Bascome b Delray Rawlins
..11 [07] Jaskaran Malhotra c Dominic Sabir b Kamau Leverock
..04 [07] Ian Holland c Dominic Sabir b Delray Rawlins
..05 [07] Nisarg Patel c Tre Manders b Rodney Trott
..12 [09] Karima Gore c Tre Manders b Kamau Leverock
..00 [01] Muhammad Khan c Kamau Leverock b Rodney Trott
..07 [03] Rusty Theron Not Out
..02 [01] Saurabh Netravalkar b Kamau Leverock
..07 Extras [2w-5pen]
172 Total All Out after 19.4 overs
Fall of Wickets: 1-53 [Monank Patel], 2-57 [Taylor], 3-99 [Marshall], 4-123 [Malhotra], 5-141 [Holland], 6-141 [Jones], 7-161 [Gore], 8-162 [Khan], 9-169 [Gore], 10-172 [Netravalkar]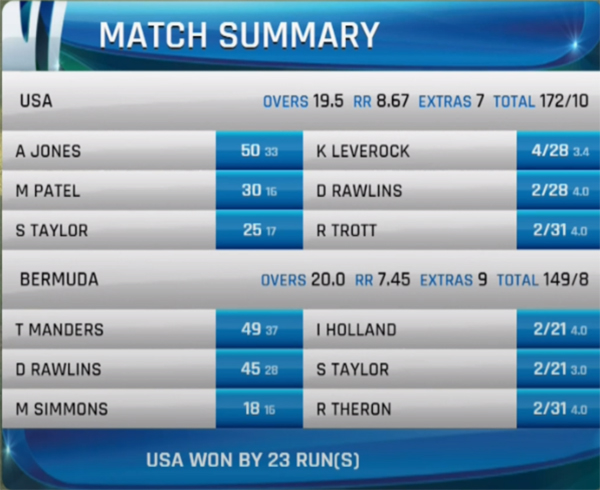 Bermuda Bowlers
4.0-0-35-1 Malachi Jones
4.0-0-28-2 Delray Rawlins
3.4-0-28-4 Kamau Leverock
2.0-0-13-1 Allan Douglas II
4.0-0-31-2 Rodney Trott
1.0-0-17-0 Dion Stovell
1.0-0-15-0 Onias Bascome
Bermuda's Inning
..49 [36] Tre Manders c & b Steven Taylor
..10 [09] Allan Douglas b Ian Holland
..00 [04] Dion Stovell st Monank Patel b Ian Holland
..45 [28] Delray Rawlins c Steven Taylor b Nisarg Patel
..03 [03] Kamau Leverock c Aaron Jones b Steven Taylor
..01 [03] Malachi Jones b Rusty Theron
..06 [06] Onias Bascome b Muhammad Khan
..18 [16] Macai Simmons Not Out
..07 [08] Okera Bascome b Rusty Theron
..01 [05] Dominic Sabir Not Out
..09 Extras [6lb-3w]
149 Total for 8 Wickets after 20 overs
Fall of Wickets: 1-27 [Douglas], 2-27 [Stovell], 3-102 [Rawlins], 4-111 [Leverock], 5-115 [Manders], 6-117 [Jones], 7-125 [Onias Bascome], 8-144 [Okera Bascome]
USA Bowlers
4.0-0-31-2 Rusty Theron
3.0-0-28-0 Saurabh Netravalkar
4.0-0-21-2 Ian Holland
4.0-0-12-1 Muhammad Khan
3.0-0-21-2 Steven Taylor
1.0-0-16-0 Karima Gore
1.0-0-14-1 Nisarg Patel

Read More About