Athene Life Re Ltd and its employees recently donated $10,000 and over 19,000 items to Big Brothers Big Sisters [BBBS] of Bermuda.
Natasha Scotland Courcy, SVP General Counsel and Chief Operating Officer of Athene, said, "As a company with deeps roots in the community, we are proud to support Big Brothers Big Sisters to help further the impactful work they do for Bermuda.
"This holiday season, we are honored to support the families who have been disproportionality impacted by the pandemic and look forward to continuing our support in the New Year."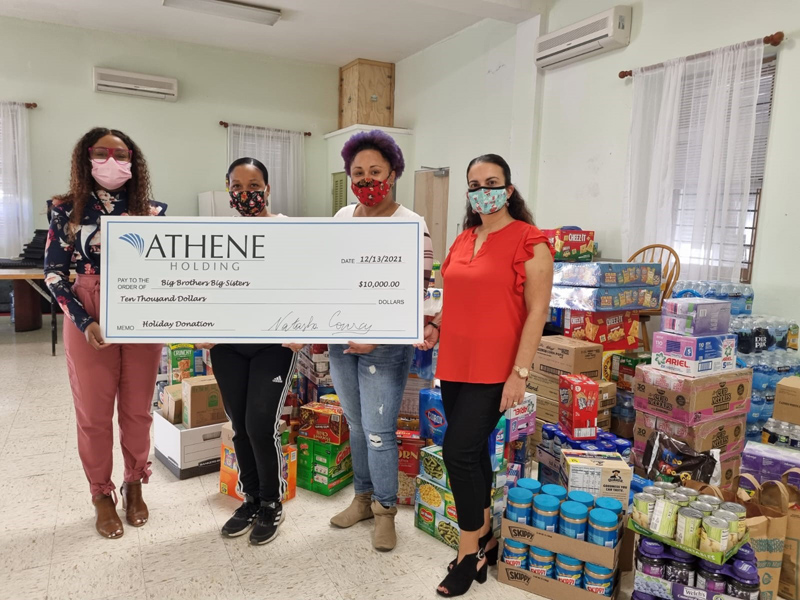 A spokesperson said, "The items donated by Athene went towards stocking essentially a store that was been set up in a local church hall, Evening Light Pentecostal Church, where families selected the items they needed. In addition, the charitable donation of $10,000 will go towards supporting the organization's various initiatives."
Patrina O'Connor-Paynter, Managing Director, Big Brothers Big Sisters of Bermuda, said, "Our efforts to ensure the continued success of Bermuda's youth would not be possible without the support of companies like Athene and its employees who provide these necessary resources to our community.
"Thanks to this generous donation, families in our network will continue to have access to items they need most, when they need them most."
The spokesperson said, "More on Athene's Corporate Social Responsibility [CSR] efforts can be found here."
Read More About