The Knight's Annual Charity Golf event will mark the 75th birthday of founder Richard Knight and honour former Bermuda Open champion Keith Smith.
A spokesperson said, "The event promises to be highly competitive, with another very strong gathering of low handicap and professional golfers already entered.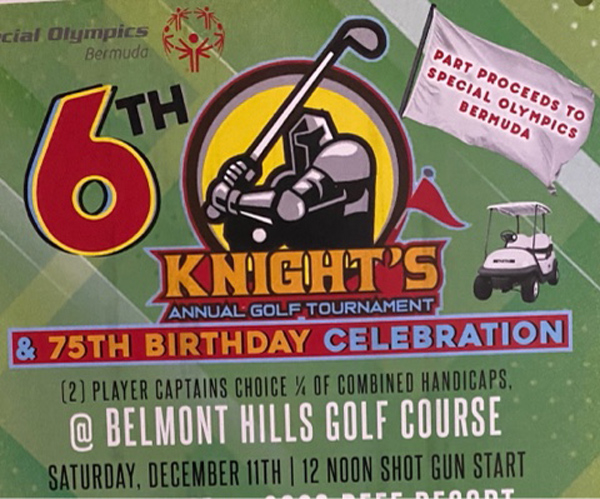 "The last two years, the event has taken the opportunity to honor those who have made a contribution to the golf and sporting community – those previous honorees are Kim Swan in 2019 and Gary Fray in 2020, who did outstanding things during their tenure, and this year's recipient will be former Bermuda Open champion Keith Smith.
"Keith Smith made history along with Kim Swan in 1984 when the pair won the America zone qualifying and Bermuda was represented for the first time at the prestigious World Cup of Golf in Rome, Italy an occasion in which numerous Bermudians made the journey with them.
"Keith Smith's journey in golf is an awesome story and encompasses a window into Bermuda's rich golf heritage.
"Keith learned his trade and is considered a Tuckers Town golfer who played out of Ocean View, who learned the game at the feet of unsung heroes Buck Raynor and Cyril 'Dempsey' Wainwright, becoming a top class player at Mid Ocean in Castle Harbor, where he would caddy for some great local and international golfer, most most notably the legendary Gary Player and the late great Archie Compton, the colorful British pro who served as golf professional at the Mid Ocean Club.
"These and many other incredible experiences helped shape the game that became very versatile as Keith Smith gained an awesome reputation for his 'Houdini-like recoveries' with his ability to up-and-down the ball from some unusual places.
"With the event fast approaching on Saturday December 11th at 12.00pm, there are a few places remaining; if persons would like to enter the tournament, they are urged to reach out to Richard Knight, Kim Swan or Darron Swan at the Belmont Newstead Golf Club."

Read More About