The Ministry of Public Works issued a road traffic advisory for today [Dec 3] in advance of the International Day of Persons With Disabilities Day [IDPWD] motorcade, which starts at 11.00am.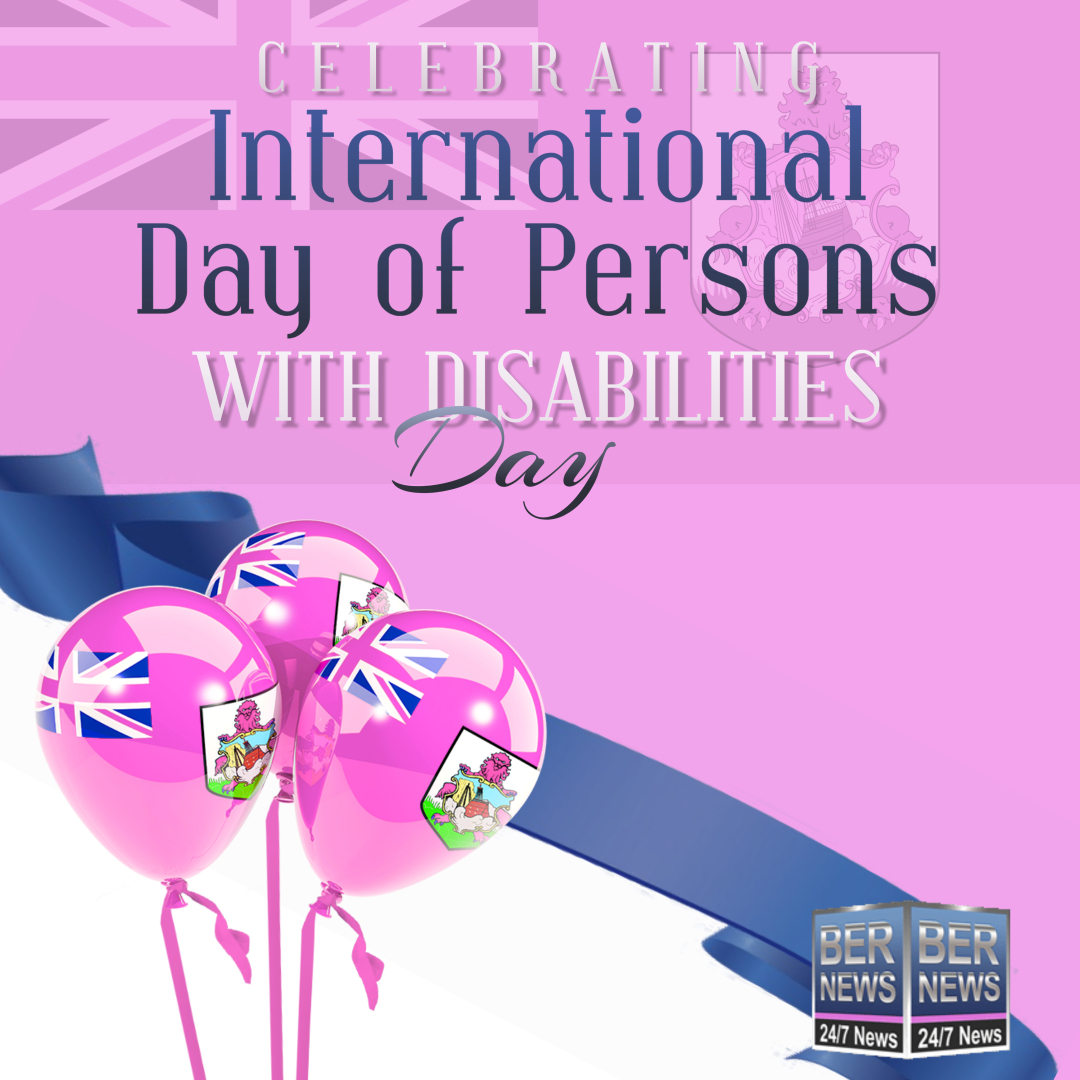 A Government spokesperson said, "The Ministry of Public Works wishes to inform motorists that the Mid-Atlantic Wellness Institute [MWI] will be holding a Motorcade from their facility in Devonshire to City of Hamilton and back.
"The Motorcade is to take place on Friday, December 3rd, 2021 from 11:00 am until approximately 3:00 pm. It will consist of up to approximately 20 vehicles and a train that will travel as a procession under escort from the Bermuda Police Service.
"Motorists are advised to use alternative routes to avoid the Motorcade.
"The Motorcade route will commence from MWI and head down Devon Spring Road to turn left onto Hermitage Road. Pass Elliott Primary School to head left on to Middle Road, Devonshire. On Middle Road it will pass Somersfield Academy to eventually turn right onto Parsons Lane to Barker's Hill.
"At the roundabout it will turn left up Palmetto Road, pass Tynes Bay Waste Facility until it reaches Parsons Lane and Old Military Road. On Old Military Road it will pass Dame Marjorie Bean Hope Academy/Prospect Pre-school & Primary school and turn left onto Frog Lane and left BFA Way up to Cedar Bridge School around the 1st roundabout and back down to Frog Lane. Left onto Frog Lane roundabout to Parson's Road to right up Roberts Avenue. It will turn head to K Margaret Carter Centre and stop in the yard.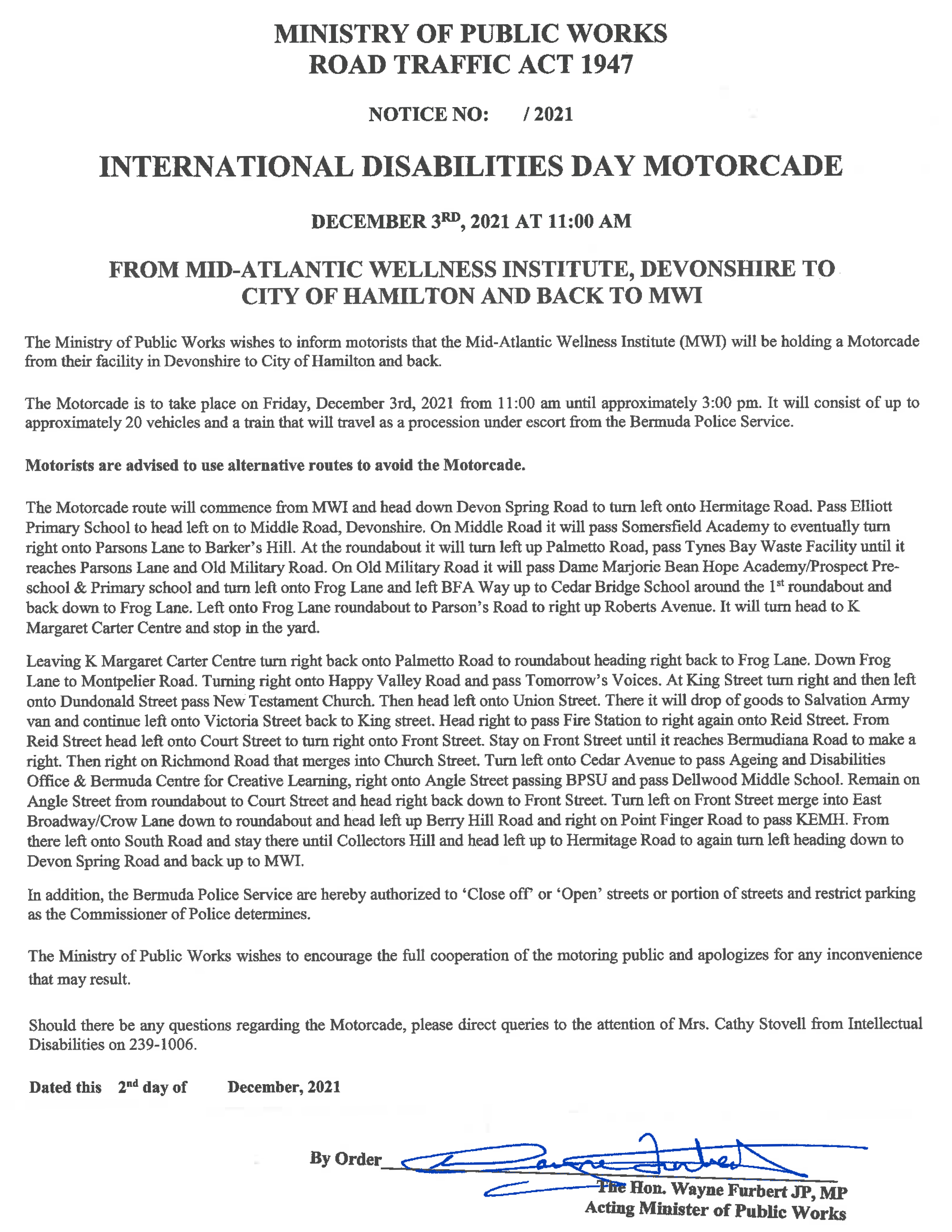 "Leaving K Margaret Carter Centre turn right back onto Palmetto Road to roundabout heading right back to Frog Lane. Down Frog Lane to Montpelier Road. Turning right onto Happy Valley Road and pass Tomorrow's Voices. At King Street turn right and then left onto Dundonald Street pass New Testament Church. Then head left onto Union Street. There it will drop of goods to Salvation Army van and continue left onto Victoria Street back to King street. Head right to pass Fire Station to right again onto Reid Street.
"From Reid Street head left onto Court Street to turn right onto Front Street. Stay on Front Street until it reaches Bermudiana Road to make a right. Then right on Richmond Road that merges into Church Street. Turn left onto Cedar Avenue to pass Ageing and Disabilities Office & Bermuda Centre for Creative Learning, right onto Angle Street passing BPSU and pass Dellwood Middle School. Remain on Angle Street from roundabout to Court Street and head right back down to Front Street.
"Turn left on Front Street merge into East Broadway/Crow Lane down to roundabout and head left up Berry Hill Road and right on Point Finger Road to pass KEMH. From there left onto South Road and stay there until Collectors Hill and head left up to Hermitage Road to again turn left heading down to Devon Spring Road and back up to MWI.
"In addition, the Bermuda Police Service are hereby authorized to 'Close off' or 'Open' streets or portion of streets and restrict parking as the Commissioner of Police determines.
"The Ministry of Public Works wishes to encourage the full cooperation of the motoring public and apologizes for any inconvenience that may result.
"Should there be any questions regarding the Motorcade, please direct queries to the attention of Mrs. Cathy Stovell from Intellectual Disabilities on 239-1006."
Read More About