The Saltus Athletics Department hosted their 3rd Inter House Golf Tournament under overcast skies and windy conditions.
Each house was represented with a Middle School team and a Senior School team. The format was Captain's Choice over 9 holes with the boys playing off the red tees and the girls off of the yellow tees.
The scores were extremely close in the Middle School Division with only one point separating all of the finishing places.
Watlington House had a strong showing with a score of 39, they were closely followed by Butterfield House on 40, Darrell House 41 and Saltus House 42. Alex Lefebvre [Y9 student on Butterfield House] captured the longest drive award and Edward Tudor Thomas [Y7 student on Watlington House] won the closest to the pin award on hole #7 and Camillo Legere [Y9 student on Saltus House] won closest to the pin on #2.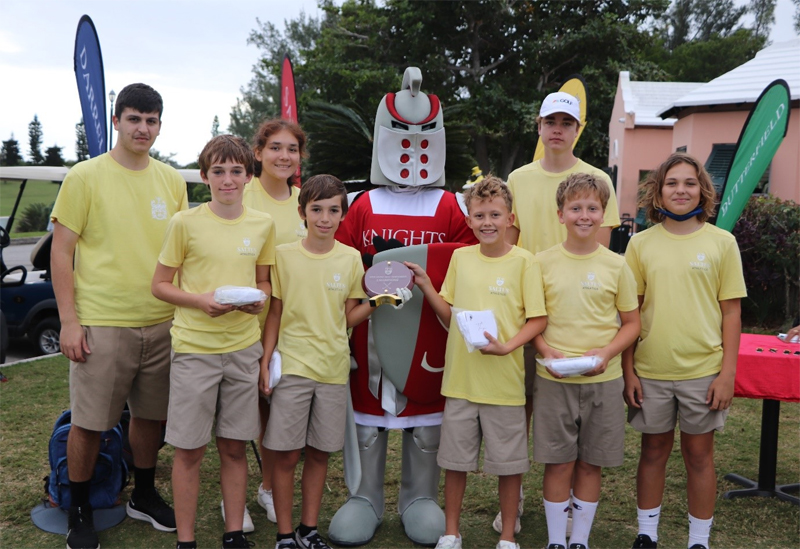 In the Senior School division, there was a tie for first with Watlington House and Butterfield House recording an impressive even par score of 36. Darrell House finished 3rd with a score of 40 and Saltus House finished the round with a score of 44. The longest drive award was also shared with Martin Grant [SGY1 student on Butterfield House] and Jonah Faria [SGY1 student on Darrell House] recording similar distances.
Grant also captured the closest to the pin award on hole #7. Sienna Mosquera [Y11 student on Watlington House] turned in an impressive all around performance as she captured the girls longest drive on hole #5 and the closest to the pin awards on holes #2 and #7 respectively.
Darrin Lewis, the Director of Athletics stated "It was a tremendous afternoon with some really promising golfing talent on display. Due to the success of this tournament and the potential exhibited, the Saltus Athletics Department will be planning a second tournament in the Spring 2022.
Special thanks to the Ocean View staff, Saltus PE staff, Heads of House, parents and family members that attended and donated prizes to make this event a huge success."

Read More About