"While we've identified more than 100 abandoned vessels on moorings, on the seafloor, along coastlines and in our bays, KBB is focussing its initial efforts on the removal of 37 wrecks," Keep Bermuda Beautiful [KBB] said.
A KBB spokesperson said, "Abandoned boats and marine wrecks have been a blight on Bermuda's beautiful coastline for years. Not only are they a danger to boaters and swimmers, but they are also an environmental hazard leaking fuel and oil into our pristine waters.
Collaborative Approach
"Keep Bermuda Beautiful [KBB] is delighted to announce a collaborative approach to tackling these wrecks with the launch of a joint Government – KBB initiative to address derelict and abandoned vessels in the marine environment.
"In partnership with the Ministry of Transport, Department of Environment & Natural Resources and the Ministry of Public Works, and with the enthusiastic support of three donors, the first phase of the initiative is the imminent removal of 37 abandoned vessels from Great Bay, Stoke's Harbour, St George's Harbour, Marginal Wharf and Smith's Sound in St David's, Riddell's Bay in Warwick and Lagoon Park in Sandys."
Collage of some of the 37 boats to be removed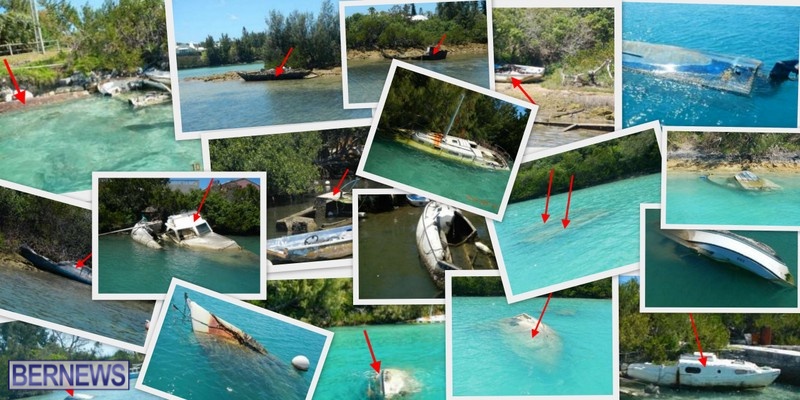 Katie Berry, KBB Executive Director explains, "After several months of preparatory work, KBB is excited to start this important initiative with three private marine contractors.
 Identified More Than 100 Abandoned Vessels 
"While we've identified more than 100 abandoned vessels on moorings, on the seafloor, along coastlines and in our bays, KBB is focussing its initial efforts on the removal of 37 wrecks in St David's, Southampton and Sandys which will be gazetted by the Government.
 Funding From Two Anonymous Donors & Argo Group
"KBB has received funding from two anonymous donors and the Argo Group that will cover the removal, remediation and safe disposal of the wrecks and their hazardous contents including fuel, oil and batteries."
Minister's Comments
The Minister of Transport Lawrence Scott said, "The Government is committed to safeguarding Bermuda's marine environment. The joint Government – KBB initiative to clean up abandoned and derelict boats will make our waters safer by removing navigation hazards and reducing pollution, help to protect our marine species and corals, and preserve our beautiful waters. Abandoned and wrecked vessels have no place in Bermuda; I am extremely grateful to KBB for leading the charge and bringing our community together to help solve this environmental challenge."
 Abandoned Vessels Creating Debris & Pollution 
KBB added, "Many abandoned vessels have been wrecked for years and are now breaking apart, creating widespread debris and pollution that threatens coral reefs and marine life. KBB seeks donations to enable the charity to safely remove wrecked boats from Ely's Harbour, Foot of the Lane, Mills Creek, Ducks Puddle, Jews Bay and Franks Bay.
Removal Of Additional Boats Will Cost Over $100,000, KBB Launching Appeal To Raise Funds
"The removal of these additional boats will cost in excess of $100,000. KBB is launching a public appeal to raise these funds. With community support, KBB is confident it can clean up the legacy of abandoned and wrecked boats."
We Must Take Action To Change Legislation
Katie Berry said, "KBB is acutely aware that we must also find a long-term solution to address the problem of abandoned boats and wrecks. We can't keep cleaning up! We must take action to change legislation to require boat owners to insure their vessels and have their moorings serviced.
"With a commitment from both the Government and local insurance companies, KBB has initiated the conversations necessary to establish a dedicated fund that will finance the environmental clean up associated with abandoned and derelict boats in the future.
This is not the first time Government has removed boats, a look back at 17 boats in 2018
"KBB thanks the initial anonymous donor who inspired this project and for their support throughout the development of this initiative and the Government teams who have helped to establish a programme for change.
"Wrecked boats cause untold environmental damage; they are the largest form of litter we experience on our island. KBB is proud to bring the many organisations and individuals together to make this ambitious clean up possible."
Read More About
Category: All, Environment, News