Bernews has a very special BNV News & Views episode this evening [Jan 12], with two members from 'Pain Into Purpose' joining us to speak about the important matter of road safety.
Antoinette Burgess — who lost her 16-year-old son Kijani Burgess in a collision in 2020 — and Guielle Bean are joining us to discuss road safety and the upcoming 'Sea of Blue Day' this Friday.
A spokesperson previously said, "PainIntoPurpose Bermuda, in collaboration with the Kijani Dream Charity #1023, is inviting you to express your support for the families of road accident victims and to promote road safety and wellness awareness by wearing blue in remembrance of all who have been lost or harmed in road accidents in Bermuda.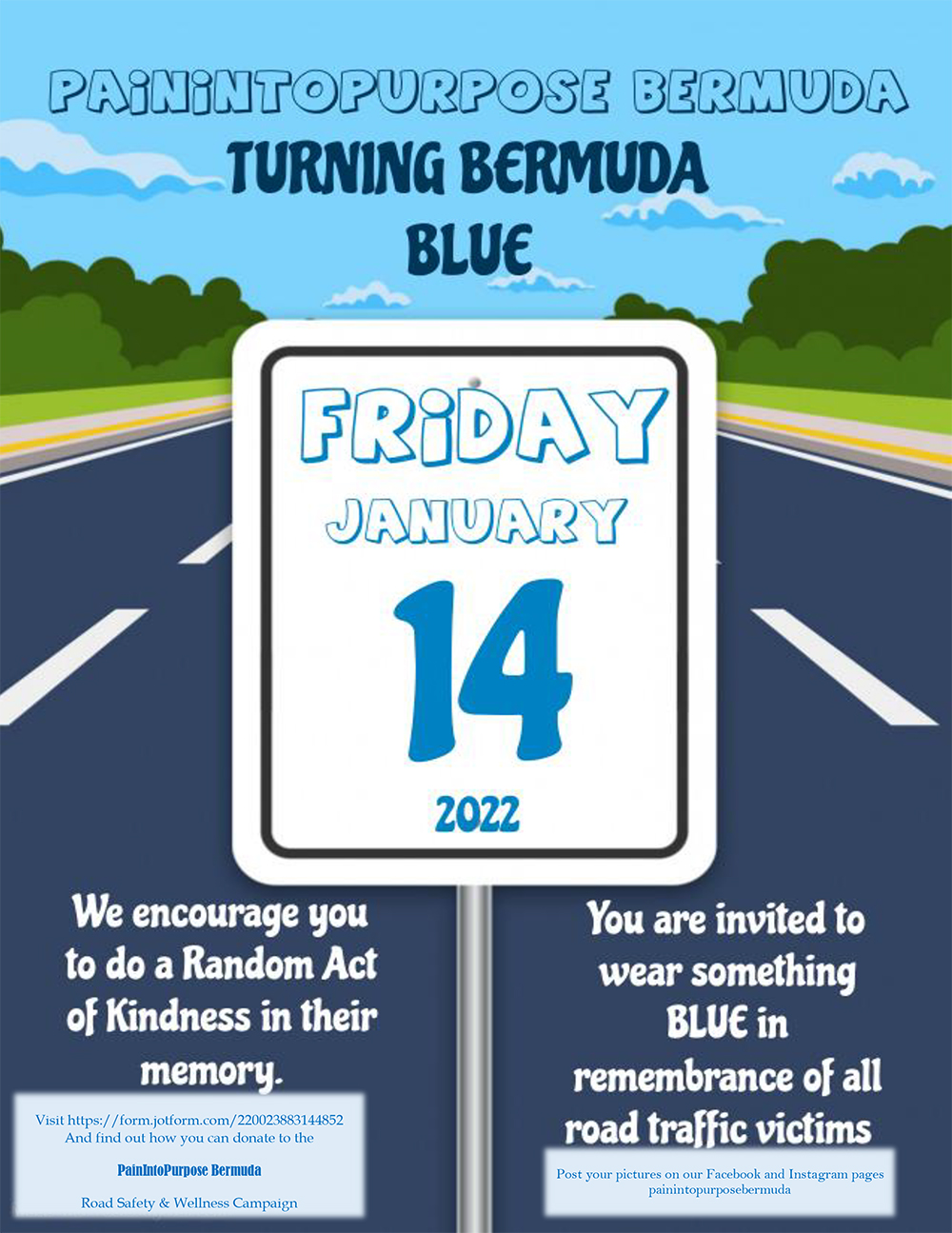 "Our theme this year is 'Road Safety and Wellness Awareness.' Our purpose and mission is to remember those individuals who are no longer with us and to shed light on the importance of Road Safety and Wellness.
"Through our grief, we realized that adding 'Wellness' to our mission allows us to be more inclusive of matters that are connected to road safety such as: overcoming injury, as well as dealing with grief and mental health whilst showing support to victims' families and loved ones.
"The impact of road traffic accidents on families can be devastating mentally, physically and financially, and we would like to bring awareness to each of these areas.
"The PainIntoPurpose Bermuda campaign was started in January 2020 by the Bermuda Institute Grade 11 class in remembrance of their classmate, 16 year-old Kijani Burgess, who lost his life in a road accident on January 13, 2020.
"On January 14, 2022, we hope that everyone will 'Paint Bermuda Blue' and show their support in an impactful way by wearing your PainIntoPurpose Road Safety Awareness blue shirts, dressing in blue, writing with a blue pen or wearing a blue ribbon.
"We also encourage you to perform a random act of kindness in the memory of someone who has lost their life or been injured on Bermuda's roads. Your visible demonstration of support will help the families to turn their Pain Into Purpose.
"Please post pictures of your participation on social media and tag us on Instagram and Facebook @PainIntoPurposeBermuda using the hashtag #PainIntoPurpose or #PainIntoPurposeBermuda. Come join us and let's Paint Bermuda Blue on January 14, 2022. You can visit here or email PIPBDA@gmail.com to learn how you can support the campaign. A special thank you to Rickai Lightbourne, Jr. who designed our PainIntoPurpose road safety awareness Logo and shirts."
The live interview replay is below
Read More About
Category: Accidents and fires, All, News, Videos