Tributes from across the globe and island poured out as Osagi Bascome was laid to rest, with a celebration of life service held on Sunday afternoon.
The Ethiopian Orthodox Church service was held at St George's Cricket Club and while there was a large group exemption granted, in person attendance was still limited, and the family invited the wider community to pay their final respects virtually and provided an online stream.
The well liked and respected 23-year-old was murdered last month in St George's.
Mr Bascome was a very talented footballer who played professionally and for the Bermuda National Team, and tributes were read out from FIFA President Gianni Infantino, Concacaf President Victor Montagliani and Caribbean Football Union President Randolph Harris.
Part of the well known Bascome family who are renowned for producing sports stars, Mr Bascome was the son of Carla and Herbert Bascome, the brother of Oronde, Okera, Onias and Oyinde Bascome, and the nephew of footballers Andrew and David Bascome.
Screenshot from the live broadcast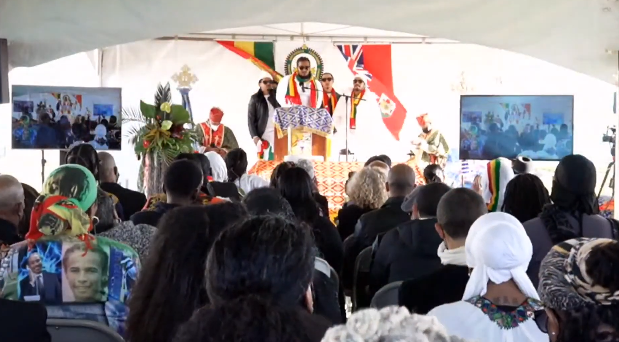 One of the speakers was Lt/Col Edward Lamb, and applause broke out when he paid tribute to Mr Bascome's parents, saying "Herbie and Carla have raised five princes."
Noting he has spoken at many funerals, Lt/Col Lamb said "this one was the most painful." He said "Osagi was a bright light in the world," and he appealed for peace in the community.
Representatives from the Ethiopian Orthodox Church spoke about Mr Bascome's faith and also appealed for peace in the community. "Hold on strong to the memories of Osagi," Qes Paulos Goater said. "And continue to love one and another."
Neil Paynter also spoke at the funeral, and he became emotional as he explained that it was a very difficult time, as he was speaking not only as the St George's Cricket Club President, but as Osagi's Uncle.
A tribute read out by Kimonea Pitt on behalf of Rosewood Bermuda said, "We extend sincere condolences and prayers to the friends and family of Osagi Bascome, an inspiring young man that made a quick impact in a very short time with his family at Rosewood Bermuda.
"We feel lucky and eternally grateful to have worked, laughed, and strategized on how we would provide the highest level of customer service within him. When we first met Osagi, a warm and caring individual, it was a no-brainer that we would have him at the forefront of the guest services team.
"It was our deliberate intent to have the young man with the infectious smile, gracious and calm demeanor, and polished traits of a true hospitality professional as our brand ambassador.
"The handsome young man with the colourful dreadlocks was informative, a story-teller who amazed all guests and colleagues on his accomplishments as a successful young athlete.
"Osagi was an old man in young man's clothing – an old soul, wise beyond his years. He had a penchant eye for the small details, for he knew it was these details that separate the ordinary from the extraordinary. Osagi wanted to succeed in his post; he was quietly competitive. He wanted to be first; he wanted to be the best on the team," Rosewood Bermuda said.
Two of Mr Bascome's brothers spoke, with Onias Bascome, who is an national level cricketer, thanking everyone for their support, calling his brother a "special individual" who "showed it in all walks of life."
"I miss you," he said, adding that his family will make sure his name lives on. "We will carry you with us no matter what."
His brother Okera Bascome echoed his sentiments and also thanked everyone for the support, and Dr. Amne Foggo also read out additional tributes from the family.
From the funeral programme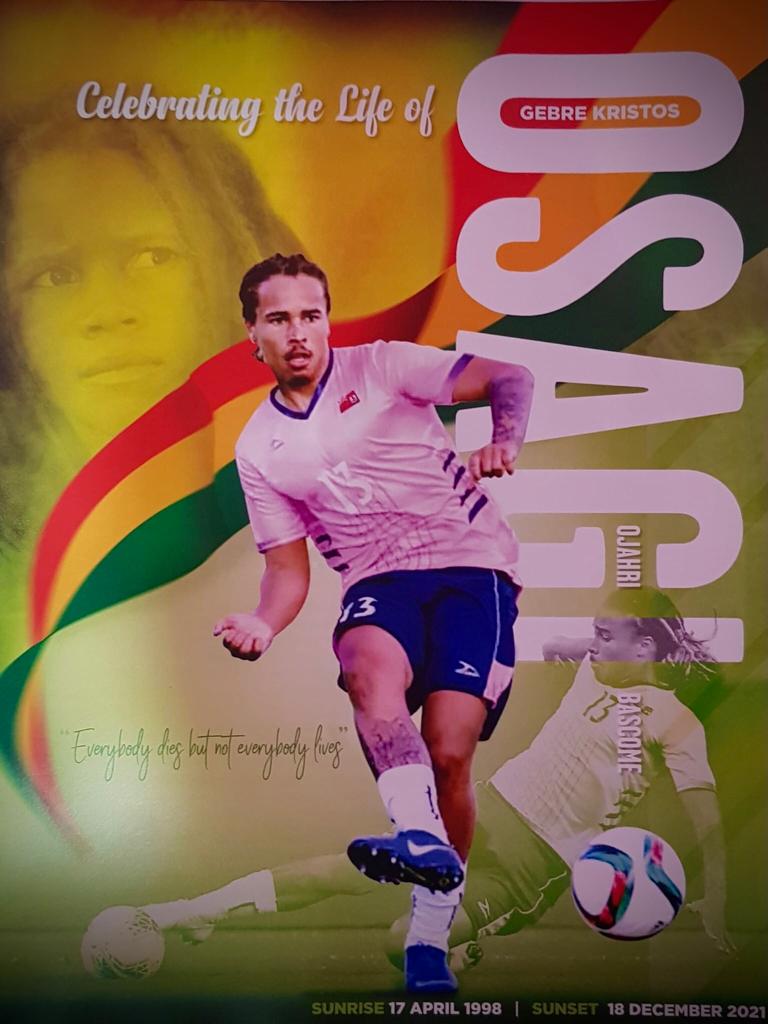 Mr Bascome's obituary was read by Renee Foggo Paynter and Donn Foggo, who told stories about his childhood, his perseverance, his love for his family, and spoke about some of his many sporting accomplishments.
"He is our legend and we will continue to ensure his life was not in vain," Renee Foggo Paynter said. "Osagi was the epitome of love. He was and still is cherished."
There were more speakers and numerous tributes read out, with people describing his love for others, his uplifting nature and sharing stories of his life. The family noted that they received so many that not all were read out, and they extended their thanks to the community for the support.
The live stream was deluged with comments, with countless people extending their condolences to the family, others saying they felt the service was a fitting tribute to a young man loved by so many, and some people commented that they enjoyed some of the teachings of the Ethiopian Orthodox Church.
Among those posting tributes was Premier David Burt who said, "Earlier I joined the Bermuda's community in viewing the touching celebration of life service for Osagi Bascome.
"Osagi was a solid rock in the midfield, just like the Bascome and Foggo family are for the community of St. Georges. Osagi's upbeat and eternally positive personality will be remembered by me & all those who were fortunate to know him – and will be missed," the Premier said.
In their obituary, the family noted that "the great theme of his life was love" and said "Osagi would want us to support causes that transform and heal the life of another. In lieu of flowers, kindly consider contributions to MOM Bermuda in his honour [c/o M. Smith – BNTB account 0600556040025]."
Read More About