CONCACAF has confirmed the schedule for the CONCACAF W Qualifiers [CWQ] matches taking place during the FIFA Women's International Match Window of April 2022.
In doing so CONCACAF has confirmed that Bermuda will play their match on April 12th against Grenada at the National Sports Center Flora Duffy South Field Stadium.
Bermuda will face the Dominican Republic on Friday, April 8th, at the Estadio Felix Sanchez Stadium in Santo Domingo, before returning home to face Grenada.
The matches will conclude the first round of World Cup and Olympic qualifying and will determine the six teams that will advance to the 2022 CONCACAF W Championship, where they will join the United States and Canada [CONCACAF's top two ranked nations].
The Confederation's new structure for Women's Senior National team competitions, which now includes major summer tournaments in 2022 [CONCACAF W Championship] and 2024 [CONCACAF W Gold Cup], kicked off in February with the first 30 W Qualifiers matches. This new ecosystem is vastly increasing the competitive opportunities for women's national teams from all CONCACAF member associations and is part of the Confederation's wider strategy to develop women and girls' football at all levels.
For further details on these new competitions please read How the CONCACAF W Qualifiers and Championship Work.
For the Group Stage of the 2022 CWQ [February and April 2022], the 30 participating women's national teams [all ranked 3 and below in the FIFA Rankings] were divided into six groups of five teams each. After CWQ Group Stage play, where each team will play a total of four matches [two at home and two away], the six group winners will advance to the final championship.
To view the 2022 CWQ current group standings, click here.
In February, CONCACAF announced that the 2022 CWC will take place in Monterrey, Mexico, from July 4-18. This important summer tournament will determine the region's representatives at the FIFA Women's World Cup Australia & New Zealand 2023 and 2024 Paris Olympics.
The 2022 CWQ matches will broadcast live through the Confederation's partner networks, including CBS | Paramount + [USA], One Soccer [CAN], ESPN [MEX], and multiple partners in the Caribbean, Central America, and the world. Matches will also be available on the CONCACAF Official App [subject to territory restrictions]. The free mobile app is available in the Apple and Google Play stores.
The CONCACAF schedule for W Qualifiers matches in April follows below [PDF here]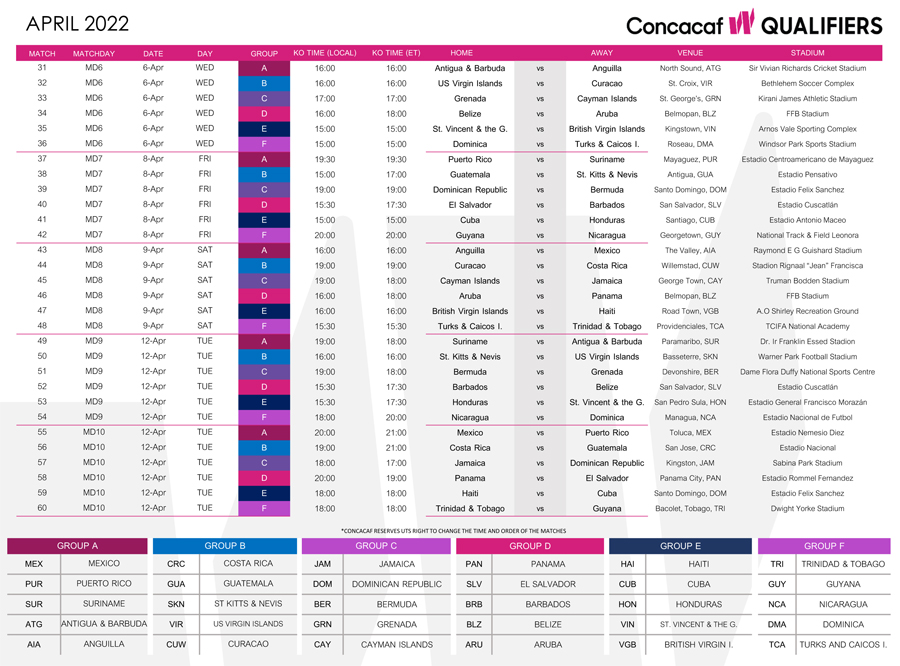 Read More About