The Noire Youth Theatre Company is getting set to host the Perform On Point [POP] talent competition from April 11 to May 23.
A spokesperson said, "Perform On Point began as a talent competition designed to discover, unearth, nurture and expose vocal talent. The program is the brainchild of Mr. Maurice Clarke and came to life in 2013 while he was teaching in Jamaica.
"The concept was expanded to include other areas of entertainment under the Distinguished Intelligent Artists Initiative developed by Naturally Musical. In 2017 the initiative was introduced to the Turks and Caicos Islands where it was further developed to include more areas of the creative industries.
"POP is additionally designed to provide support for music and performing arts programs in participating schools, through fundraising and donations. Students are provided with the unique opportunity to receive mentorship, coaching and gain relevant experience, as they seek to identify a career in the creative industries. POP currently prepares musical performers, disc jockeys, masters of ceremonies, beauticians, wardrobe stylists, photographers, videographers, AV technicians, songwriters, journalists, social media managers, stage managers, music producers, and set designers.
"At the core of Perform On Point is the belief that the arts are an essential part of a child's holistic development; that they are integral to the preservation of cultural identity; and that they play a key role in the development of a country's tourism product, and economic growth. POP therefore serves as an incubator, and launchpad, that has produced recording artists, content creators, music educators, songwriters, band leaders, and other industry related professionals.
"As an initiative that is dependent on the involvement of children and support from the community at large, the goals for POP in Bermuda are linked to those two factors. It desires to encourage acceptance of musical and artistic intelligence, as equally important to traditional intelligences, and that careers in these fields are to be accepted without prejudice.
"POP seeks to also encourage consistent support for activities, programs and other opportunities that are necessary for the preservation of culture and national heritage.
"POP has partnered with the Noire Youth Theatre Company locally to bring an exciting, sensational project to Bermuda. A group of local entertainment industry legends, led by the esteemed Mrs. Patricia Pogson-Nesbitt, has committed to making this a highly successful project, and we are excited to present Perform On Point to local audiences across all media, including live.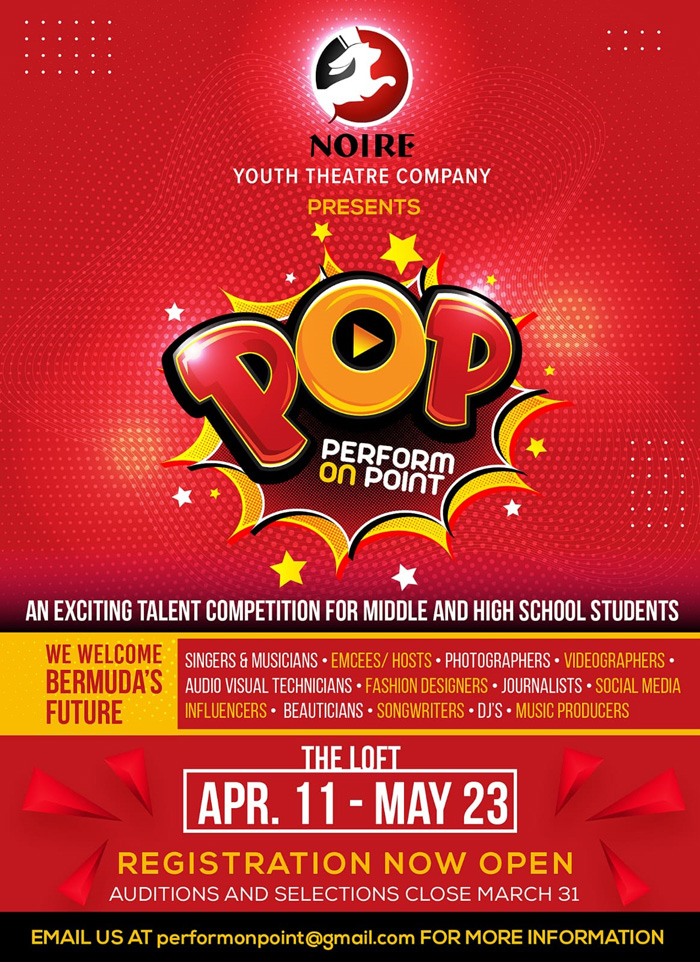 "Interested students will sign up and register for auditions and selection to compete in any of the areas available. The registration process is done online, where they may choose to audition in person or through video audition. This will also alert their parents and their school to their interest in the competition.
"Once selected, they will receive a release form for their parents and the school to sign, giving them further permission to participate, and for their images to be used. At the auditions and throughout the competition, the audience will be encouraged to vote at $1 per vote for the performer of their choice. This along with the judges score will go towards their points, which will be used to select the best representatives from each school.
Activities
Training: Contestants will receive voice training, performance coaching and attend workshops before the start of the competition. This will be done by local and international practitioners, who will prepare them for competition.
Photo shoot: They will participate in a photo shoot to be done at the beginning of the competition. These pictures will be used for promoting and marketing the competition.
Campaigning: throughout the competition, students will be encouraged to acquire support and votes in order to boost their points. This will be supervised by an adult where necessary with guidelines regarding when, where and how it is done. A daily record will be kept to maintain accountability.
Raffle: Voters stand the chance to win prizes weekly and a grand prize at the end of the competition
Rounds: There are six performance rounds, each with a different theme and challenge. Students will advance on points that they will acquire from the judges' scores, votes, social media and various challenges. The performances will be held on a Monday at the The Loft, with the winner for each round being featured at a local event throughout the week. They will also campaign throughout the week until Friday when voting will be closed. At the Wild Card Results Show, the persons advancing will be announced.
Judges and Coaches: The judging panel will include trained and experienced musicians and other professionals from across Bermuda. Some judges will also act as coaches and mentors to help groom the contestants for their performances each week. Additional coaches and mentors will assist with the training and guidance in the other areas that are essential for the production of the weekly shows.
Tours & Charity: to increase exposure and experience, the contestants will embark on two tours. The first will be for the top 10 to strategic locations across the island, and the other schools and institutions during the semifinal round. Permission will be sought of the for contestants to perform in the schools, since it will occur during school hours. A donation will be made to the top voting primary school and to a charity on island.
Finale: The competition will culminate with a grand finale result show, where the top performer and participants will be revealed. The top ten contestants will perform in a countdown to the announcement of the winners. In addition, popular local artistes will be invited to perform along with the contestants.
Prizes: The main prize package will include the following:

Cash
trophies and medals
an original song written and produced for the winner with a music video,
a musical instrument
music lessons,
paid internships
Schedule
"The following are the scheduled dates for the major activities:
Registration: Begins March 25 – Online
Auditions: Ends March 31 – Online/DMS
Training Camp: April 4-8 – DMS
Round 1: Favourites [Pop Faves] – Monday April 11 – The Loft

Wild Card Results Show – Friday April 15 – DMS
Exhibition Performance [round 1 winner] – Venue TBA
Round 2: Sweet 16 [That Could Be Me]- April 18 – The Loft

Wild Card Results Show – Friday April 22 – DMS
Exhibition Performance [round 2 winner] – Venue TBA
Round 3: 12 On Top [Genres]- April 25 – The Loft

Wild Card Results Show – Friday April 29 – DMS
Exhibition Performance [round 3 winner] – DMS
Exhibition Performance [top 10] Venue TBA
Round 4: Vocal Gr8s [Icons]- May 2 – The Loft

Wild Card Results Show – Friday May 6 – DMS
Exhibition Performance [round 4 winner] – Venue TBA
Round 5: Hi5 [Rising 5]- May 9 – The Loft

Wild Card Results Show – Friday May 13 – DMS
Exhibition Performance [round 5 winner] – Venue TBA
Tours: – May 10-13

Schools: – Islandwide
Charity visits: – Venues TBA
Excursion: – Venue TBA
Round 6: Three's A Crowd [Triple Threat]- May 16 – The Loft

Exhibition Performance [Top 3] – Venue TBA
Grand Finale "On Point!": May 23 – The Loft

Top 5 contestants will headline the grand finale, which will also feature local entertainers and a guest artiste.
"Local shows and events will be targeted after the competition ends to help showcase and develop the talent emerging, leading up to the beginning of the next season in 2023."
Read More About
Category: All, Entertainment, Music