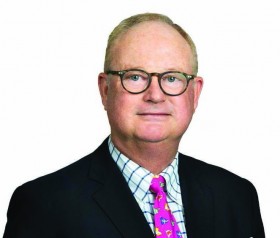 Appleby announced that Bermudian Duncan Card has joined the firm's Bermuda office as Partner.
A spokesperson said, "Appleby is delighted to announce Bermudian Duncan Card, a leading commercial lawyer that was based in Canada, joined the firm's Bermuda office as Partner, effective 1 April 2022.
"Duncan joins Appleby from an internationally-recognised Canadian law firm where he worked for the last 17 years, and for which he also opened and managed its Bermuda office from 2014-2018.
"Having begun his illustrious career in Bermuda with Appleby as a Legal Education Scholarship recipient and trainee, Duncan has over 30 years of extensive international experience providing legal services to a broad range of complex commercial transactions in Canada, Bermuda and across the Caribbean.
"His practice includes the following sectors: technology and innovation – including fintech, insurtech, privacy and data protection; banking and financial services; infrastructure and project management; energy and natural resources; eGaming; and corporate governance experience, especially in cyber security and ESG."
Mr. Card said: "I am extremely pleased to join the Appleby team to continue my commercial practice in Bermuda. I am looking forward to supporting the firm's corporate practice and being a part of the exciting evolution taking place in some of the Island's growing business sectors."
Partner Jerome Wilson, Appleby's Technology and Innovation practice head in Bermuda, said: "I am thrilled to welcome Duncan, a fellow Bermudian, to the firm. I look forward to him working with our team as increasing demands continue in this space given Bermuda's leading role as a global hub for blockchain and fintech."
Brad Adderley, Bermuda Managing Partner, stated: "I am excited to welcome Duncan back to the Island and to his roots, and back to Appleby, where his legal training started. His vast global and local knowledge will greatly support our growing team and help continue our corporate practice's exciting growth."
The company added, "Duncan holds numerous recognitions, awards and legal rankings over the years including Chambers Global. During his time practicing in Bermuda, he was awarded 'Telecommunications, Media and Technology Lawyer of The Year 2018 – Bermuda' by Finance Monthly Magazine Global Awards (UK) and Winner of the International Advisory Experts' 2019 International Expert Award – IT Law Bermuda.
"Duncan has several directorships and advisory board memberships, and served as Bermuda's sole representative on the Board of the Association of Caribbean Corporate Counsel for almost ten years. He regularly lectures at universities on outsourcing, enterprise computing and data transactions, cloud services, and technology contract law.
"Duncan is also the author of one of the leading books on information technology commercial and legal best practices, published in 2021 by Thomson Reuters International.
"Duncan qualified for the Bermuda Bar in 1984. He attended the Faculties of Law at both Queen's University in Canada and the London School of Economics in England."
Read More About