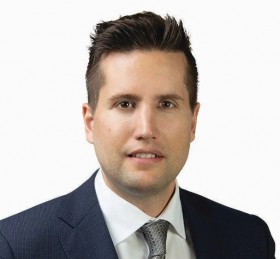 Appleby Bermuda has welcomed Justin Lafferty to its "growing and specialised Dispute Resolution team."
A spokesperson said, "Before joining Appleby in Bermuda, Justin practiced at a leading national firm in Canada where he gained experience in a range of complex commercial disputes and worked on several high-profile cases.
"His experience includes the civil and injunction litigation in support of a nationally controversial Canadian pipeline system, and more recently the post-trial and appeal in the largest damages award in Alberta history.
"Justin completed his Juris Doctor [JD] with distinction at the University of Saskatchewan, College of Law in 2016 where he received multiple scholarships, achieving top grades and awards in Contract Law, Trusts and Securities Regulation. He then clerked at the Alberta Court of Appeal in Calgary, Canada. Justin was admitted to the Alberta Bar in February 2018.
"Appleby Bermuda's Dispute Resolution team is the largest litigation practice in Bermuda. It is comprised of dedicated, specialised litigators advising on a full range of legal issues for high-profile, high-value, sophisticated and complex disputes. The team is described as 'professional, responsive and hard-working', noting 'their arguments and strategy are well thought out' [Chambers Global 2022] and having 'an outstanding reputation for heavyweight litigation' [Legal 500 2022]."
Mr. Lafferty said: "I am beyond excited to be joining the talented team of internationally-recognised lawyers at Appleby and grateful for the opportunity to join the welcoming Bermuda community."
John Wasty, Head of Appleby Bermuda's Dispute Resolution practice, commented: "We are extremely pleased to welcome Justin to our growing team. His experience and knowledge have already proven to be great assets for the team. They add to the breadth and depth of our team's expertise, particularly with the complexity and scope of the matters we advise on, as well as supporting our colleagues, and existing and new clients."
Read More About