Mosaic Insurance has added Lloyd's carrier Apollo to its consortia of industry partners, boosting the amount of syndicated capacity it can deploy for high-demand transactional liability coverage worldwide.
A spokesperson said, "The partnership with Apollo Syndicate Management Limited supports Mosaic's hybrid syndicated capital program, in which Mosaic Syndicate 1609 commits capital alongside that of trade partners seeking regional access and underwriting expertise in non-commoditized specialty lines. Apollo's participation raises Mosaic's underwriting capacity for transactional liability risks from $41 million to $50 million in North America, and from $36 million to $45 million in the rest of the world."
Mosaic's Head of International Transactional Liability Sam Whiteman; Matt Newman, Chief Innovation & Strategy Officer, Apollo; Stavan Desai, Team Leader for North American Transactional Liability, Mosaic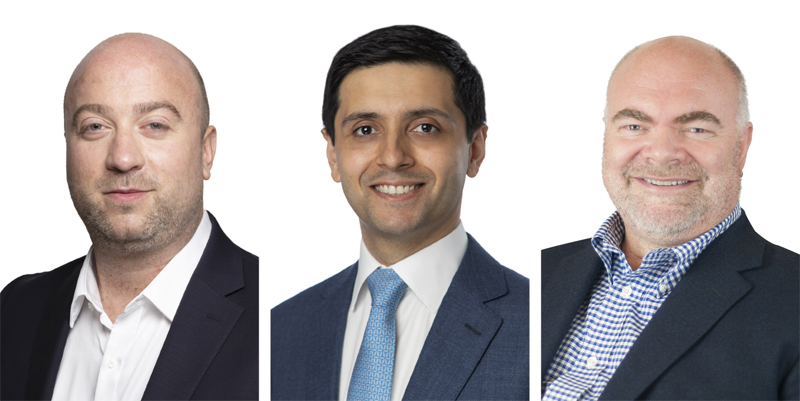 "This is a compelling opportunity that underscores Mosaic's mission to connect capital with risk through valuable partnerships," said Mosaic's Chris Brown, EVP, Syndicated Capital Management. "Apollo's high-caliber reputation, strength through Lloyd's, and significant investment in our syndicated capital program represent an important endorsement of Mosaic's underwriting team and global strategy."
Matt Newman, Apollo's Chief Innovation & Strategy Officer, said: "Apollo are delighted to have partnered with Mosaic as a capacity provider. We look forward to building on our existing shared values and vision over the coming years in this mutually beneficial partnership. We value supporting leading teams to diversify the Apollo portfolio. We would like to thank our colleagues at Mosaic for their collaboration in making this happen."
A spokesperson added, "Transactional liability is a cornerstone of Mosaic's model and specialty strategy, capitalizing on its leadership's successful track record in the sphere. The company began underwriting mergers and acquisitions [M&A] coverage in the US last July, including representations and warranties insurance [RWI] and tax liability insurance. In November, Mosaic launched the unit's international branch in London and has built out market-leading M&A teams in both jurisdictions, expanding to 23 specialists.
"The growth in our line size delivers on our promise to brokers to be a key insurer for mid- to large-cap transactions," said Sam Whiteman, Head of International Transactional Liability for Mosaic. "We've seen a significant increase in demand for our unique offering, and this increase in capacity helps us provide solutions for cross-border transactions at a time of great geopolitical uncertainty. It also supports Mosaic's ambition to grow our presence in Europe, the Middle East, Africa, and further afield this year."
"Mosaic launched its syndicated program in Q4 2021, providing capacity at a time of increased demand amid market constraints across its six business lines. As well as transactional liability, these include cybersecurity, political risk, political violence, financial institutions, and professional liability—all highly complex products that exhibit growth, return, and volatility characteristics. The program to date includes trade-capital partners such as HDI Global Specialty, Verto, and IQUW, and fronting partner Transverse Insurance Group that facilitates US-market access, when needed.
"Under the framework, capital partners can choose a whole-portfolio approach, or engage with specific products or geographies. The portfolio does not include natural-catastrophe exposures, providing partners with opportunity for specialty diversification. Mosaic sources specialty risks in domestic markets typically not seen in London, underwriting them through its network of service companies in the US, UK, and Bermuda."
Mosaic's Stavan Desai, Team Leader, Transactional Liability for North America, said: "We're thrilled to have received the affirmation of Apollo in supporting our underwriting strategy and philosophy, and are excited by the coverage solutions our growing capacity allows us to deploy for the benefit of our broker and client partners."
Read More About