[Written by Stephen Wright]
Dame Flora Duffy resumes her quest to become a four-time world champion when she competes in her opening race this year at the World Triathlon Championship Series Yokohama tomorrow [May 14].
Duffy made a perfect start to her title defence by storming to victory in Abu Dhabi in November last year and will look to lay strong foundations in Yokohama as she builds towards the Commonwealth Games in Birmingham in July.
Her preparations have not been ideal, however, with the 34-year-old contracting Covid-19 in January, which disrupted her pre-season training programme.
Although she has made a full recovery and is "fairly happy" with her fitness, Duffy has tempered expectations for Yokohama following her bout of illness.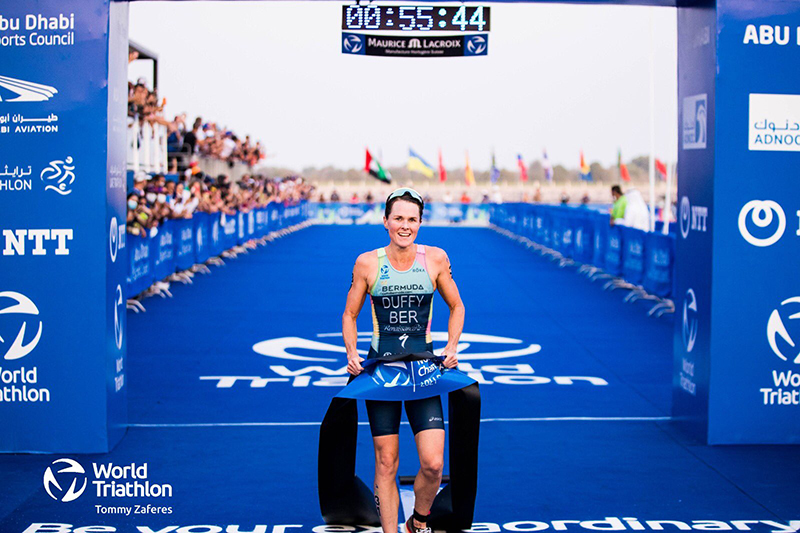 "At the end of last year, I took a nice long break and had quite a small build coming back into training for this year," Duffy told Bernews.
"I had some fatigue leftover from last year and then got Covid. It took some time for me to get going again and get into some good training.
"I'm fairly happy with my fitness at the moment. Tomorrow will be a good test to see where I'm at without putting too many high expectations on my performance.
"I'm looking to go out there to race, enjoy it, and build from there.
"The start list is pretty competitive. It always is for these races. It promises to be a good race."
Duffy, who won Bermuda's first gold medal at the Olympic Games in Tokyo last summer, joins Tyler Butterfield, Erica Hawley and Tyler Smith in the mixed relay team at the Commonwealth Games.
The foursome beat South Africa, Scotland and Wales to claim fifth at the previous Games on the Gold Coast, Australia, in 2018, where Duffy also won gold in the individual women's event.
"I'm looking forward to kicking off the 2022 season," said Duffy, who competes at the Ironman 70.3 Chattanooga in Tennessee next weekend.
"Yokohama is the first of six races leading up to the Commonwealth Games. It's going to be a busy few months.
"I'm excited about the Commonwealth Games, especially the relay event.
"It's nice the team got announced early, so we can start preparing for it with 100 per cent certainty that we're going.
"For Bermuda to have four triathletes going who can compete at that level is extremely impressive.
"It's really cool, and I know the two Tylers and Erica are super-excited. It's a special moment, and I don't know if we will get a moment like this again. I'm going to enjoy it for sure."

Read More About