[Updating] The police are holding a press conference, where they have confirmed that there was a firearms incident in the area of Divots at Belmont. We will have additional information later on and the live video is below.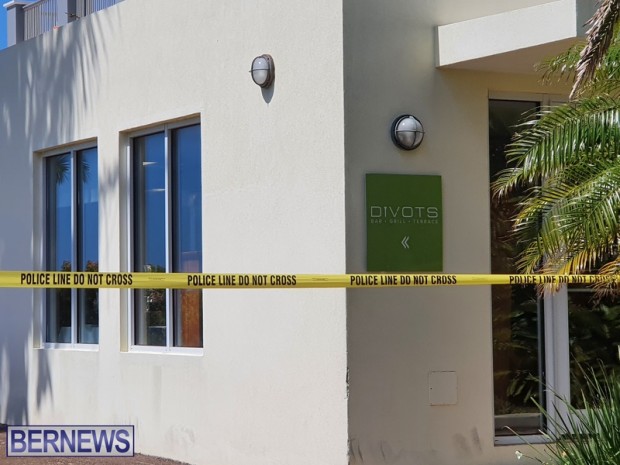 Update: The police confirmed that no one was injured. They said, "The Bermuda Police Service can confirm that at 1:10pm today, we received a report of a firearm incident which occurred at Divots Bar & Grill located at Belmont Hills in Warwick, We can confirm that a firearm has been recovered and our forensic support unit is presently at this location processing the scene. No one has been injured as a result of this incident."
Update: Live video replay is below
Update: The police said, " Around 1:10 p.m. today, Tuesday, 10th May 2022, Police received numerous 911 calls regarding a male with a firearm entering Divots Restaurant, Belmont Drive, Warwick.
"The suspect brandished the weapon inside the restaurant but upon attempting to leave, became involved in a struggle with patrons during which he dropped the firearm.
"The firearm has been recovered by police.
"He fled the scene and made good his escape by running across the Belmont Hills golf course.
"There have been no reports of any injured persons at this time.
"The suspect is described as a brownskin male approximately 6ft, dressed in blue jeans and blue/grey/ white jacket wearing a dark colored helmet.
"The search for the suspect continues at this time and anyone with any information on this matter is asked to call 211, the main police number, 295-0011, Crime Stoppers on 800-8477 or, share the information with a police officer you're comfortable speaking with."
There is also what appears to be footage of the incident circulating quite widely on messaging apps and U.S. based social media websites.
Update 9.30pm: Shadow National Security Minister Michael Dunkley said, "This is one time that I am thankful for social media. I usually don't appreciate when videos displaying anti-social behaviours and violence are shared, but this time it may be very beneficial. It is my hope the perpetrator in the Divot's incident is caught and prosecuted to the fullest extent of the law!
"Enough is enough. The violence is too frequent and wrecking many families in our community. Once again, people have been left traumatised by this senseless attempted act in broad daylight; which could have had a dastardly outcome.
"I applaud the quick and heroic action of the gentleman at the restaurant. This brave action coupled with video evidence from the scene should help bring the perpetrator before the courts in short order!"
Update 9.41pm: The BPS said, "The Bermuda Police Service is aware of video and still images of today's firearms incident at Divots grill and bar being circulated on social media.
"We are pleading with the public to not share these images and should you receive them please delete them from your devices. Sharing these videos and still images places the safety and well-being of the individual depicted in danger. We are appealing for your cooperation in that regard.
"Sharing these images may also hamper the investigation into this matter.
"Again, please do not share these videos and instead delete them should you receive them. We are also appealing for anyone with information on this incident to please share that information with us by calling 211, 295-0011, Crime Stoppers on 800-8477 or speak with a police officer with whom you are familiar."
Note: Our initial title said 'shooting' but it appears that there was not actually a 'shooting,' so we amended it to be more accurate!
Read More About