Mosaic Insurance announced that the division's Stavan Desai has been promoted to Head of Americas, and Katherine Spenner becomes its Global Chief Legal Officer
Spokesperson said, "Mosaic Insurance's transactional liability division is marking its first year in business, with promotions, a podcast, and plans for continued geographic expansion. The division's Stavan [Stav] Desai has been promoted to Head of Americas, and Katherine Spenner becomes its Global Chief Legal Officer."
Katherine Spenner and Stavan Desai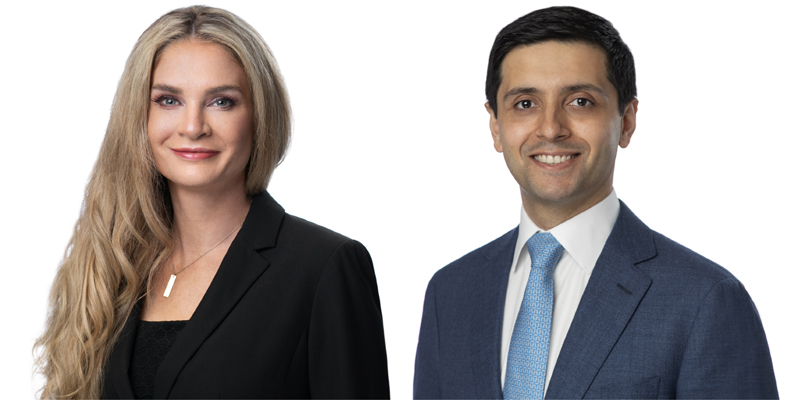 "Stav and Katherine have been instrumental to the launch and execution of our strategy, and their roles will continue to be vital as we build out our global operations," said William Monat, Mosaic's Global Head of Transactional Liability.
"They have provided outstanding leadership and positioned Mosaic well for long-term success in the development of thoughtful underwriting and sound protocols in the M&A sector. They are both deserving of this recognition."
The company added, "Transactional liability is a cornerstone of Mosaic's model and specialty strategy, capitalizing on its leadership's successful track record in the sphere. The company began writing mergers and acquisitions [M&A] business, including representations and warranties insurance [RWI], from the United States in July 2021, led by Monat.
"Four months later, in November 2021, Mosaic opened an international unit in London, led by Sam Whiteman, with an initial focus on business in the UK and Europe, the Middle East and Africa [EMEA]. The division exceeded $100 million in gross written premium in under 12 months of operation.
"The unit has undergone a rapid build-out over the past year to meet high demand in the M&A sector. Currently, Mosaic has 17 transactional liability professionals in the US, including Global Head of Tax Jon [JT] Hutchens, and eight specialists in London—a tally set to grow this year, as Mosaic opens new offices in Canada, Continental Europe, and Asia.
"Monat hosts the most recent episode of the new "Mosaic Moment" podcast series this month. Highlighting current trends in the transactional liability space, it features his conversation with Aaron Slavens, a leading M&A and private-equity lawyer with Holland & Knight in Miami. The pair discuss dynamic market forces at play, the impact of the Russia-Ukraine war, hot-button issues in the use of M&A insurance, and how dealmakers are shaping the industry landscape in 2022."

Read More About