[Written by Stephen Wright]
Dame Flora Duffy believes "strange things can happen" in the mixed team relay as Bermuda's foursome push for medal contention at the Commonwealth Games in Birmingham tomorrow [Sunday].
Duffy, who retained her Commonwealth title in scintillating fashion yesterday, returns to Sutton Park, a National Nature Reserve six miles north of the city, for the short super-sprint style format.
She joins Tyler Butterfield, Erica Hawley and Tyler Smith for the relay, which involves teams of two men and two women each competing in a short course triathlon [300 metres swim, 5km bike, 2km run].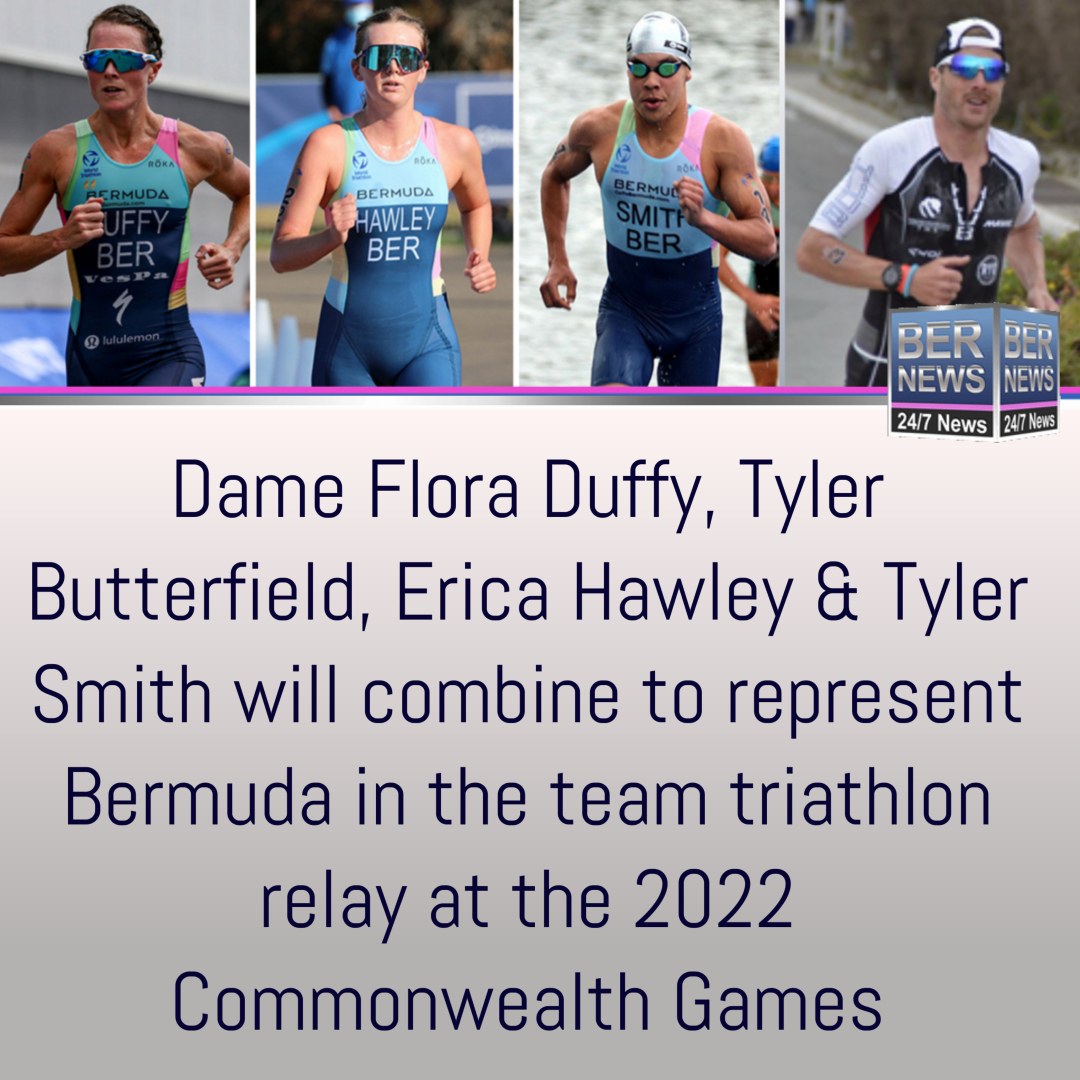 The format will be male-female-male-female, a change in order from the Gold Coast Games in 2018, where Bermuda finished fifth.
"It's incredible [Bermuda] has a mixed relay team," Duffy told Bernews. "I'm super excited to give it my all now I have pretty good form!
"I think we can put together a great race. The order has changed, which changes things quite a lot, not necessarily for Bermuda but for other countries.
"It will hopefully play to our advantage. We need a perfect race and a few teams to falter, which is not uncommon in the mixed relay. All sorts of stuff can happen.
"Some of the other countries aren't going to be quite as strong as they were four years ago."
Smith, who finished thirteenth in the men's race yesterday, said it is always a privilege to race in the same team as Duffy and Butterfield. He also believes Hawley and himself can build on their strong performances in the individual event.
"We know Erica is in good form, and Dame Flora Duffy is the greatest female triathlete of all time," he said.
"Tyler has so much professionalism and experience. There are things Tyler and Flora can tell you that no other athlete or coach can as an athlete coming from Bermuda."
Hawley, who placed sixteenth in the women's race, added: "It's going to be fun," she said. "Something could magical could happen!"

Read More About