The Bermuda Zoological Society [BZS] has awarded the BZS Steinhoff Scholarships to Osei Agyapong, Imogen Peckett, Logan Soares, and Naphisa Smith.
A spokesperson said, "Four Bermudian students have been awarded a combined $15,000 in educational funds as part of the Bermuda Zoological Society's [BZS] annual BZS Steinhoff programme. Osei Agyapong, Imogen Peckett, Logan Soares and Naphisa Smith were selected for their academic achievements and their commitment to protecting the environment.
"Mr. Robert Steinhoff, a former BZS president, established the BZS Steinhoff scholarship in 2009 for students either studying in the final two years of a bachelor's degree or working towards a master's or doctorate in their chosen field. Since the scholarship's inception, including this year's recipients, 31 students have received this scholarship, with more than $200,000 having been awarded. Many of these former recipients have given back to the Bermuda Zoological Society and to Bermuda through conservation and research programmes."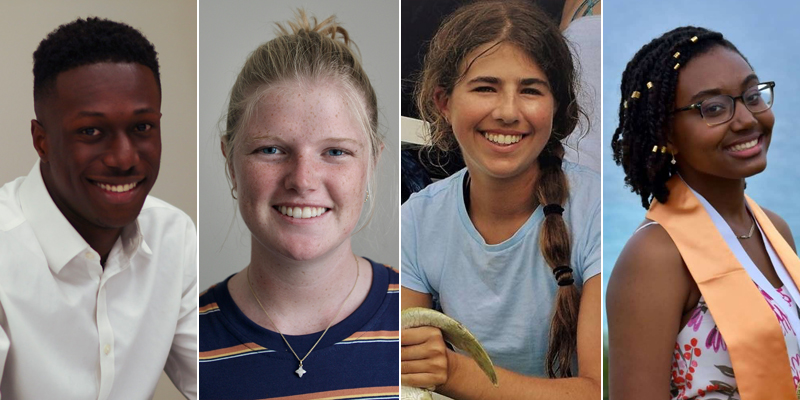 "We had excellent applicants for the scholarship again this year with strong academic achievements and full of passion for our environment," said Robert Steinhoff. "We wish the scholarship recipients success in their future studies and invite them to make their mark on protecting Bermuda's environment in the future."
Osei Agyapong will be studying a Master's in Environmental-Social-Governance under the name of Global and Planetary Health at Durham Univeristy in the UK.
Mr. Agyapong. "I hope with this degree I can become an instrumental in managing and mitigating environmental damage and climate change in the Bermuda private and public sectors. I would like to thank all those who have decided to invest in me. By choosing me, it shows that you have faith in me, and would like to support my studies and career goals. The confidence that this has given me is invaluable."
Imogen Peckett will be commencing her third year studying Environmental Geography [BSc] at Cardiff University. This year she will be undertaking a placement in industry, comprising two 3-month placements with the Archipelagos Institute of Marine Conservation in Greece, and a two-month placement with the Royal Geographical Society in London during the winter months.
Ms Peckett said, "Receiving this scholarship is an honour and I was thrilled to learn of my selection. I want to express my sincere gratitude to the Scholarship Committee for making the Steinhoff Scholarship possible for students in Environmental Sciences and I am deeply appreciative for your support in my academic endeavours. The Steinhoff Scholarship will enable me to pursue my passion, extend my education and enhance my career prospects."
Logan Soares is currently working toward an Integrated Master's Degree in Marine Biology at the University of Southampton with the goal of pursuing a PhD.
Ms. Soares said, "The Bermuda Zoological Society has had a large impact on my life and my love for our planet. I was privileged to have the opportunity to work alongside and learn from conservation specialists and scientists as both a Junior Volunteer and with the Bermuda Turtle Project. There are numerous opportunities in conservation and research in Bermuda and I am interested in exploring these prospects. This financial support will assist me in my education and future aspirations, and I am grateful for the BZS Steinhoff Scholarship Committee for granting me this award."
Naphisa Smith is entering into her last year of an Environmental Science degree at Nova Southeastern University in Ft Lauderdale.
Ms. Smith said, "I would like to extend a sincere thank you to the scholarship committee for selecting me as one of the recipients for the Steinhoff scholarship. I am honored and it will motivate me to work even harder for my last year."
"Congratulations to our four scholarship recipients this year," said Colin Brown, BZS President. "The scholarship committee was extremely impressed with the calibre of all the students and wishes them well in their upcoming academic year. These young professionals will be valuable contributors to the future of Bermuda's environment."
Mr. Brown went on to say, "The Bermuda Zoological Society is grateful to Mr. Robert Steinhoff and his family for their continued support; without them, this scholarship would not exist nor the opportunity to assist scholars who are dedicating their post-secondary education to environmental causes."
A spokesperson said, "The shared mission of BZS and BAMZ is to inspire appreciation and care of island environments. As the support charity for BAMZ, the BZS is an example of a highly successful non-profit/public partnership. Each year the BZS provide more than 8,000 free educational experiences through our Stempel Foundation BZS Schools Programme in addition to popular community programmes for all ages, development of BAMZ exhibits, and conservation and research programmes. Each year, BZS Volunteers contribute over 10,000 hours of valuable husbandry support to the Aquarium and Zoo with all programmes being accredited by the Association of Zoos and Aquariums."

Read More About
Category: All, Environment, News