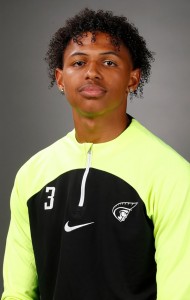 Caleb McDowall scored for his Anderson University soccer team as they played to a 3-2 defeat against Lincoln Memorial University.
The school report said, "The Anderson University men's soccer team came up short on the road at the Lincoln Memorial University Railsplitters on Saturday [Sept. 17] by a score of 3-2.
"Lincoln Memorial came out of the gate clicking on all cylinders offensively, outshooting Anderson nine to three in the first half of play.
"However, the Trojan defense held strong as goalkeeper Simon Krater picked up a pair of saves to keep the game scoreless. In the 41st minute, Harry Cooke and the Railsplitters were able to find the back of the net and did so again with less than a minute until halftime to take a 2-0 lead into intermission.
"The Trojans did not go down without a fight, as two minutes into the second half Juan Alvarez scored the first goal in the black and gold to get Anderson on the scoreboard.
"After the Railsplitters answered to go up 3-1, in the 65th minute, Martin Carpena assisted on the first collegiate goal for Caleb McDowall to cut the deficit to 3-2. Despite Anderson continuing to apply the pressure with 12 shots and seven corner kicks in the second half, Lincoln Memorial held on for the victory.

Read More About