A group of volunteers from the Bermuda Zoological Society [BZS] will work to cull invasive plants at Admiralty House Park.
A spokesperson said, "To prepare the way for a new Bermuda Zoological Society [BZS] Micro Forest plot, this Saturday 15th October, the BZS Weekend Warriors will begin removing invasive Japanese Pittosporum and Chinese Fan Palms from Admiralty House Park.
"The BZS Weekend Warriors are a group of volunteers who regularly come together to assist with the caretaking of Trunk Island, the BZS "Living Classroom". This Saturday the group will channel their passion for the natural environment and begin the removal of two invasive plant species in Admiralty House Park.
Drone image of culling area at Admiralty House Park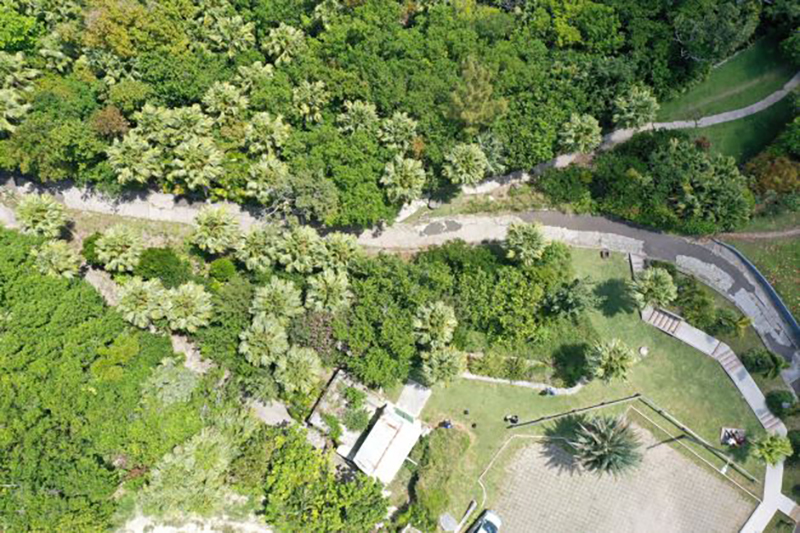 "Invasive species removal is a key part of managing the BZS Micro Forest plots, as these plants out-compete native flora and fauna. They can have aggressive root systems that spread long distances from a single plant, allowing it to quickly spread and smother native and endemic plants, reducing biodiversity, competing with native organisms for limited resources, and altering habitats.
"The invasive species tend to grow at a quicker rate and are more readily dispersed than our native and endemic species, so it is important to cull them to give the best chance of survival to the planted plots.
"The BZS Micro Forest Project utilises the Miyawaki method, pioneered by Japanese botanist Akira Miyawaki, to grow native-compatible and endemic species. The approach involves planting dozens of native species best suited to the local environment in the same area, with the forest becoming maintenance-free after the first three years.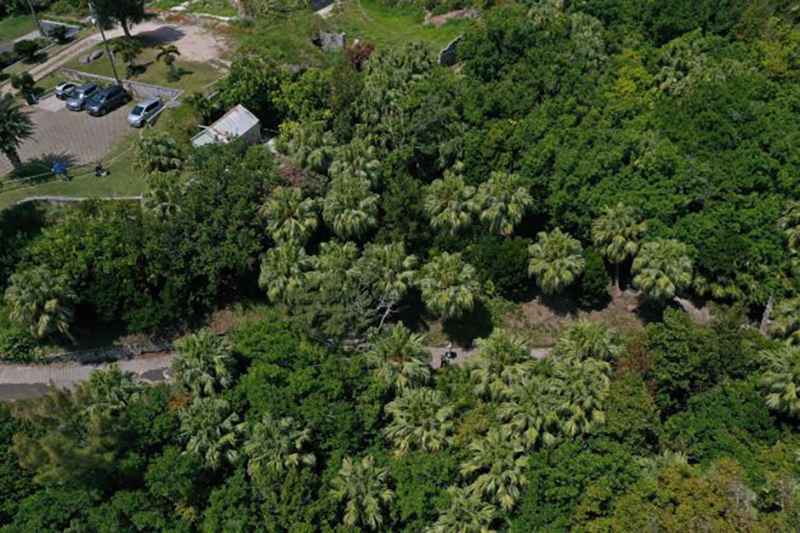 "The goal of this public-private partnership tree-planting project is to support local and migratory wildlife and extend experiential learning opportunities that help connect students to the benefits of trees, conserve our natural resources, and foster environmental stewardship.
"The shared mission of BZS and BAMZ is to inspire appreciation and care of island environments, and as the support charity for BAMZ, the BZS is an example of a highly successful non-profit/public partnership.
"Each year the BZS provide more than 8,000 free educational experiences through our Stempel Foundation BZS Schools Programme in addition to popular community programmes for all ages, development of BAMZ exhibits, and conservation and research programmes. Each year, BZS Volunteers contribute over 10,000 hours of valuable husbandry support to the Aquarium and Zoo with all programmes being accredited by the Association of Zoos and Aquariums."
Read More About
Category: All, Environment, News