Local mom, entrepreneur and inventor, Antonia Holder — the founder of a new child-centred brand, Kids Digital Wellness — today announced the launch of an "innovative ergonomically designed product to help children practice safer screen time."
The DigiRoo is described as a "patent-pending electronic tablet case, available in two different shades [pink/purple and blue/blue], which boasts an adjustable stand to ensure children are watching their digital devices in a posture safe position."
According to Mrs. Holder, mother to seven-year-old daughter Layla and 4-year-old son Logan, the idea for the DigiRoo came about in 2020, whilst in the middle of the Covid-19 pandemic. Layla was five-years-old at the time and while using her tablet [a Kindle Fire] to watch child-friendly TV programmes and play educational games, Mrs. Holder could see her daughter was holding her body and head in distorted positions to watch the screen.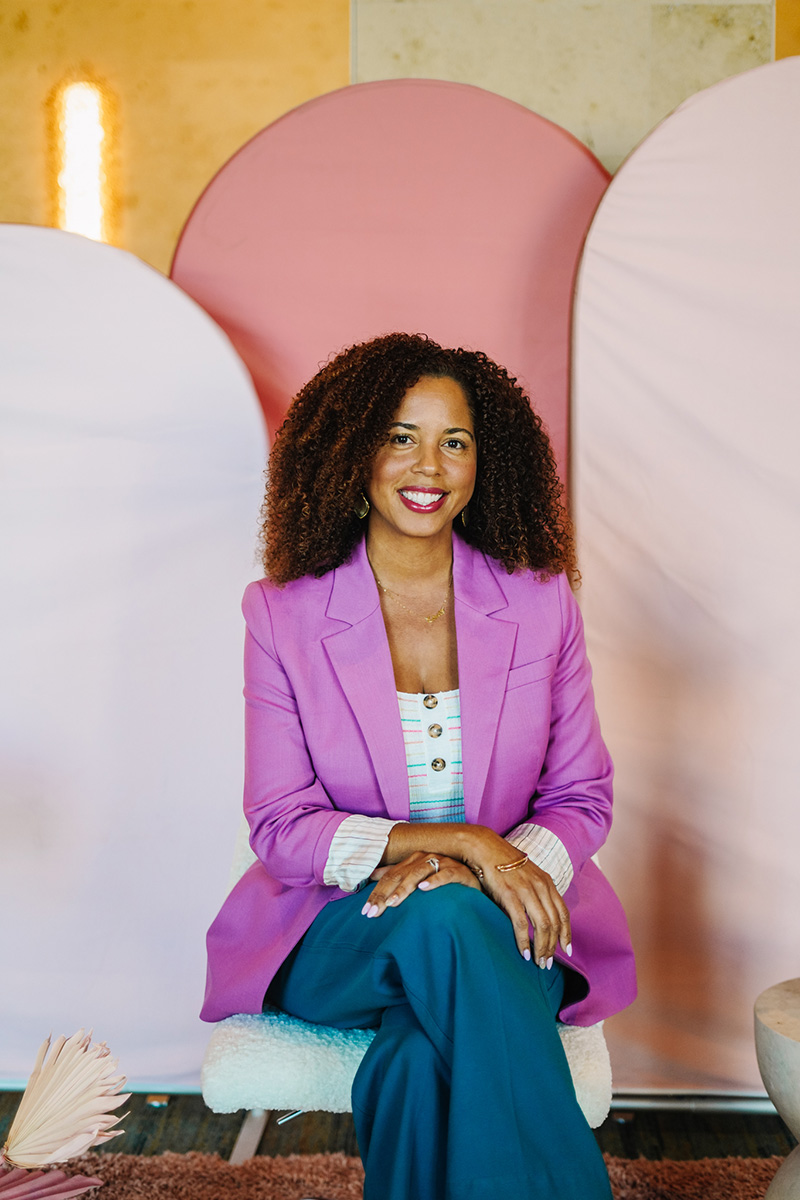 "I immediately felt this urge to do something about it, so I started researching," Mrs. Holder said. "I had to figure out how I could get her to hold the tablet differently, so she didn't damage her posture. I started researching poor posture for kids, and learned our bodies were never designed to withstand the pressures of our head constantly looking down at our devices. It puts a lot of pressure on our spine and our necks because the weight of our head in that downward texting position is actually up to 40 pounds."
Speaking with chiropractors and physiotherapists, Mrs. Holder learned that the safest way to hold our necks is actually between the 10-20 degree angle range – with "just a little tilt". Then one day in the early morning hours, the mother-of-two came up with a solution for how she could help not only her little ones, but thousands of other children from around the world who use tablets on a daily or weekly basis.
"It was 4am when I got the divine download that I needed to create a product that raised the tablet up to eye level," she said. "I started mapping out what that first sketch of the Digiroo tablet cover and stand would look like. Then I started researching if anything like this already existed in the marketplace. Weeks later I realised the night I woke up out of my sleep was actually the anniversary of my mother's death. I get emotional talking about it, but that was confirmation for me that I had to pursue the idea."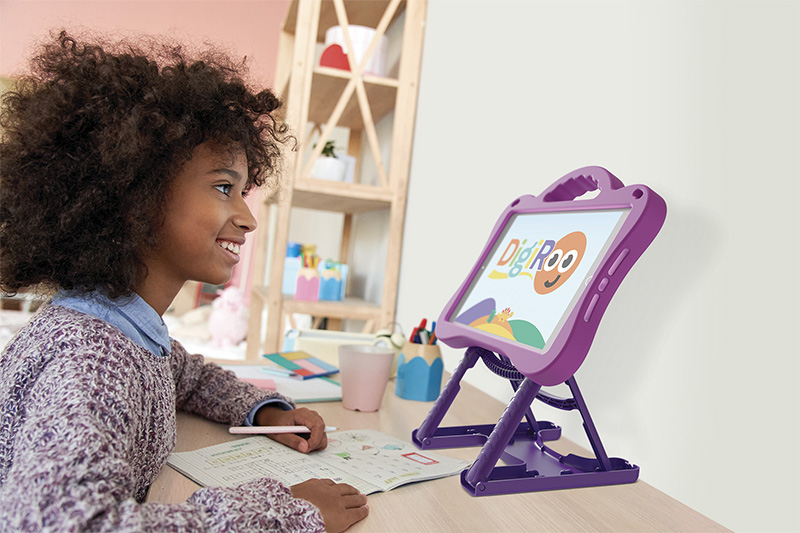 While there were other products that existed for adults, Mrs. Holder was surprised to learn there was nothing catering to young people – in a child-friendly design or colours.
"I also found there were no tablet case brands out there that made it part of their mission to share the impact of technology on kids," she said. "They were just selling these digital products on Instagram or Amazon without showing parents and children how to engage in safe practices online."
Mrs. Holder's husband, Lloyd, and close friend encouraged her to pursue the new business venture.
"It's been such a journey since that day and has taken so much work to create a new product for kids," she said. "I didn't want to cut any corners, which is why I've had to learn so much over the last two years."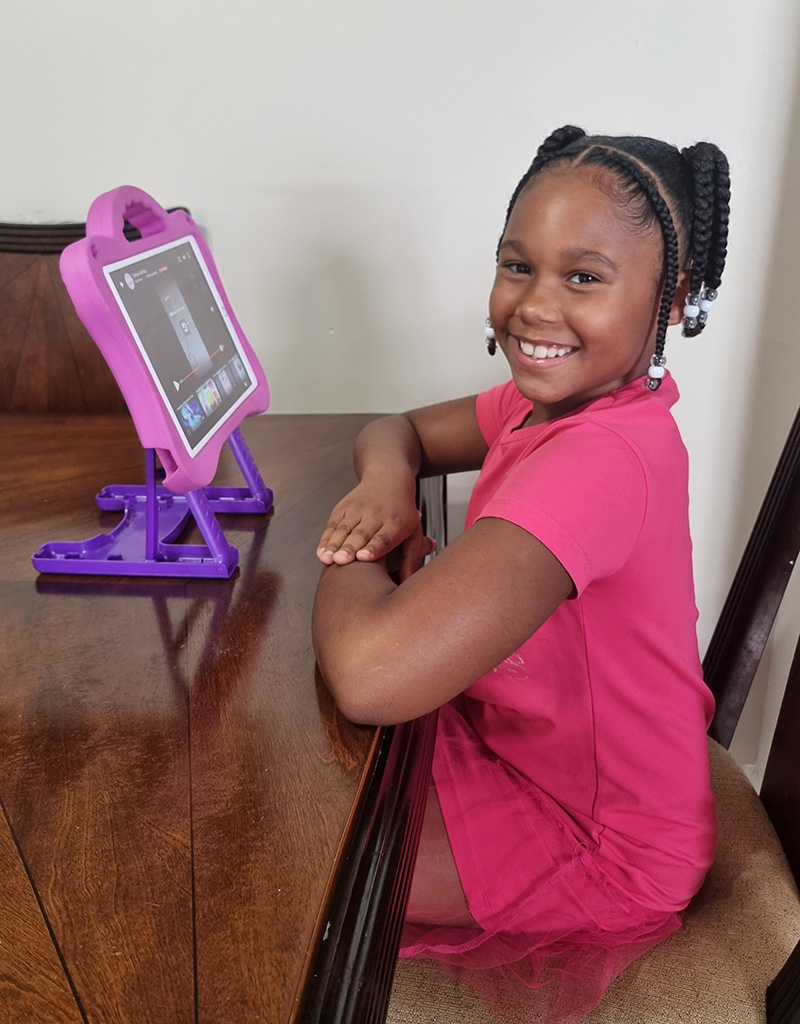 The first thing she did was create a 2-dimensional sketch and pass that off to a designer to turn it into a 3D sketch. Hiring a lawyer to patent the design and working with a product development team to properly engineer the product were also on Mrs. Holder's to-do list.
"There were obviously challenges along the way," Mrs. Holder explained. "We had to update the patent because we changed the design a little bit. Getting funding was also a major challenge and I've been told no more times that I've been told yes. At times we thought we didn't have enough funds, however, thankfully we've received the provision we needed at each stage to keep things moving."
Mrs. Holder said the process of developing a new product from scratch has stretched her faith – she has had to trust that what was needed would be provided at every step of the way. "I've always been an ambitious person, but this endeavour really required courage to ask for what I needed, as well as determination. I've had setbacks along the way and have had to keep going. It's taught me just how resilient I am."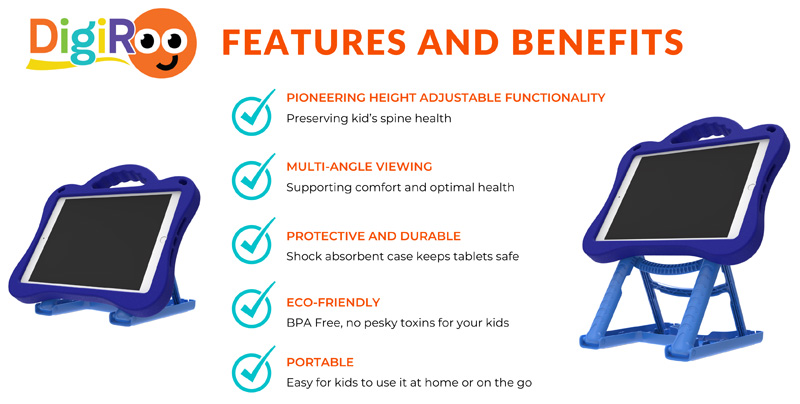 She's also had to lean on her spouse for support like never before. Any time Mrs. Holder had to make a decision, her husband, Lloyd, was there to offer feedback and guidance.
"Throughout this period – from 2020 to now, I've seen my husband's strengths in a new way. He has supported this venture from day one and is very much involved in the decision making. I'm excited about building this legacy with him. "
DigiRoo will be accepting pre-orders starting on Cyber Monday, November 28. For more information, visit www.kidsdigitalwellness.com.

Read More About
Category: All, Business, News, technology