The Berkeley Institute Green team won the Senior School Girls Six-A-Side tournament after defeating Warwick Academy in the Final. Keidel Astwood gave Berkeley a dream start after scoring in the first minute of the final, Jahni Simmons scored a second-half goal to seal the victory for the Greens.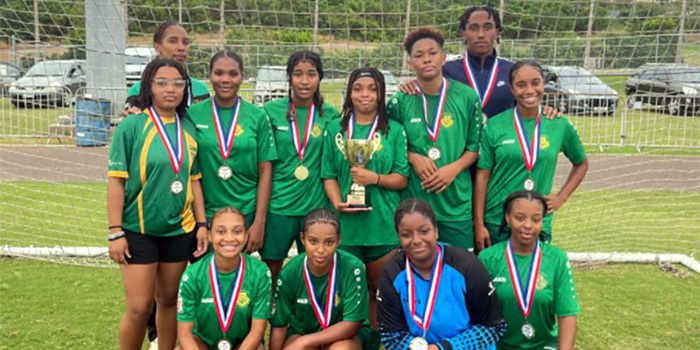 The Greens had to come from behind twice in the semi-final before defeating CedarBridge Academy 4-1 in a penalty shootout. Eva Tuzo had given CedarBridge Academy an early lead in the semi-final before Astwood equalized late for the Greens. Tuzo put CedarBridge back in front early in the second half with a stunning long-range shot. The Berkeley Green team spent the rest of the half pressing for the equalizer and were finally rewarded when Astwood slotted home her second of the match.
Warwick Academy seemed to be headed into a penalty shootout in their semi-final against Saltus Grammar School before an own goal in the final minute gave them a 2-1 victory and place in the final. Adriana Argent had given Warwick the lead in the first half. Camryn Lines scored for Saltus in the second half setting up a tense final stages of the semi-final.
Preliminary Results
Berkeley Green – 3
Saltus – 1
Berkeley Green – 1
Berkeley Gold – 0
Saltus – 0
Berkeley Gold – 0
Berkeley Green – 3
Warwick Academy Blue – 1
Saltus 4
Warwick Academy White – 0
Warwick Academy Blue – 1
Saltus – 1
Warwick Academy White – 1
Berkeley Gold – 0
Berkeley Gold – 1
Warwick Academy Blue – 1
Warwick Academy Blue – 1
CedarBridge Academy – 0
Warwick Academy Blue – 1
Warwick Academy White – 0
CedarBridge Academy – 2
Warwick Academy White – 0
CedarBridge Academy – 3
Berkeley Green – 0
Berkeley Gold – 0
CedarBridge Academy – 0
Saltus – 2
CedarBridge Academy – 1
Berkeley Green – 2
Warwick Academy White – 0
Semi Finals
Warwick Academy Blue – 2
Saltus Grammar – 1
Berkeley Green – 2 (won 4-1 on penalties)
CedarBridge Academy – 2
Finals
Berkeley Green – 2
Warwick Academy Blue – 0

Read More About