Online Registration for the Bermuda Public School System's 2023/2024 school year is open and will close on November 30.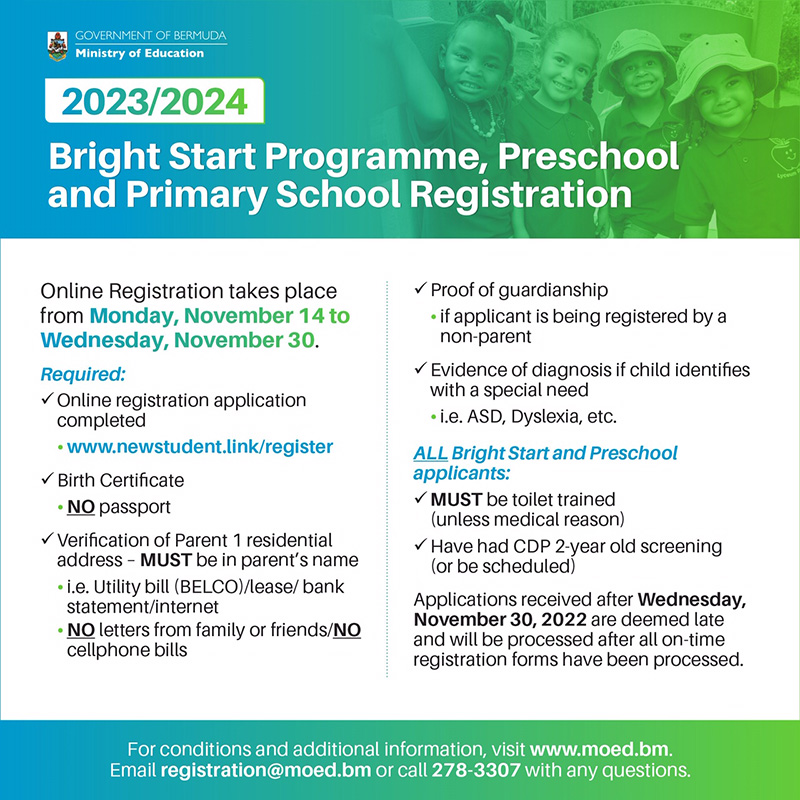 A Government spokesperson said, "Parents and Guardians are reminded of the following general requirements:
Online registration application completed
Verification of Parent 1 residential address – Must be in parent's name

i.e. Utility bill [BELCO]/lease/ bank statement/internet
No letters from family or friends/NO cellphone bills
Proof of guardianship

if applicant is being registered by a non-parent
Evidence of diagnosis if the child identifies with a special need
"All Bright Start and Preschool applicants:
Must be toilet trained [unless there is a medical reason]
Have had CDP 2-year-old screening [or be scheduled]
"Applications received after Wednesday, November 30, 2022, are deemed late and will be processed after all on-time registration forms have been processed.
"For conditions and additional information, visit www.moed.bm or @BermudaPublicSchools Facebook page.
"Email registration@moed.bm or call 278-3307 with any questions."
The full Registration for the Bermuda Public School System [BPSS] flyer follows below [PDF here]:

Read More About