[Updating] BELCO crews are working to restore power this afternoon [Jan 14] with power outages occurring in multiple parishes.
The BWS had previously issued a Gale Warning and Thunderstorm Advisory, and also issued a Severe Weather Warning valid for this afternoon. Their forecast states, "Severe Weather Warning issued – strong to gale force winds gust storm to hurricane force this afternoon, as a vigorous front moves in from the west. Heavy rain and showers continue with isolated thunderstorms possible. Conditions gradually improve this evening as the front clears east, although it will remain showery and quite windy. Temperatures turn cooler tomorrow."
BELCO said, "We are aware of outages affecting a large number of our customers in Devonshire, Southampton, and Flatts. Crews have been dispatched and are currently working to restore power.
"To ensure safety while our crews work, we ask that you please exercise extreme caution when driving or riding past them. If you are affected by an outage, please ensure to unplug all sensitive equipment. You can follow our progress at: https://portal.belco.bm/app/outage/outageMap.jsp. We thank you for your patience as we work to restore your power as quickly and safely as possible."
Screenshot from the BELCO outage map which shows over 2500 customers out of power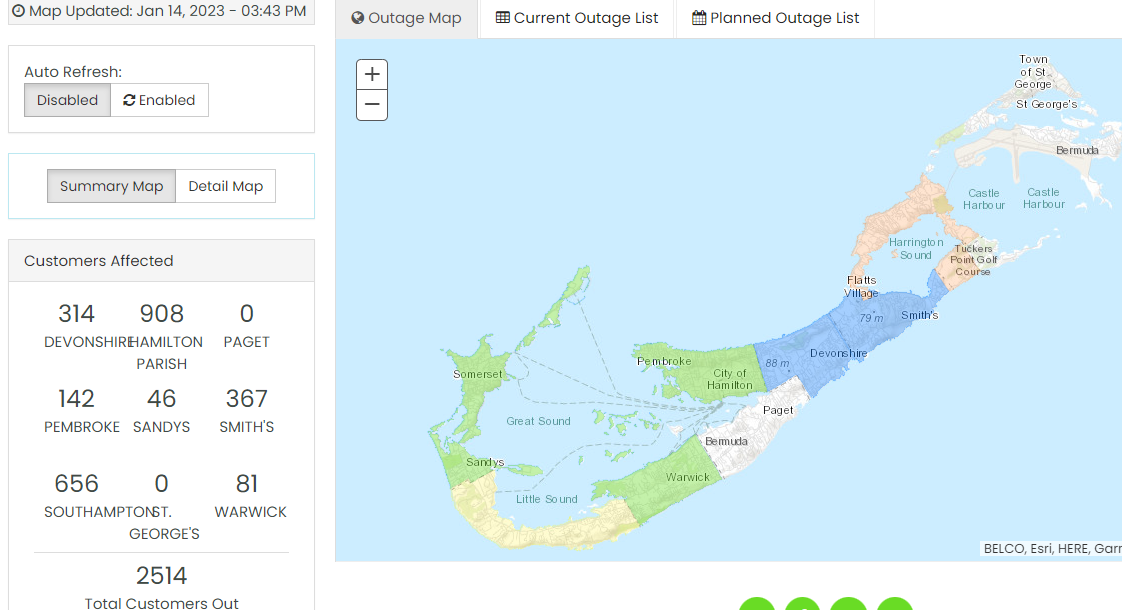 Update: Quick look at the weather on south shore at around 4.30pm today
Update 4.48pm: According to the BELCO outage map, the outages are now down to 2191 – this is down from 2514 earlier.
Update 6.55pm: The weather, at least where we are, has improved. The BWS still has the Gale Warning and Thunderstorm Advisory in effect, however the Severe Weather is no longer in effect. BELCO continue to work to restore power and according to their outage map, a substantial amount of customers have been restored.
Read More About