[Written by CedarBridge students Siniah Lambe and Nathan Wilson]
Jesse Johnson, a current S4 student at CedarBridge Academy, has been praised as a dedicated learner who has participated in the National Center for Construction Education and Research [NCCER] and Automotive Technology [vehicle maintenance and light repair] program since he first enrolled in CedarBridge in 2019.
Jesse claims that his interest in mechanical and electrical engineering has increased from the beginning of the program. According to Mr. Clarke, an NCCER instructor, Jesse is a "top student" who "exemplifies great and technical talents."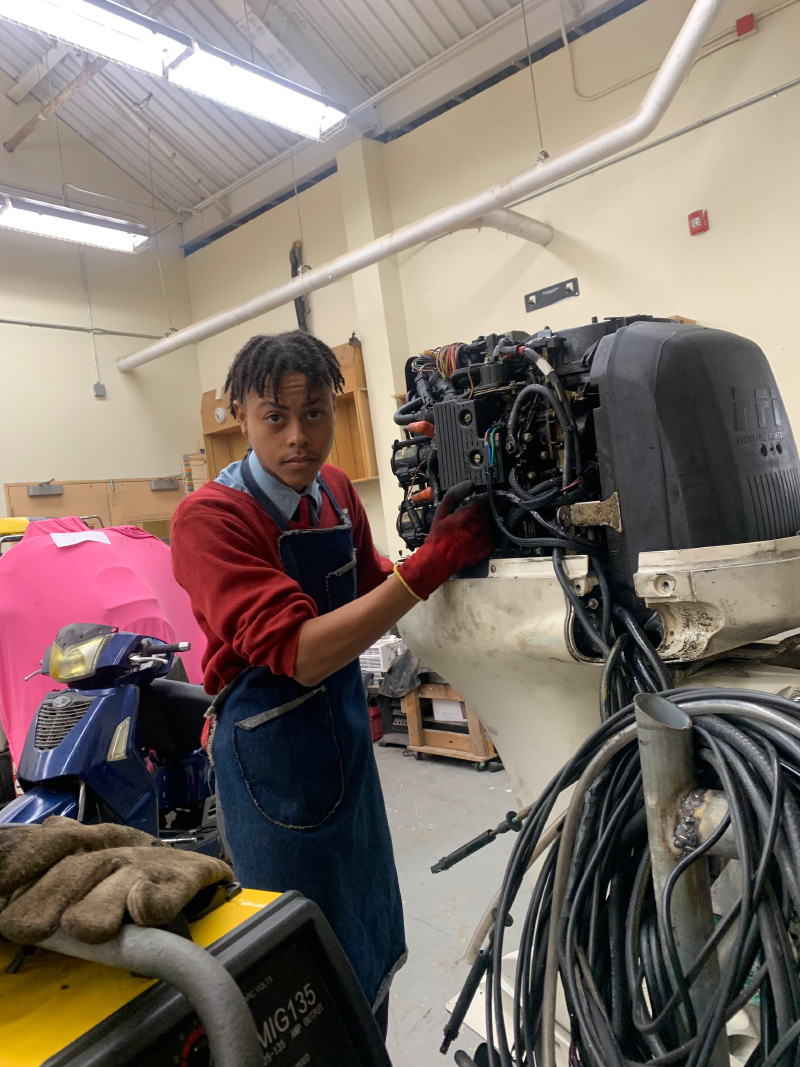 Jesse is a student who is actively engaged in class, according to Mr. Lindsay, CedarBridge's Automotive Technology instructor, and one who other students can look up to and rely on for support. Jesse attributed his enthusiasm for all things mechanical to his father, who encouraged him to pursue a career in the field. He went on to say that he is a true machinist, always enjoying working on bikes and cars.
Jesse has developed a strong interest in mechanics and has taken advantage of all available opportunities, including the NCCER classes offered by CedarBridge Academy. Jesse claims that these classes have helped him improve his mechanical skills and broaden his understanding of the electrical field.
Jesse's top career options are undoubtedly in the mechanics and electrical engineering disciplines. Jesse expressed his desire to work as a plant engineer for BELCO, utilizing the skills he learned. Jesse wishes to thank not only his father for introducing him to mechanics, but also Mr. Clarke and Mr. Lindsay. They both opened doors for him and supported him throughout his journey. Jesse is confident in his decision to work in electrical and mechanical engineering because of these two teachers, whom he describes as "second fathers" to him.
"Anyone who wants to follow a similar route should be motivated and not let their environment demotivate them," says Jesse. He also stated that during his first year, some peers around him lacked interest and made it more challenging for him to engage in active learning. Jesse had to recalibrate, study hard and put in the extra time; he became unfazed by diversions from his classmates.
"Put your best foot forward at all times", Jesse advises, since "what you put in is what you get out." Jesse Johnson is a perfect example of CedarBridge Academy excellence and those around him are excited to see what impact he has on Bermuda!

Read More About