[Written by Stephen Wright]
Dominique Mayho will lend his vast experience to Bermuda's team competing in the elite men's road race at the Pan American Road Cycling Championships in Panama City, Panama on Sunday [April 23].
Mayho, the most experienced rider on the island, joins Kaden Hopkins and Conor White in Bermuda's line-up, who will not only have the challenge of taking on larger teams but also the sweltering conditions on the 200-kilometre course.
Mayho thought his days racing on the international stage were over after missing out on the Commonwealth Games on the Gold Coast, Australia, in 2018, but has been sporadically coaxed out of "retirement" by a persuasive Peter Dunne, the Bermuda Bicycle Association president, in recent years.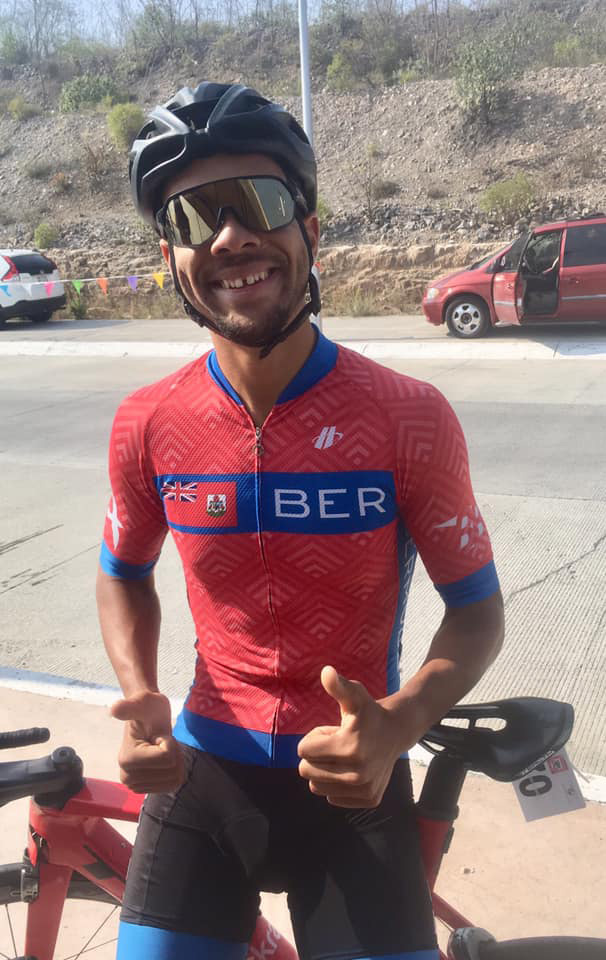 He admits his role in the road race will primarily be to assist and support his younger teammates and provide tactical input.
"It's a big advantage to have one more body here," Mayho told Bernews. "If something happens to Kaden or Conor, hopefully, I can assist them and give them a hand.
"The level of competition is high; I will be struggling anyway! I'm here more as a support rider.
"It's going to be a long, hot day, so they [Hopkins and White] must stay relaxed for the first half of the race and not get too carried away. They're both very strong and did so well in the time trial."
Hopkins claimed Bermuda's first-ever medal at the championships, finishing third in the elite men's time-trial on Wednesday, with White also producing a stellar performance to place sixth.
The pair have secured two places for Bermuda at the Pan American Games in Santiago, Chile, in October and November, and Mayho hopes the team can add a third spot for the island by having a rider finish in the top 13 on Sunday.
Although the 29-year-old has scaled back his training, as he works full-time as a system engineer at Gnosis Bermuda, he said he feels ready to play a part in helping the team achieve its objective.
"I haven't trained as much as I'd have liked," said Mayho, competing in his fifth championships. "I feel alright. I had a practice ride today, and I did OK."
Caitlin Conyers, who finished eleventh in the elite women's time trial on Tuesday, will join teammate Gabriella Arnold in competing in the women's road race tomorrow [April 22]. Also in action will be Liam Flannery and Nicholas Narraway in the men's under-23 road race.

Read More About