The Bermuda Mental Health Foundation [BMHF] will be hosting a two-day conference entitled "Moving Forward Together" on October 26 and October 27, 2023.
A spokesperson said, "This highly anticipated event will bring together local professionals, industry stakeholders, and individuals passionate about mental health and wellness. The conference aims to foster dialogue, provide valuable insights, and promote positive change within the community.
"The conference will be split into two distinct days. On October 26th, a virtual day, attendees will have the opportunity to join online sessions and engage with experts from various fields. On October 27th, the conference will transition to an in-person format at the prestigious Bermuda Underwater Exploration Institute [BUEI], where participants can connect and network face-to-face.
"Moving Forward Together will feature an impressive line-up of keynote speakers, including Jessica Lightborne, Latisha Lister, Shirley Place, Rebecca Fisayo, Karen Grant Simmons, Laurie Shiell Smith, David Cavanagh, Dr. Basden, and many more esteemed professionals. The conference will cover a wide range of topics that are currently shaping the mental health landscape.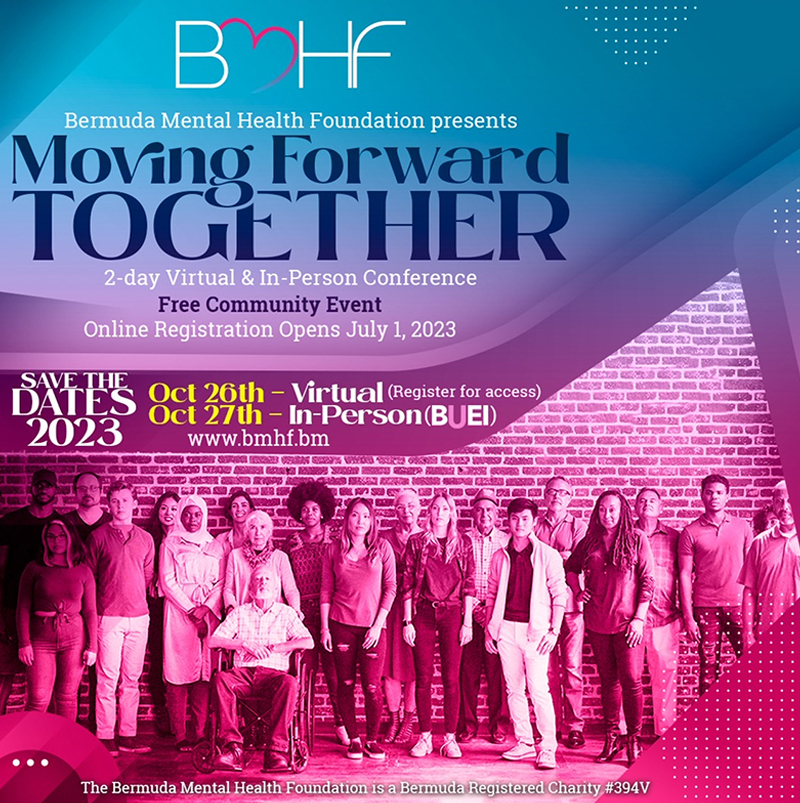 "Key discussion topics include:
"Mental Health in the Workplace: Examining the prevalence of burnout, anxiety, and depression while exploring the viability of a 4-day work week.
"Mothers Mental Respite: Addressing the challenges of imposter syndrome and the Superwoman syndrome.
"Digital Age and the Impacts on Mental Health: Analysing the influence of social media and technology on mental well-being.
"The Educators Mental Health: Evaluating the importance of prioritizing mental wellness for educators.
"Substance Abuse—Youth: Taking preventive measures to address substance abuse issues among young individuals, ensuring early intervention.
"The BMHF is dedicated to providing an inclusive platform for open discussions, sharing experiences, and learning from experts in the field. The foundation invites the public to participate in the conference's engaging panel discussions and encourages individuals to reach out if they would like to contribute or get involved."
James MacDonald, Chairman of the Bermuda Mental Health Foundation, said, "We believe that 'Moving Forward Together' will create a supportive environment where ideas can flourish, connections can be made, and meaningful progress can be achieved in the field of mental health. We encourage everyone to join us and contribute to this important dialogue."
The spokesperson said, "For more information about the Moving Forward Together conference, please visit the BMHF website at www.bmhf.bm. Registration details will be available soon, and the conference is open to the public free of charge. To express your interest in participating or to inquire about potential involvement, please contact brandme@thebranddevgroup.com."

Read More About
Category: All