The Ministry of Health has signed an MOU with the UK government to provide "pre-authorised healthcare arrangements" in the UK, with five NHS treatment slots per fiscal year available for Bermuda residents.
A Government spokesperson said, "The Ministry of Health has signed a memorandum of understanding with the United Kingdom [UK] government to provide pre-authorised healthcare arrangements for Bermuda-eligible persons to receive a course of treatment from a healthcare provider in the UK.
"A Bermuda eligible person means any person present in Bermuda at the time of the referral by the referring office and who possesses Bermudian Status, is the holder of a Permanent Resident Certificate, is naturalized as a British Overseas Territory Citizen [Bermuda], or is lawfully resident in Bermuda pursuant to a work permit."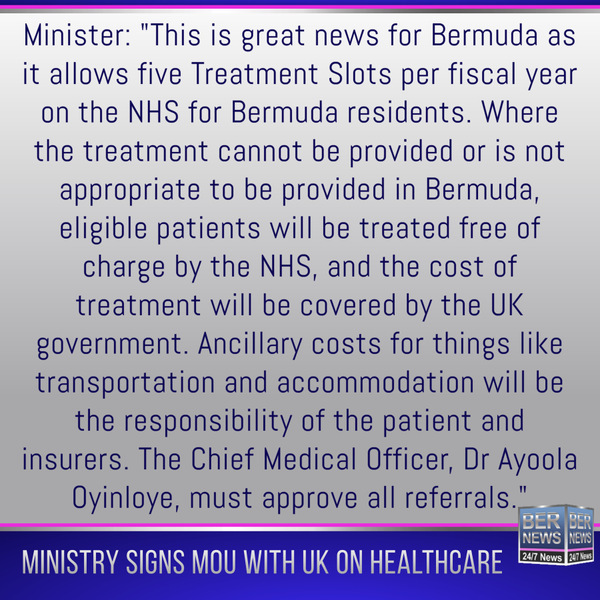 "This is great news for Bermuda as it allows five Treatment Slots per fiscal year [6 April – 5 April] on the NHS for Bermuda residents," said Minister of Health Kim Wilson.
"Where the treatment cannot be provided or is not appropriate to be provided in Bermuda, eligible patients will be treated free of charge by the NHS, and the cost of treatment will be covered by the UK government. Ancillary costs for things like transportation and accommodation will be the responsibility of the patient and insurers.
"The Chief Medical Officer, Dr Ayoola Oyinloye, must approve all referrals. I want to express my gratitude to the Deputy Governor, Mr Tom Oppenheim, for his hard work and resilience in bringing this agreement to a conclusion."
This new arrangement will come into effect on 5 June 2023.
Dr Oyinloye explained, "This arrangement is for necessary healthcare, and for any clinical and cost-effective treatment option not provided in Bermuda. This referral for treatment should come from a specialist in the field and should be discussed with the Chief of Staff at Bermuda Hospitals Board, Dr Wesley Miller and me initially. We aim to get the best value for Bermuda by carefully selecting the appropriate patients."
"I am also delighted to announce that an unlimited number of Bermuda-eligible persons may be referred to Healthcare providers in the United Kingdom for a pre-authorised course of treatment, at 100% of the NHS tariffs instead of the 150%-200% obtainable in the past. This increases the options for affordable, high-quality healthcare services for Bermuda."

Read More About