On Monday, May 22, Butterfield will reopen the doors to their Front Street Banking Centre following a complete renovation.
A spokesperson said, "As part of the transition, the Reid Street Banking Centre will close permanently, with all staff relocated to Front Street.
"Butterfield's Banking Centre at 65 Front Street, which first opened in 1923, will offer clients an enhanced in-person banking experience. The Banking Centre features ten teller stations, including two exclusively for seniors, plus two stations for card services and dedicated spaces for serving premium and private banking clients.
"An electronic queuing system enables clients to select the service they need upon entry with seating available. In addition, a US dollar ATM is available inside the Banking Centre."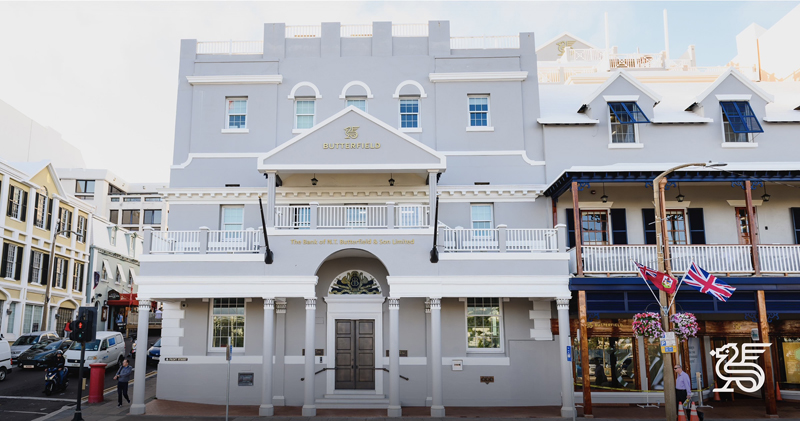 Shawnette Griffin, Butterfield's Head of Retail and Operations, said: "Having a physical presence in our community is important to us. We know many of our clients value the ability to bank in person and to speak to someone they trust.
"The whole team is excited about the reopening of Front Street, which underscores our continued commitment and investment to better the overall client experience. We look forward to welcoming clients into the sophisticated new space next week, which happily coincides with 65 Front Street's 100th anniversary and Bermuda Day celebrations."
The spokesperson said, "Showcasing local talent, culture and creativity, original artworks from 16 contemporary Bermudian artists are exhibited throughout the Front Street Banking Centre alongside some of Butterfield's extensive collection of impressionist watercolourist Alfred Birdsey. In line with Butterfield's sustainability efforts, energy-efficient lighting and cooling systems have also been installed.
"The design concept for the renewed Front Street Banking Centre was developed by New York based Jeffrey Beers International, who were inspired by records and photography of the original 1923 banking hall. Detailed architectural drawings and interior design services were provided by Bermuda's Commercial Interiors Group, with custom architectural elements designed and built by Soheil Mosun and Convoy Custom Interiors of Ontario, Canada.
"Construction began in 2021 led by general contractor Bermuda Interiors and supported by a wide range of local suppliers, sub-contractors and specialists including BAC Universal Electric [BUE], GD Protection Systems, Eminence, Pembroke Tile & Stone, Precise Systems Integration [PSI], the ReGen companies, Surface Trends, Switchworx, and Triangle Solutions.
"The Front Street Banking Centre will initially be open from 9am until 4pm, Monday to Friday, with an accessible entrance via the retail arcade at 67 Front Street. Visitors to Butterfield's corporate offices and those with appointments should enter via the retail arcade. Both the Front Street and Reid Street ATM vestibules remain accessible 24 hour a day, and clients wishing to make deposits have the option of using the '24 Hour Depository' box in the Front Street vestibule."
Read More About