[Written by Stephen Wright]
Jarryd Dillas has withdrawn from the Bermuda squad for the Central American and Caribbean Games in San Salvador, El Salvador, because of work commitments.
Dillas became the first and only Bermudian golfer to qualify for the CAC Games after climbing the World Amateur Golf Rankings [WAGR] following his victory in the Bermuda Match Play Championships at Port Royal Golf Course in April.
His spot at the Games will now go to the next highest-ranked amateur player in the region.
"The Games have fallen on one of the busiest times for me at work, so it just isn't going to be possible," Dillas told Bernews.
"I'm disappointed not to be going to San Salvador, but hopeful either myself or someone else will be representing Bermuda at one of these competitions very soon.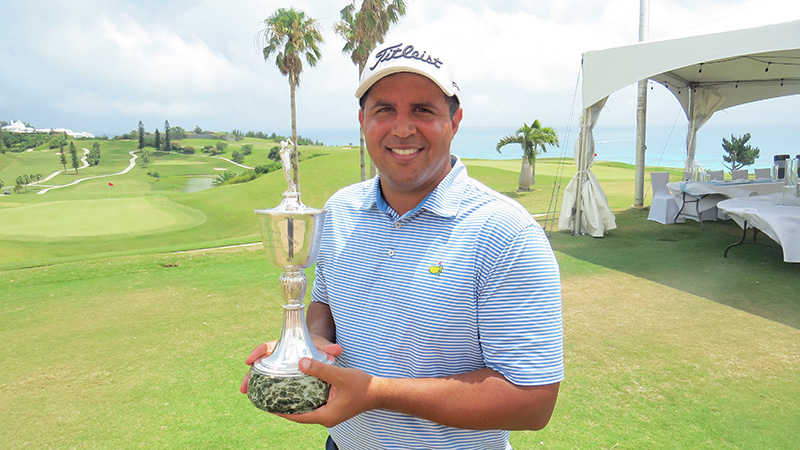 "I don't think any of us [at the Bermuda Golf Association] actually thought a [Bermuda] player would qualify, and it was a pleasant surprise when we got the call from the Bermuda Olympic Association."
With golf being reinstated as an Olympic sport at the Rio de Janeiro Games in 2016, Dillas believes it is only a matter of time before another Bermudian player reaches a major multi-sport event.
"We're excited about the possibility of another Bermudian golfer qualifying for the CAC Games, the Pan American Games or even bigger," said Dillas, whose highest amateur ranking is 683rd.
"Unfortunately, the qualifying spot [for the CAC Games] went to the individual player, as in me, and not the country, as it is for some sports."
Dillas confirmed he will represent Bermuda at the NatWest International Island Games in Guernsey, Channel Islands, from July 8 to 14.
The men's team includes Oliver Betschart, Adam Perry, and Jevon Roberts, with Christian Collins and Mikus Ming selected as reserves.
Kim Botelho, Tracy Burgess, Ebonie Cox and Ann Symonds make up the women's team with the reserves Katrin Burnie and Sienna Mosquera.
Dillas, a reinsurance professional at Sompo International, has thanked employers for supporting his golf career.
"Sompo has been great with me and very supportive of my golf," he added. "I'm not a professional golfer, so work and family come first. Unfortunately, the timing for the CAC Games didn't work for me this time."

Read More About