Ron-Michel Davis was officially sworn in as the new Commandant of the Bermuda Reserve Police.
A police spokesperson said, "At 6:30pm Thursday, 1st June 2023 at the Police Recreation Club hall in Prospect, Devonshire, a new Commandant of the Bermuda Reserve Police [BRP], Ron-Michel Davis, was officially sworn in by Commissioner of the Bermuda Police Service [BPS] Darrin Simons, in front of a capacity audience.
"Outgoing Commandant Sandra Beach was thanked for her 28 years of voluntary service, having joined the BRP on 8th July 1995, the last 7 years served as Commandant. Mrs Beach had the distinction of being the first female officer to lead the BRP. Mrs. Beach gave a speech thanking her colleagues for their support during her time as Commandant.
Commandant Beach performing the ceremonial exchange of the Sword of Command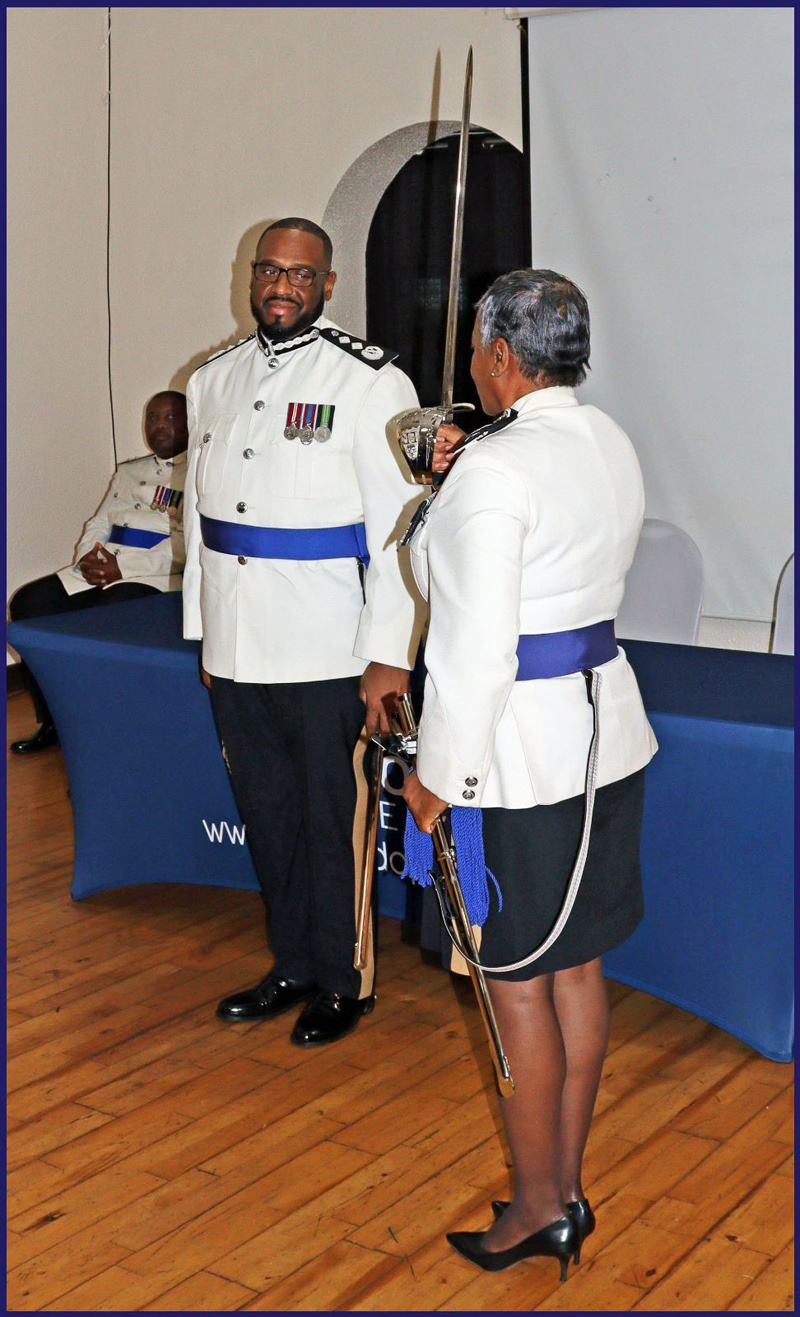 "Incoming Commandant Ron-Michel Davis joined the BRP on 13th November 2001 and was promoted, in March of 2014, to the rank of Deputy Commandant.
"Mr. Davis swore the Official Oath, Oath of Allegiance and the Ceremonial Oath in front of a capacity audience of friends, colleagues and family, following which the official change of command was carried out where the Commandant's sword was ceremonially passed from Commandant Beach to Commandant Davis with due pomp and ceremony.
"After being officially sworn in as Commandant Thursday evening, Mr. Davis took the opportunity to thank his family, friends and colleagues for their ongoing support and outlined his plans for the BRP during his tenure as Commandant to which he asked to be held to account, stating that he was a man of his word and that his word was his bond. He also outlined his plans to strengthen ties with other Reserve Police Services in similar jurisdictions including the Royal Bahamas Police Reserves.
Commandant Davis after accepting the ceremonial Sword of Command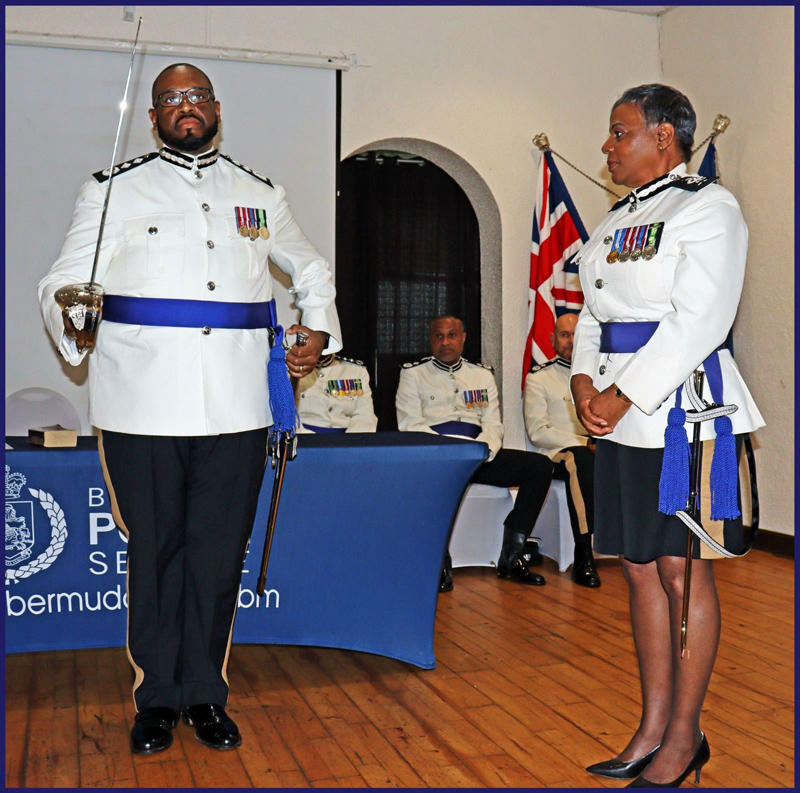 "The prayer of dedication was given by Mr. Davis' father the Reverend Rodney Grimes and the Bermuda Police Service Chaplain Dr. Kevin Santucci gave the closing prayer before a rousing performance of the BPS Anthem "True Blue" was played by the Royal Bermuda Regiment Band to close the proceedings.
"BPS and BRP senior leadership team members present were Commissioner Darrin Simons, Deputy Commissioner Na'imah Astwood, Assistant Commissioners Martin Weekes and Antoine Daniels, along with Reserve Inspectors Mikkel Harris and Shawn Russell.
"Dignitaries and special guests also in attendance included:
Her Excellency the Governor, Ms. Rena Lalgie
Minister of National Security, the Hon. Michael Weeks JP, MP
Permanent Secretary for National Security, Lt. Col. Edward Lamb
Royal Bermuda Regiment Major Duncan E. R. Simons
Chief Fire Officer, Mr. Dana Lovell
Ombudsman Mr. Michael DeSilva, retired Commissioner of Police
"Musical performances by the Royal Bermuda Regiment Band were courtesy of Commanding Officer Lt. Col. Benjamin Beasley."
Commissioner of the Bermuda Police Service Darrin Simons [left] and Commandant of the Bermuda Reserve Police Ron-Michel Davis [right]
- Photos above courtesy of Dexter Flood
Read More About