Bermuda Rugby U19 team returned from Kingston, Jamaica recently after a successful campaign at the 2023 Rugby Americas North [RAN] Men's U19 Tournament, held at the University of West Indies' Mona Bowl.
A spokesperson said, "Sporting their well-earned hardware, players were greeted at Bermuda L.F. Wade Airport by Senator Lindsey Simmons and Maceo Dill, Sports Development Officer at the Department of Youth & Sport, following an intensive four days of intensive competition against the best players from the Caribbean and North America.
"Six Men's U19 teams competed across the 4-day tournament, with Bermuda seeding 3rd amongst the competition based on last year's performance, which includes teams from the USA South, Jamaica, Cayman Islands, Trinidad and Tobago and Guyana.
"In their opening match, Bermuda secured a comfortable victory against Guyana 48-0, asserting their dominance early on and earning an impressive scoreline. However, the win came at a cost as Kwame Naylor suffered an unfortunate injury, ruling him out for the remainder of the tournament.
"The second game against tournament favorites, Jamaica, proved to be a formidable encounter, with the physically imposing Jamaican team securing a 3-29 victory. Although out-muscled, the Bermudian players showcased tremendous courage on the field. Jake Dunleavey, the team's Vice-Captain, also faced an injury setback during this intense match.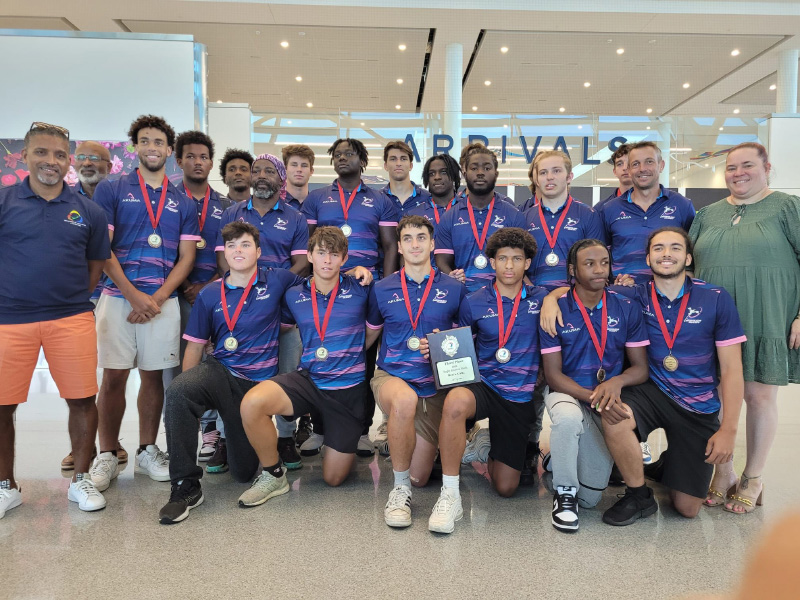 "Heading into Day 2, Bermuda faced further challenges, taking on Cayman and USA South. In a tough and tightly contested match against Cayman, Bermuda emerged victorious at 9-7, with Brandon Sangster's three penalties making the difference to secure the win. Cayman scored a late try, but Bermuda held on to win the game. The rivalry between the two islands made the game even more competitive, highlighting the spirit of small-island rugby.
"In their encounter with USA South, the Bermudian team once again demonstrated their tenacity, despite the formidable opposition. Though the scoreboard may not have favored them, their performance showcased immense potential and determination.
"The journey culminated with a bronze medal clash against Trinidad, a team known for their athleticism and strength. The match was a true test of the Bermuda U19s' resolve as they stood their ground against relentless pressure. Nyindae Smith's try, set up by Pedro Labollita and expertly converted by Brandon Sangster, secured a narrow 7-6 lead. In an intense defensive effort, Brandon flung himself under Trinidad's biggest player to prevent a crucial try, solidifying Bermuda's bronze medal triumph. Jamaica, who went on to play in the final, narrowly lost out to USA South 15-18.
"Speaking about the team's experience, Coach Chris Naylor reflected on the boys' performance. "Preparation in Gibraltar before the tournament proved instrumental in helping the team gel and develop effective patterns of play. Despite some senior players aging out of the U19 class this year, the Bermuda U19 Rugby Team's future shines brightly, with a promising lineup of players remaining in the age bracket for the next season."
Anthony Cupidore, Assistant Coach, commented on the final against Trinidad: "The team worked hard in their final game. We expected it to be tight and hard and it was. The mindset of the team going out there was that they would leave it all on the field – they wanted to win and take 3rd, improving on their 4th place placement from 2022."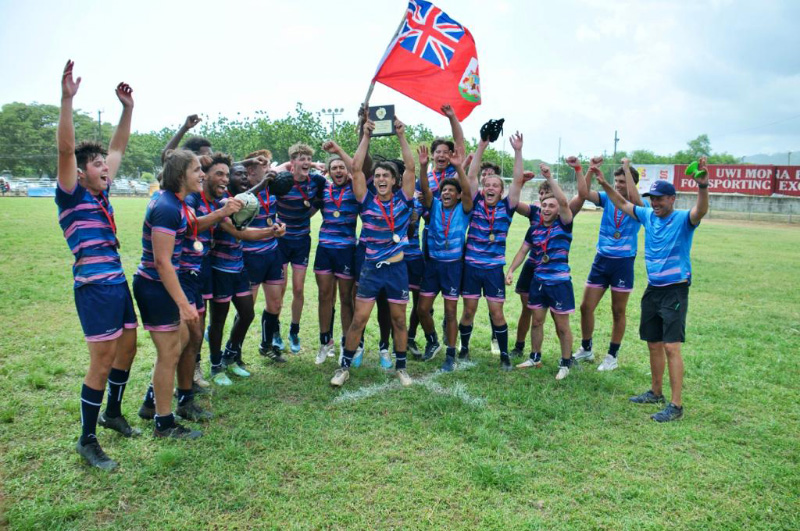 Ryan Daniel, commented on their win against Trinidad: "All the boys are emotional – and over the moon at the bronze win. We worked really hard for this result, but we don't want to stop there. Now that we are back, the team will get together and start work in September to build on our successes, so that hopefully we can place higher next year."
The spokesperson said, "The U19 XVs team comprised of: Osiris Buffonge-Hunt, David Cole, Gareth Cooper, Remi Cooper, Ryan Daniel, Jake Dunleavey [Vice Captain], Jaime Furtado, Sam Jenkins, Aiden Kendall, Peter Komposch, Daniel Kunst, Pedro Labollita, Noah Murdoch, Kwame Naylor [Captain], William Nokes, Malachi Paynter, Brandon Sangster, Nyindae Smith, Devon Soto, Wysdem Symonds and Nathan Wilson.
"The Bermuda Rugby Federation commends the outstanding efforts of the entire team, coaching staff, and supporters who have contributed to this memorable journey. The team's determination and courage have not only inspired fans at home but also garnered admiration and respect from fellow rugby enthusiasts globally.
"The Bermuda Rugby Football Union would like to thank team sponsor Argus for their support in helping to create this opportunity for Bermuda's promising young players."

Read More About