[Written by Erica Bassett]
The Hamilton Rotary Interact Club has been totally engaged in service to the community this year. The incoming President was Nyesa Jones, Senior at The Berkeley Institute. Vice Presidents were Etienne Wolffe from Warwick Academy and Nia Rene Outerbridge from Mount St. Agnes.
"They began their year with a full cadre of members attending the installation of President Rick Richardson at The Royal Hamilton Amateur Dinghy Club.
Service Above Self
Service Projects for the Year
$1,000 was donated to Windreach Recreational Village. $600 went to the Therapeutic Pony Programme, where ponies are used in therapy for special needs youngsters. $400 was donated to the Senior Citizen Recreational Programme.
Another intergenerational outreach initiative was The Heydon Trust planting programme, where 10 garden boxes were given to seniors at Heydon Trust Seniors Complex. Interact and Rotaract students and Rotarians descended on Heydon Trust grounds and assisted seniors in planting organic vegetable and herb seedlings in garden boxes.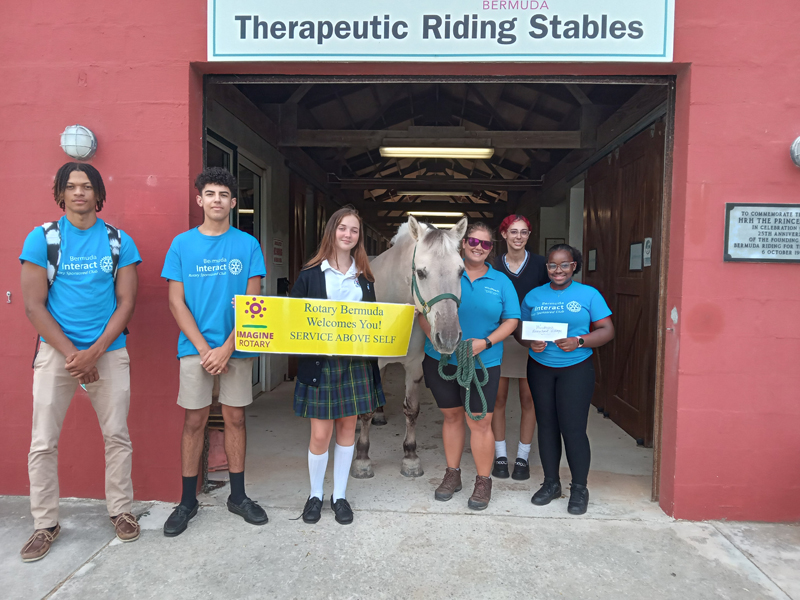 District Governor Marty, District Governor Elect, along with President Rick Richardson and a host of family and friends were there for the event. This was followed by a reception and an address by Mr. John Barritt, Director of Bermuda Housing Trust.
The Rotaractors will now take the baton under President Sari Smith and continue the project at Elizabeth Hills Seniors Apts.
Students were presented with awards from District 7230 for stellar service projects. District Governor Marty did the honours.
Walking for Family Support
The Interactors participated in the Walk A Mile For Your Child event hosted by Hamilton Rotary Club. Backed by the Bermuda Regiment band, they strutted along Court Street to Front Street, supportive of the HRC vision of fathers supporting their children.
5K Kidney Run
Dr. Raphael Loutoby, Past President of HRC, was instrumental in getting scores of Interactors out of bed early on a Saturday morning to turn up at the Botanical Gardens for the 5K Kidney Run. Students guided traffic, distributed water at water stands, filled water bottles, ran, and donated medals to youth who participated in the annual run. Proceeds enabled three children with type 1 diabetes to receive insulin pumps.
Donations
Interact donations were given to the Bermuda Diabetes Association this year after having representatives speak to the Interact members on the perils of diabetes. They also gave funds to Tomorrow's Voices for Autism after having representative Dr. Janae Harvey address them on autism.

Mangrove Symposium
Several Interactors attended the Dockyard Mangrove Research Cleanup Day where 150 Rotarians from zone 28 and 32 arrived on a cruise boat to plant Mangroves, clear the area leading toward the habitat and fellowship in Dockyard.
This was followed on both Saturday and Sunday with beach cleanups at Black Bay and Glass Beach in Dockyard. Funds were raised for KBB.
Children's Raffle
The Interact Youth supported Pembroke Rotary Club this year by selling 250 raffle tickets. Parents and friends worked with advisers to advertise and sell all tickets given. They drove throughout the island delivering and collecting funds. They turned in $1,250 to Pembroke Rotary Club.
Toastmasters Graduates to be Honoured at Government House
This year, for the second time, five Rotary Youth, both Interactors and Rotaractors, completed a Toastmasters Course directed by PDG Mary Shackleton and locally coordinated by Rotarian Elect Nolwenn Pugi, assisted by Rotarians Shammara Simmons and Cathy Bassett. The eager students honed their public speaking skills by attending eight weekly sessions via Zoom.
Students were presented with awards at Government House by Her Excellency, the Governor. Outstanding Rotarians from all four clubs will receive awards of honour for serving youth in Bermuda. Past District Governor Mary Shackleton will fly down for the event and deliver her address.
This is part of Rotary's Precentennial, marking 100 years of Rotary in Bemruda. Celebrations will be in full bloom in 2024. Happy birthday Rotary in Bermuda.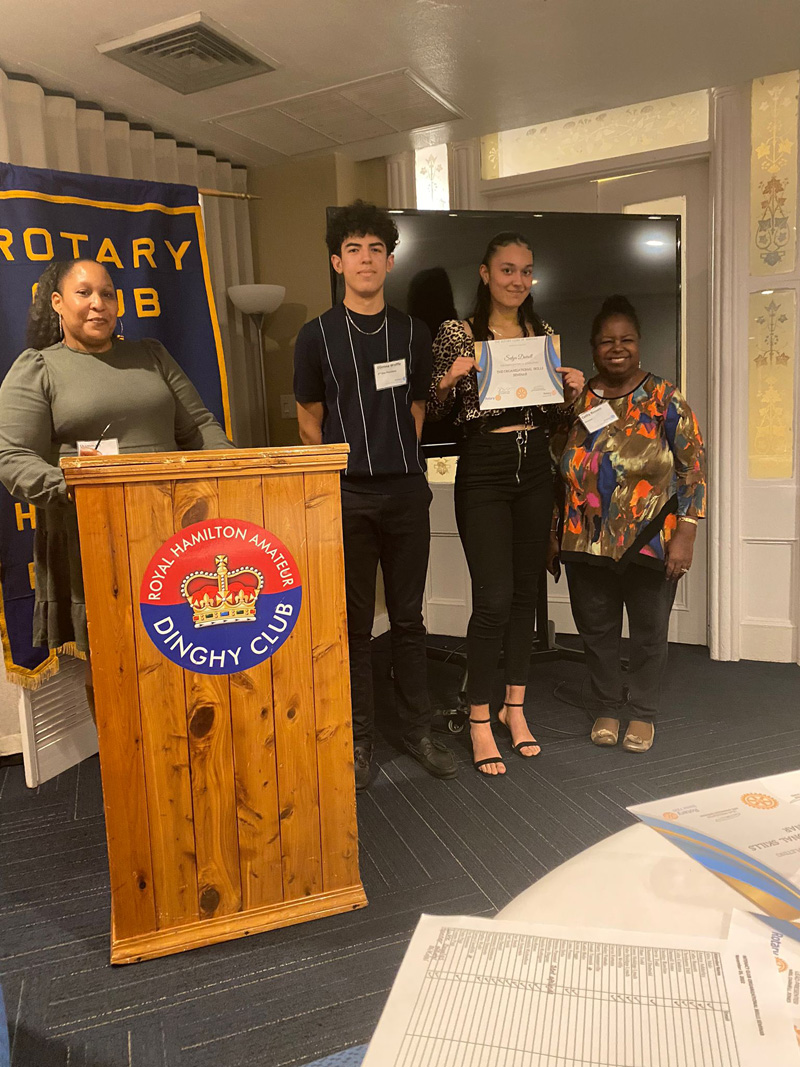 Bake Sale & Car Wash
In an effort to assist girls in middle and upper primary with needed sanitary supplies, the Interactors held a most successful bake sale and car wash at the Paget Gas Station. Along with delicious cookies, cupcakes and tons of baked goods, the youth cleaned cars, motor bikes, vans and taxis. They earned $1,400 in a five hour period.
Educational Pursuits
All four Rotary Clubs financed a breakfast at the Bermuda Hamilton Amateur Dinghy Club for all Interactors on island to participate in an organizational seminar. Students learned how to balance extracurricular activities with studies, manage time and organize personal space to maximize time on task.
Livestream U.N. Convention
Girls in all four clubs attended a livestream convention at the United Nations entitled 'Empowering Girls Globally.' They learned about human trafficking, marriages of girls as young as 10, selling of girls to increase finances of poor families and absence of education for girls in the Middle East. They also learned about hygiene challenges and the worldwide problem of girls not having supplies to maintain themselves during their menses.
On the local front, top business executive women delivered profound presentations to our girls on developing personal goals to aspire to excellence. Presenters included Laura Taylor, corporate business lady from We Speak, BZS Head Aquarist, Mrs. Athena Pitcher, and Chamber of Commerce CEO Mrs. Kenderee Burgess.
Women of Excellence Awards were presented to Rotarians Barbara Edwards and Joy Lusher.
International Project: Water for School in Zimbabwe
Under the direction of Interact Director of International Affairs, Diamond DeShield, Senior at CedarBridge Academy, the Interactors will raise funds to bore piping underground at a village school in Zimbabwe. Presently the students walk for miles to get water from rivers and villages that have running water to bring back to their school. This causes challenges with hygiene and absenteeism.
Corporate sponsors will be involved with the project by holding $5 denim days. Rotarian Dr. Taka is currently working with Director Diamond. The team will be working with local well drillers and Mr. Nalton Brangman to further develop the water harvesting project.
Fellowship
The Interactors were treated to monthly snacks and pizza during their meetings. They assembled for Christmas dinner and were assisted with finances by The Hamilton Rotary Club to help with purchase of meals. Gifts were exchanged.
They are preparing for a fun outing after exams.
Fun and Frolic
Former Assistant District Governor Andrew Roberts treated Interactors to a night of fun at a haunted house event in his large garage. $2,000 was raised from the event. Part proceeds financed t-shirts for new members and donations to Tomorrow's Voices and the Bermuda Diabetes Association.
Under ADG Andrew's leadership, students enjoyed fun boat rides to Hen Island with barbecues, where they cleaned up for future campers.
Careers and Work Shadowing
Rotarian Katherine McDonnell spearheaded the career Ddvelopment component of the Interact Programme this year, exposing students with requirements for the world of work through mentorship and on the job training. This career preparation programme was started eight years ago by Past President, Rotarian Kirk Kitson, Director Cathy Bassett and Past Adviser Glenda Edwards. All paired Interacters with professionals at several local and offshore companies such as BELCO, Kitson and Co, Huckleberry Restaurant, and the Victoria Street Clinic.
All trainees received first class training and have completed on the job training, the freshman year at Bermuda College, IB coursework with honours while several have attained university degrees. They were invited to attend a student networking event by former Interacter Ayanna Caines, who is currently interning with the firm. Rotarian Katherine coordinated student participation as part of the career exploration component of the Interact Life Skills Initiative.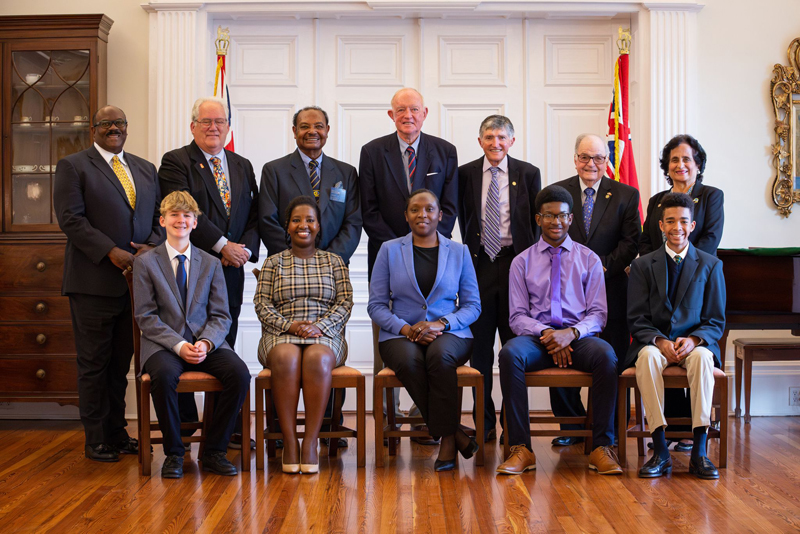 District 7230 Rotary Conference
Two Interact delegates were guests of honour at the 7230 District Conference of Nyesa Jones, President, and Marina Pimental, Social Relations and Fundraising Member, delivered an impressive speech at the District 7230 Conference in Bronx, New York. They are both 2023 high school graduates headed to college.
Service Awards were presented to Interactors and two Sandys Rotarians, Marvin Hannah and Antoine Lightbourne, were presented with Awards of Merit for organizing the barbecue and security at Warwick Ĺong Bay. Hostess for this grand occasion was Past District Governor, Mary Shackleton, who flew in to help honour senior Rotarians at Government House.
In the fall, awards were given to incoming Rotarian, Nolwenn Pugi, Rotarians Shammara Simmons and Cathy Bassett, who worked as a team to coordinate and host the Toastmasters Course, spearheaded by Past District Governor Mary Shackleton. This was an eight week intensive course in public speaking, which saw Tre Simmons, Youenn Pugi, Kyle Sean Simmons, Hilda Andony, and Keimari Trott complete the programme.
Girls Hygiene Programme
Interactors and Rotaractors from the Bermuda clubs followed through on their vision to serve girls in need in local primary and middle schools.
After attending a United Nations Empowering Girls Conference, girls from Interact and Roraract Clubs joined friends of Rotary to assemble boxes of sanitary napkins for girls in need. The need for these items were specified in the online international convention and confirmed by school representatives. After making calls to local schools, the Interact Clubs reached out to guidance counselors and executed the initiative.
This has been a most active year for our Rotary youth. Join us as Rotary celebrates its 100th year of service in Bermuda.
We thank our district, our Presidents, our families, Rotarians, advisers and friends of Rotary for supporting us this year.
Teens interested in joining the Rotary Interact Club are encouraged to apply soon.
Read More About
Category: All