The Bermuda triathlon team excelled at the 5th annual Carifta Triathlon and Aquathlon Championships in the Bahamas, winning a total of eight medals, five golds, two silvers and a bronze.
A spokesperson said, "The male triathletes showed their dominance in the region with a clean sweep of gold medals in all the age groups.
"Jamie Bedford, in the first race of the weekend [16 to 19], put in an outstanding performance on the bike to make up seven positions and finish in the lead pack. In the final lap of the run, Bedford's sprint finish saw him secure the first gold medal.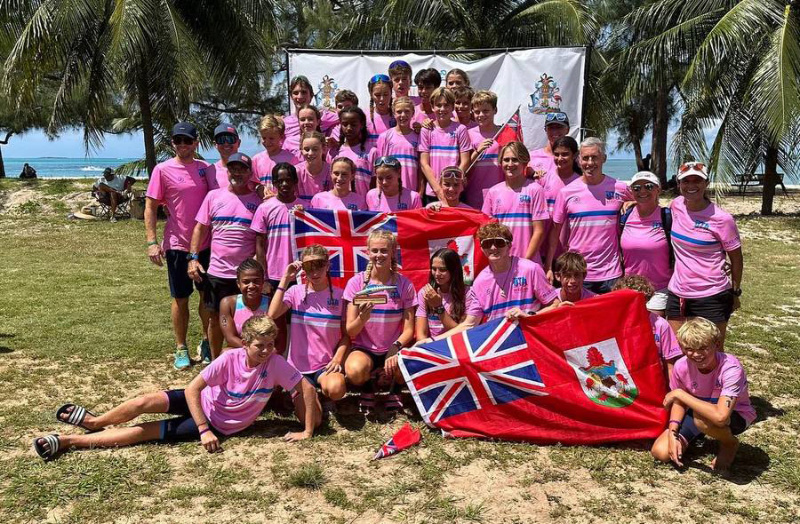 "In the 13-15 category, Jackson Langley showed his dominance in the sport and took the gold, finishing 32 seconds ahead of the nearest competitor. Langley put in a superb run, pulling away from the pack on the 2.5km run to cross the line first. Ollie Hayward, put in the fastest bike time of the field, and held his form on the run to bring home the bronze medal.
"The excitement continued in the 11-12 boys race. Exiting the swim in the lead pack, Rory Shepherd's bike skills and run speed proved to be what was needed to clinch Bermuda's third gold. After an excellent run, Rohan Roopra was just pipped to the post and ended up just outside of the medals in 4th.
"In the female 16 to 19 race, Fenella Wightman, following a hard fought swim, took control of the bike making a strong attack in the second lap of the bike putting distance between herself and the other athletes. Ultimately, she took silver following another duel on the run.
"On the second day of competition, promising athlete Rory Shepherd took a second gold in the 11-12 Aquathlon, in a decisive performance by finishing comfortably ahead the Aruba competitor. In the 13-15 female category, Somers Estwanik showed her pedigree in both the swim and run and finished second for a well earned silver medal.
"The weekend finished as it started with a gold in the Mixed Team Relay. Jackson Langley, Sofia Leclerc, Jamie Bedford and Fenella Wightman finished ahead of two Barbados teams in a closely fought battle where the lead switched several times during the race. Ultimately, the Bermuda team prevailed to bring home the honours."
Neil de ste Croix, Junior National Coach, "I am incredibly proud of all our athletes who contributed to this phenomenal success for Bermuda. Each team member gave their all and this cements our belief that a combination of skill, discipline, hard work and commitment to team is what makes all the difference."

Read More About