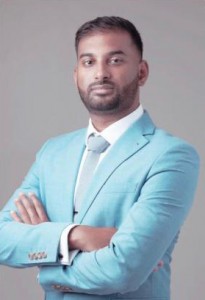 Karim Chowdhury, vice-president of private banking at Butterfield Group, has been named in the Spears 500 as a recommended High-Net-Worth [HNW] wealth manager.
The Spears 500, described as the "Michelin Guide of Wealth", is an annual ranking published by the bi-monthly British magazine for HNW individuals and those in the financial services industry.
"I'm pleased to announce that I've made the Spears 500 list as a recommended 2023 HNW wealth manager," Mr Chowdhury wrote on LinkedIn.
"It's a true honour to be recognised for my dedication to helping clients achieve their financial goals."
Mr Chowdhury was previously a wealth manager at Schroders in Hertfordshire and a private banker at Lloyds Bank in Cambridge, England.
He has also worked as an international wealth manager at HSBC's Jersey arm.
In May, he was named in the Empower Role Model List of 100 senior executives, celebrating those breaking down barriers for people of colour within global business.
Read More About