The Head of Felsted School, Chris Townsend, will visit Bermuda on October 28th to "explain to parents the many advantages of educating their children at a British boarding school."
A spokesperson said, "The Head of The Times Educational Supplement's 'Boarding School of the Year', Felsted School, will be in Bermuda on Saturday 28 October to explain to parents the many advantages of educating their children at a British boarding school.
"Chris Townsend has been Head of Felsted School for the past eight years and is visiting Bermuda in order to meet families and talk about why many non UK-based students each year join his boarding school for 1,000 students, which is set in a traditional English countryside village between London and Cambridge."
"It's very exciting to talk to Bermuda-based parents and their children, and to discuss with them the prospect of Felsted being the right school and community for them to join,' he says. 'A fifth of our students at Felsted are from families that are not UK-based. The school specialises in helping students of all nationalities to learn and live together in a truly global environment, in a traditional British boarding school. As well as achieving qualifications that will enable them to access the world's top universities, they develop respect and understanding for people from countries other than their own, which is vital to success in modern adult life and increasingly globalised careers."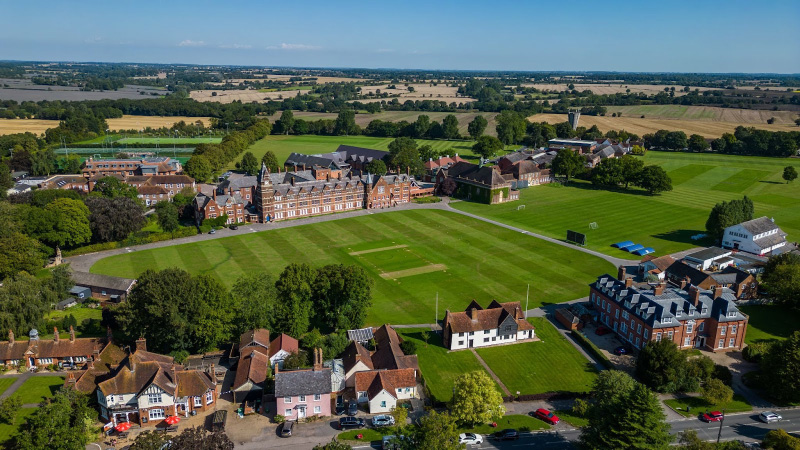 The spokesperson said, "Felsted School was founded in 1564 by Richard Lord Riche, Lord Chancellor of England under King Edward VI. Although many of the school buildings on its 90-acre countryside campus are centuries old, the education Felsted offers to girls and boys aged four to 18 takes its lead from the latest research in how students learn best. In fact, the school is listed in the quintessentially English magazine Country Life as one of England's top historic yet contemporary schools.
"Academic success is the key reason for most parents to choose Felsted for their children. Teachers are high-calibre, and lessons are usually timetabled six days a week to cover an academic curriculum including mathematics, science, English, modern foreign languages, Latin and classics, humanities (geography, history and religious studies). In the evenings, boarders' supper is followed by a session for homework or private study with expert help on hand as teachers live on-site during term-time."
"Students take British GCSE or International GCSE exams at the age of 16," says Chris. "At the age of 18 they may take A Levels in three or four subjects, or alternatively the broader International Baccalaureate Diploma – either qualification is acceptable to universities and higher education institutions around the world".
The spokesperson said, "However, alongside academic lessons students at Felsted are also encouraged to discover their passions for sport, the arts and other activities. As well as cricket, rugby, hockey and netball, Felsted students take part in swimming, gymnastics, tennis, badminton, golf, and polo. Music, drama and art lessons are also on the curriculum with concerts, dramatic productions and exhibitions throughout the school year and many excursions to artistic and cultural events for inspiration. There is also a choice of clubs and societies, some focused on careers (such as medicine) but others relating to interests such as dancing, music or photography."
"Joining in with these activities is the key to learning the skills of team working, leadership and personal resilience,' says Chris. 'Some students discover their career ambitions, but many more find an enjoyable pastime for life and develop important personal qualities, helping to develop as individuals in the process."
The spokesperson said, "Non UK-based students typically join Felsted at the age of 11, 13 or 16 and live on the school campus in one of the school's eight fully staffed boarding houses.
"Felsted is a home from home," says Gemma Kilby, Felsted's Head of Admissions, who joins Chris in Bermuda. "Boarding houses are warm and cosy, with quiet studies, living areas and a kitchen with a refrigerator well-stocked with snacks. While around six or so younger boarders share rooms, older students have individual rooms. A team of caring staff is on hand to look after students, guide them with their studies, and also to keep in touch with parents."
The spokesperson said, "Chris, Gemma and the Felsted team are looking forward to meeting families based in Bermuda. To find out more and arrange a meeting in Bermuda on 28 October, please contact intadmissions@felsted.org or visit www.felsted.org/bermuda."

Read More About
Category: All