Minister of Economy and Labour Jason Hayward provided an overview on the upcoming Global Entrepreneurship Week [GEW] UnConference in Bermuda.
Minister Jason Hayward said, "As Minister of Economy and Labour, I am happy to provide an overview of an exciting event celebrating Global Entrepreneurship Week 2023, the Global Entrepreneurship Week [GEW] UnConference, hosted by the Bermuda Economic Development Corporation [BEDC].
"In line with the Economic Development Strategy's Strategic Priority Three: Entrepreneurship and Small Business Development, which aims to encourage economic growth for Bermuda's local micro, small and medium-sized businesses and to facilitate the development and sustainability of a thriving world-class entrepreneurial ecosystem in Bermuda, this event, set to take place from November 16th through the 19th at the Pier Six Complex on Front Street, is another testament to our commitment to fostering entrepreneurship and supporting the growth of small and medium-sized businesses in Bermuda.
"The GEW UnConference is a remarkable gathering of entrepreneurial minds featuring a diverse array of events and activities all under one roof and accessible to the public. The Global Entrepreneurship Week UnConferece celebrates innovation, imagination, and creativity in the entrepreneurial sphere, and I am thrilled to share some of the highlights.
"Launched globally in 2008, GEW is celebrated in over 200 host countries, with millions of activities planned worldwide. Bermuda has consistently participated in this global celebration of entrepreneurship, and this year at the Global Entrepreneurship Congress in Melbourne, Australia, the BEDC was recognized with the Champion Catalyzer award for most events held per capita as a testament to the BEDC's dedication to creating an atmosphere that allows entrepreneurship to shine.
"This year's GEW festivities in Bermuda promise to be exceptional, and I am happy to provide a brief overview of the key events and activities that will unfold during this exciting week: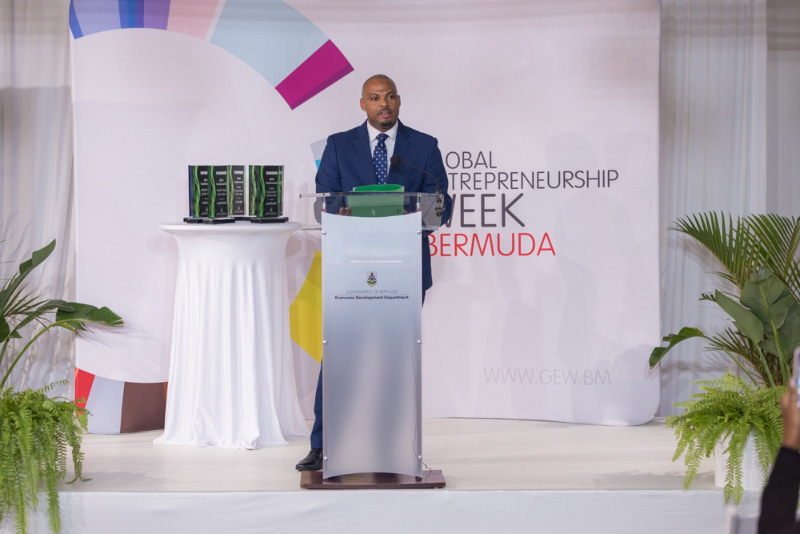 "Kicking off the celebration on November 16th is the Rocket Pitch Competition. Entrepreneurs from various categories, including Pitch Pink, Pitch Town, Pitch Tech, Pitch Green, Youth Pitch, and Pitch Food & Beverage, will compete for a $5,000 cash award and a startup package of services to help them bring their business ideas to life.
"November 17th is the Young Entrepreneurs Summit, where entrepreneurs aged 14-25 are invited to join for networking, inspiration, and encouragement. This event is a platform for Bermuda's youth entrepreneurs, budding CEOs, and those interested in entrepreneurship to connect and collaborate.
"On the evening of November 17th, entrepreneurs will come together for the Festival of Entrepreneurship: Thrive! Together!. This Business-to-business expo event will foster connections, provide valuable networking opportunities, and celebrate Bermuda's entrepreneurial ecosystem.
"On November 18th, for the first time, BEDC will host an Artisan Vendor Market showcasing the talents and creations of our local community. This event promotes the growth and vibrancy of small and medium-sized businesses in Bermuda.
"Later that day, we will recognize and celebrate Bermuda's entrepreneurs' achievements, growth, and resilience at the BEDC Business Awards. Awards will be presented in categories such as Business of the Year, Startup of the Year, Entrepreneur of the Year, and more.
"On November 19th, also International Men's Day, BEDC will host the Next Man Up Men in Entrepreneurship Conference & Brunch, its first full-day conference exclusively for men. This event will inspire, inform, and elevate men in the business world, featuring networking opportunities, workshops, panel discussions, and international speakers.
"Also, on November 19th is Celebrating Her Story: Women's Brunch & Conference for the women entrepreneurs of Bermuda. This event celebrates entrepreneurship, empowerment, connection with international and local speakers, breakout sessions, and networking opportunities.
"Additionally, we have Cyber Monday Bermuda, an initiative to promote shopping locally online and support the growth of local e-commerce businesses on November 27th.
"This extensive lineup of events and activities demonstrates our commitment to nurturing entrepreneurship, fostering creativity, and providing opportunities for our entrepreneurs to thrive. It aligns perfectly with BEDC's mission to inspire, inform, support, and grow new and existing Bermuda businesses.
"As we embark on this exciting journey of celebrating entrepreneurship, I encourage all Bermudians, whether budding entrepreneurs or supporters of local businesses, to participate in these diverse events. We understand the importance of continuing to engage and support the local entrepreneurial and small business community as they play a crucial role in our shared mission to promote entrepreneurship as a driving force for economic growth and innovation in Bermuda.
"Although the BEDC is the lead organization hosting events, I would be remiss not to acknowledge that the effect would not nearly be as significant if not for the support of our sponsors like the Economic Development Department, One Communications, Bermuda Tourism Authority and many others who have joined with the BEDC to nurture the development of small business in Bermuda. Working together with all our sponsors, the impact of Global Entrepreneurs Week on our island has grown tremendously over the years, and it continues to pave the way for a vibrant and prosperous entrepreneurial ecosystem in Bermuda.
"In conclusion, I commend the BEDC for sticking to the wicket by creating these valuable experiences for entrepreneurs. I invite everyone to seize the opportunity to participate in the 2023 Global Entrepreneurship Week UnConference. We recognize that participation is not only an investment in the future of Bermuda but also a testament to our collective commitment to fostering entrepreneurship and innovation on our beautiful island."
Read More About