[Updated] Bermuda's team is back in action in the SSL Gold Cup taking place in Gran Canaria, Spain. We will have additional information later on, and in the meantime the live video is below.
The 55-minute live video replay is below:
Update | The racing has concluded for today and the organisers said, "Tahiti have been on a roll, seemingly breezing through the competition so far, and today they were off to another great start. The other teams kept up the pressure, with a very tight fleet for the whole first leg, but 'The Black Pearls' are smooth operators and slipped away from the chasing pack to secure their sixth victory of the competition.
"The Tahiti team, led by the charismatic pairing of helm Teva Plichart and tactician Teiki Hacheche, entered the 1/32 Finals in top gear, and have continued to hone their skills ever since. Will anyone be able to stop this formidable team from this beautiful island nation in the South Pacific archipelago?
"Foretelling the best course, the Hungarian 'Shamans' overtook Finland's 'Northern Magic' on the final downwind leg to take second with Bermuda's 'Privateers' at the back.
"Going into the final double-points race, Teams Tahiti and Hungary comfortably top the leaderboard in points, meaning they'll almost certainly advance to the 1/8 Finals."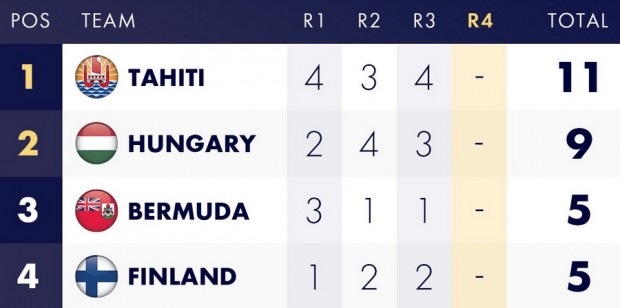 Read More About