Melyssa James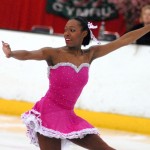 Often overshadowed by her twin sister Olympic figure skater Vanessa James, Melyssa James is a highly successful ice dancer in her own right. A former British and Welsh National Champion, she has won a succession of events.
She and Vanessa are the daughters of Bermudian Kevin James, and grandaughters of Devonshire residents Carlton and Ethlyn James.
From an athletic family that includes not only her Olympian twin sister, she is the cousin of top junior tennis player Tyler Smith, who as of 2010 is the #1 ranked female player in the under 13 category in the Caribbean.
Born September 27, 1987, Ms. James lived in Bermuda as a child and attended Mount Saint Agnes Academy until the age of 10 when her family moved to Virginia.
She and her partner Jamie Burns now live and train Maryland and represent Great Britain in international competitions.
Click to enlarge photos:
Ms James has won numerous contests, both solo and partnered. Her wins include:
2009 Skate Wilmington [partnered], 1st
2009 Cherry Blossom Invitational [partnered], 1st
2008 Welsh IJT [partnered], 1st
2007 Skate San Francisco [partnered], 1st
2006 Autumn Skate International Class, 1st
2006 Lake Placid Junior Ladies Solo CD/OD Final, 1st
2006 British Solo Dance Championships Senior Ladies, 1st
2006 British Solo Dance Qualifier Senior Ladies, 1st
2005 Skokie Valley Open Ice Dance Competition, 1st
The two videos below show her and partner Jamie Burns performing in 2009 at Skate Wilmington where they placed first.
-
Part #2 of Skate Wilmington

-
From 1998, a clip of a 12 yr old Melyssa James skating with her sister Vanessa
For more see her and her partner's website.