Vanessa James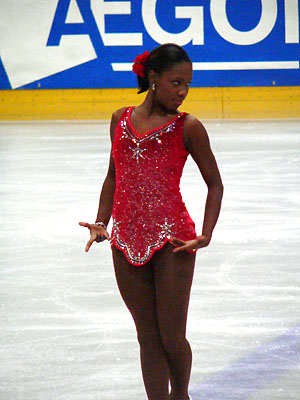 Vanessa James is a Bermudian Olympic figure skater who competes for France.
The history making skater is the first black woman to win the British National Championships. In 2010, along with partner Yannick, they became the first black couple to ever compete in Olympic pairs skating, placing 16th.
Born September 27, 1987, she lived in Bermuda as a child and attended Mount Saint Agnes Academy. Her father is Bermudian, which enabled James to hold British citizenship and to later compete for Britain.
She is the daughter of Kevin James, and grandaughter of Devonshire residents Carlton and Ethlyn James.
With athletics running through her family; Ms James's twin sister Melyssa James is also a top skater who represents Britain and is a former national solo ice dance champion. Her cousin is top junior tennis player Tyler Smith, the #1 ranked female player in the under 13 category in the Caribbean.
At the age of 10 her family moved to Virginia, where James competed in the United States and represented the Washington Figure Skating Club, then went on to compete for Britain and later France.
She won the 2006 British National Championship, becoming the first black woman in history to do so. James went on to compete internationally for Great Britain as a single skater at the ISU Junior Grand Prix and the World Junior Figure Skating Championships.
James then became a French citizen, and switched to pair skating teaming up with Yannick Bonheur to compete for France, where they are the 2010 French national champions.
They made their Grand Prix debut at the 2008 Trophee Eric Bompard, where they placed 7th. They placed 10th at the 2009 European Figure Skating Championships and 12th at the 2009 World Figure Skating Championships.
In the 2009-2010 season, they placed 6th at the 2009 Nebelhorn Trophy, 8th at the 2009 Cup of China, and 8th at the 2009 Trophee Eric Bompard. At the 2010 French Figure Skating Championships, they placed second in the short program and won the free skating to win the title overall.
The video below is from 1998, and shows Vanessa's first ice skating contest at age 12
-
Vanessa and Yannick performing at the 2010 European Figure Skating Championships in Estonia, where they placed 6th, out of over 20 pairs.


-
Vanessa and Yannick perform in 2009: