Last night's [July 24] Smashdown at the Berkeley Institute Gym saw Bermuda's top female boxer win her professional bout against a US fighter; and amateur boxers, San Shou, Tae Kwon Do and Muay Thai fighters get in the ring.
The event was promoted by the President of Jiketsu Martial Productions Reuben Bean, who is himself a top martial artist with numerous wins under his belt. Jiketsu Martial Productions has hosted past events including Sanshou Showdown in 2007, Fist of Fury in 2008 and Budo Cup in 2009.
Master Edmund Johnson served as Tae Kwon Do referee; Anthony Mouchette served as amateur boxing, San Shou and Muay Thai referee; and Larry Davenport served as referee for the professional bout between Bermuda's Teresa Perozzi and American fighter Cimberly Harris which Ms Perozzi won by unanimous decision, which was scored 60-56,59-57,58-56.
Bermuda's only Olympic medalist Clarence Hill was in attendance last night. The boxer placed Bermuda in the history books as the smallest nation to ever win a summer Olympic medal at the 1976 Olympics in Montreal when he took the bronze in the heavyweight boxing division. He is pictured below on the right, along with amateur boxer Stefan Dill.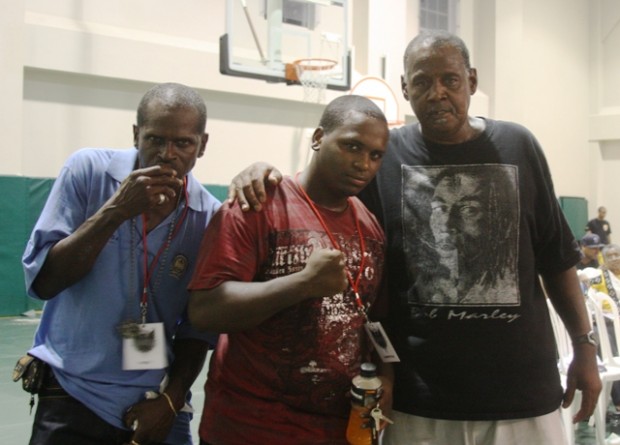 In the undercard matches, Umar Durrant and J-Quan Saltus matched up first in an exhibition Tae Kwon Do match.
Next 20-yr-old Stefan Dill won his 3-round amateur boxing bout against Danzil Smith on points. They are both coached by "Mannox", out of the Police Gym.
In another amateur boxing bout Dahlano Simons defeated D'Andre Burgess on points, and Samir Furqan defeated Talia Iris in a San Shou matchup.
The final undercard fight saw San Shou fighter Khalid Pitcher take on Muay Thai fighter Fabio Ianonne, with Fabio Ianonne winning on Points.
The female professional boxing match ended the night, with local fighter Teresa Perozzi receiving strong crowd support during her win against Cimberly Harris of Tampa, Florida.
Click to enlarge images:
-
This is brought to you by BermudaSupply.com:
-



-
Our "Good News" program involves companies specifically supporting us promoting positive news about Bermuda and Bermudians. If you have good news of any manner please contact us!
Read More About